0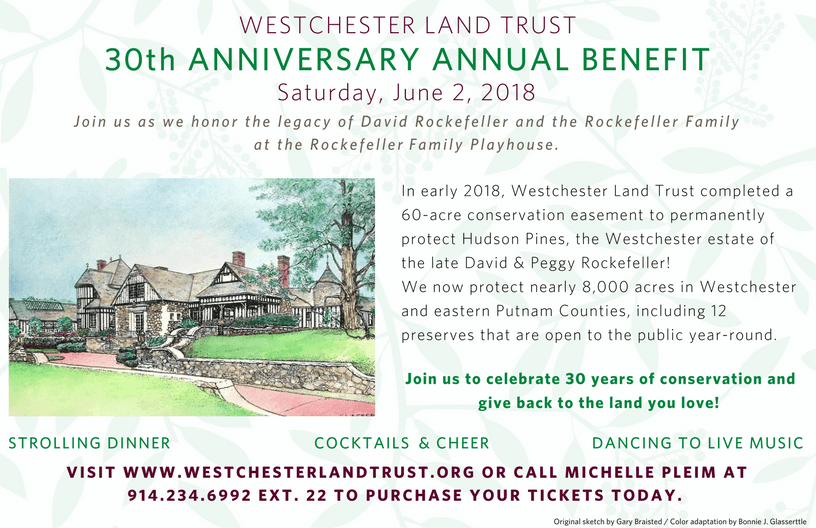 David Rockefeller's legacy of conservation and philanthropy will be celebrated at the Westchester Land Trust's 30th Anniversary Annual Benefit on June 2nd; the event will take place at the private Rockefeller Family Estate in Pocantico Hills. The venue is an elegant recreation center and gathering place used by the family for almost 100 years. Funds raised at the event will be used by WLT to permanently preserve open space throughout the county, including more than 1,000 acres of currently active projects.
"We would like to thank and recognize Houlihan Lawrence, EMM Wealth, Westchester Bank, Beam Suntory and Serendipity Magazine for their generous support of our Benefit. Kudos to Patti J. Howard and her dedicated Benefit Committee for volunteering their time to help plan a festive evening," said Lori Ensinger, WLT President. "We have many exciting land protection projects on our horizon and have so much to celebrate!"
In March of 2018, Westchester Land Trust announced the permanent protection of 60 acres of the Hudson Pines Estate, the Westchester County home of the late David and Peggy Rockefeller. This major milestone marked the eighth conservation easement on Rockefeller family lands that WLT completed. Located in both the Village of Sleepy Hollow and the Town of Mt. Pleasant, Hudson Pines is an important component of an already notable conservation corridor including the 1,500 acre Rockefeller State Park Preserve. Its preservation protects diverse woodlands, meadows and wetlands, provide habitat to a great diversity of plant and animal species, buffer the nearby Pocantico River–an important tributary to the Hudson River, and preserve an iconic viewshed from Rockefeller State Park and surrounding lands.
Tickets to this magical evening include a strolling dinner with savory food stations, live music and dancing, exciting silent auction items, and themed entertainment. VIP tickets include intimate guided tours by Historic Hudson Valley docents, and a VIP reception before the main event begins. For further information about the event, or to purchase tickets, please contact Michelle Pleim Development and Special Events Coordinator, at (914)234.6992 ext. 22, or michelle@westchesterlandtrust.org.
WESTCHESTER LAND TRUST IS YOUR LAND TRUST
Based in Bedford Hills, the Westchester Land Trust works with public and private partners to preserve land in perpetuity and to enhance the natural resources in Westchester and eastern Putnam counties—a densely populated region under persistent threat from the pressures of development. Through the use of conservation easements and outright acquisition, WLT's efforts benefit the long-term health of these communities by safeguarding air quality, food supply and community character, as well as critical watershed areas. Since its founding in 1988, WLT has preserved almost 8,000 acres of open space including 745 acres of preserves owned by the organization which are free and open to the public year round.
For more information about WLT, please visit westchesterlandtrust.org and connect with us on Facebook (http://www.facebook.com/WLandTrust), Instagram (@WestchesterLandTrust), and Twitter (https://twitter.com/WLT_NY)