Sometimes our homes can appear dull and tired. They may have had the same appearance for decades and be in need of a refresh. The exciting thing is that it's often our imaginations rather than our budgets that set the limits. Changes to our homes can be made with moderately small amounts of money, and this can even apply to our walls. Let's discuss some ideas right now.
Walls With a Message
Some people like to feature motivational signs in their homes. They may encourage people to believe in themselves and their dreams. Alternatively, they may display words that should be true of any home, such as love and laughter.
People can also use blank walls as a canvas for their religious beliefs. According to this site, Christians like to feature pictures containing their favorite Bible verses. They are usually pleasing to the eye and maybe on canvas and in a framed or unframed state. Such things can contribute to the general ambiance of the home.
Hobbies on Display
When people love to collect and play musical instruments, storage can become a real issue. When they are attached to a rack on the wall, they become more than simply accessible – they become a talking point. Visitors will ask about the hobby, and may even give the instrument a try. Someone may spend hours on their arts or crafts at home. It is such a shame when the results are all tucked away in a separate room. Why not put them on display for all to see and enjoy?
Paint is All You Need
In some instances, walls can become dull, tired, marked, and grubby. A fresh coat of paint can be inexpensive to buy and relatively simple to apply. The wall can suddenly look bright, clean, and new. If dark colors existed before, the application of white or pastel shades could make the room appear more spacious. Add a mirror to the wall, and the feeling of space will be increased even more!
If all the walls of a room are being painted at the same time, consider having one done in a slightly darker color than the others. This will create a focal point and stop the room from looking too bland.
Use One Large Photo or Lots of Small Ones
Rather than having a host of wedding pictures on the wall, why not splash out on a really big version of your favorite photo. It will be a great talking point and remind the family that love is what it's all about. It's trendy these days for several canvases to be put side by side on the wall. In some examples, a chosen picture may be spread across each canvas to great effect.
If a single photo frame allows for a montage, this can be a lot of fun. This is particularly true if the pictures can be changed over time. Imagine the first years being full of school photos of the children and then changing to college graduation days. Then come the weddings and the grandchildren. The list can go on!
Bookshelves Aren't Just for Books
When people are being entertained at a person's home, it is not uncommon for them to look at the books on display. There may be books on famous celebrities or subjects that are very personal to the occupant. It can be fun changing the books that are displayed, to provide some variety in what is seen and read. Bookshelves don't have to be limited in their use, however. They are also great for displaying ornaments or framed photos.
Time For a Fireplace or Shelving
Even if there is no chimney behind the wall, a fireplace can be added in front of it. The electrical appliance could feature a virtual flame and be used to heat the room. Alternatively, it could simply be there for the show. It's amazing how it can still make the room feel cozy, whether it works or not!
Shelving can create valuable storage space or be used to show off a person's collection, such as antique plates. Once again, all it needs is a little imagination. Just make sure the shelf style fits in with the decor of the rest of the room.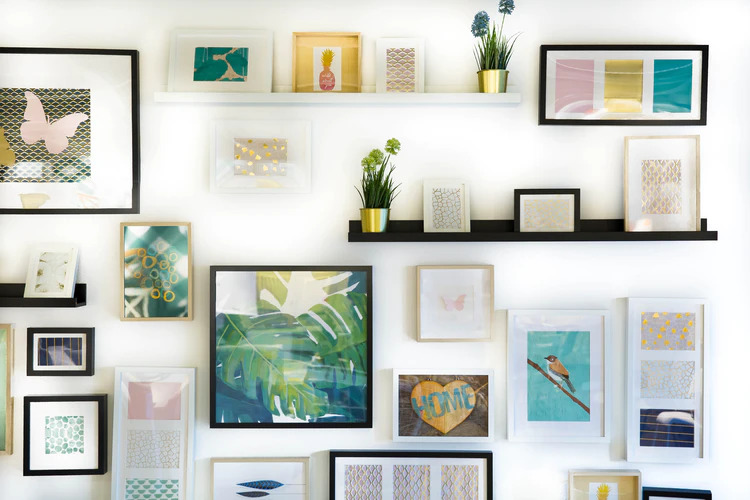 A Themed Wall
Why not have one wall that is very different from the others? It could be devoted to a retro style and display antique items or iconic wallpaper. Alternatively, have shelves where everything on display relates to cats, dogs, old cars, or bridges. The list is endless.
It has now become clear that there are many ways to spruce up a wall, and it doesn't have to cost a fortune. Walls can become talking points for visitors and a place to show off treasured possessions or artistic creations. If done correctly, creative walls can bring a whole new feeling to your home.