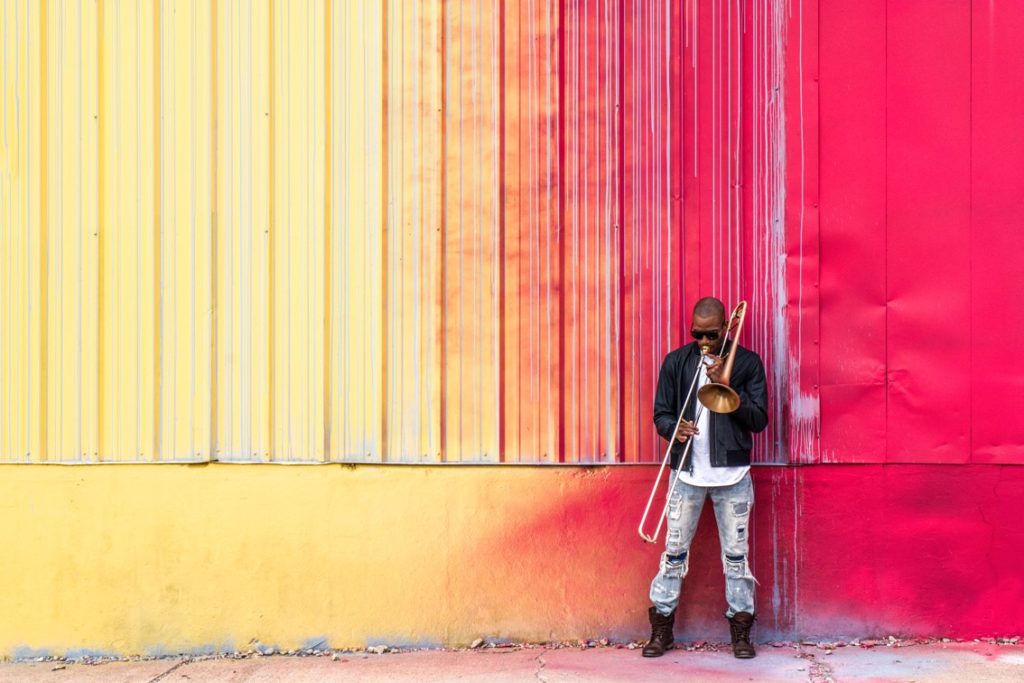 Part Jimi Hendrix, part James Brown and all New Orleans, Trombone Shorty & Orleans Avenue return to The Ridgefield Playhouse on June 6

New Orleans native Trombone Shorty (born Troy Andrews) began his career as a bandleader at the young age of six, toured internationally at age 12, and spent his teens playing with various brass bands throughout New Orleans and touring worldwide with Lenny Kravitz. After a sold out performance in 2016, Trombone Shorty is set to return to The Ridgefield Playhouse! Moffly Media Evening of Art, Wine and Jazz Series and Pepsi Rock Series presents Trombone Shorty and Orleans Avenue on Tuesday, June 6 at 8pm with a night of hard-edged funk, hip-hop beats, rock dynamics and improvisational jazz! In the lobby at7:15pm, ticket holders can enjoy a complimentary Italian wine tasting by Gallo Ristorante and an art exhibit by Andres Chaparro. Kicking off the night is New Breed Brass Band, which is co-managed by Troy "Trombone Shorty" Andrews. New Breed Brass Band lives and breathes the culture of New Orleans, infusing funk, rock, jazz, and hip-hop into a custom-made enhancement of second-line brass band tradition. With a founding core of five New Orleans natives, New Breed Brass Band made its street debut as a nine-man unit in November 2013 at the Nine Times Second Line. Since then, they have showcased their originality opening for such diverse bands as The Fray, Red Baraat, Dr. John, The Waterboys, and Trombone Shorty & Orleans Avenue, as well as competing in the Red Bull Street Kings brass band competition in 2013. Whether performing in their hometown or on the road, New Breed will forever bring the vibe of the New Orleans second-line with them. Make it a great night out with dinner or lunch and a show! Visit Little Pub (59 Ethan Allen Highway, Ridgefield) for dinner and enjoy a FREE glass of house wine or draft beer with your entree when you show your ticket. Or visit the Hideaway (30 Grove Street, Ridgefield) for lunch the day of the show and enjoy a complimentary draft beer or glass of wine with your entree when you show your ticket. Trombone Shorty is a featured artist of media sponsor 90.7fm WFUV.
Trombone Shorty's new album opens with a dirge, but if you think the beloved bandleader, singer, songwriter and horn-blower born Troy Andrews came here to mourn, you got it all wrong. That bit of beautiful New Orleans soul—"Laveau Dirge No. 1," named after one of the city's most famous voodoo queens—shows off our host's roots before Parking Lot Symphony branches out wildly, wonderfully, funkily across 12 diverse cuts. True to its title, this album contains multitudes of sound—from brass band blare and deep-groove funk, to bluesy beauty and hip-hop/pop swagger—and plenty of emotion all anchored, of course, by stellar playing and the idea that, even in the toughest of times, as Andrews says, "Music brings unity."
For tickets ($85), call the box office at 203-438-5795, or visit ridgefieldplayhouse.org. The Ridgefield Playhouse is a non-profit performing arts center located at 80 East Ridge, parallel to Main Street, Ridgefield, CT.