The worst part of travelling is the travel.
There's nothing quite like a summer vacation-but between the planning and cost, travelers are constantly in search of the best new tools and innovations that can simplify the booking process, provide the best deals and allow them to experience all that their destination offers.
Here are my top 5 resources to make end-of-summer trip planning a breeze. From sites that provide the most inexpensive airfare and last minute hotel deals, to a packing aid and itinerary planners – these resources were created to ease travels and  allow for an enjoyable getaway.
Roomer (www.RoomerTravel.com)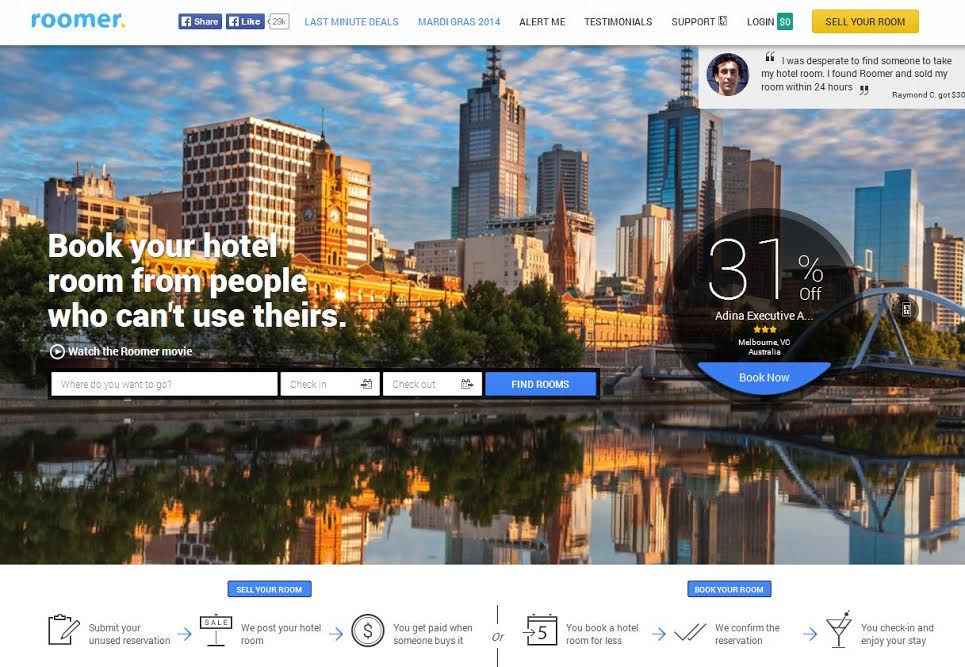 Acting as the "stub-hub" for the hotel industry, Roomer allows travelers who are unable to use their hotel room, to list it on the website at a discounted price, giving spontaneous travelers who are looking for a last minute deal, the opportunity to purchase the room. It's a safe and effective travel solution for the seller as it reduces the cost of cancelling their hotel room, and for buyers, it offers hotel accommodations at a discounted price. With the recently launched mobile app, travelers can now buy these un-used rooms from the palm of their hand.
CheapOair (www.CheapOair.com)
CheapOair is one of the top 10 online travel agencies that provides customers who are traveling on a budget with the best prices for flights, hotel reservations, car rentals and vacation packages. Offering value and convenience to savvy shoppers looking for affordable, one-stop travel solutions, CheapOair's portfolio of products includes millions of airfares on over 450 global airlines, 100,000 negotiated hotels and vacation packages, and car rentals.
TripIt (www.TripIt.com)
TripIt allows travelers to organize their travel plans in one place and create a detailed daily itinerary. Users can upload flight and hotel confirmations and store them into the app, as well as obtain directions, maps and weather, and sync to one's Apple Calendar, Outlook or Google Calendar.
Packing Pro
With an Expert List Assistant, Packing Pro creates packing lists based on the number of adults, children and days of travel. Additionally, temperature, destination, food preparation and laundry preferences are also taken into account. Travelers who want to be a more hands-on when planning what they will need, can use the app to create, edit and check off customized packing lists.
WordLens
WordLens is an app that instantly translates printed words using the mobile phone's built-in video camera. From reading a menu to navigating an airport, WordLens translates words to Russian, Portuguese, German, Italian, Spanish and French to English-and vis versa, without requiring a network connection. Consumers can also look up translations by typing them in.