From music, fashion, beauty, news, lifestyle, and comedy, TikTok's influence over pop culture has been astounding to witness. There is no better way to stay up to date on the latest trends than scrolling through TikTok. But, to save you hours and hours of scrolling, we've compiled a list of the hottest TikTok nail trends to try out this season. All you need to do is get your nontoxic nail lacquers ready and have some fun! 
Daisy Nails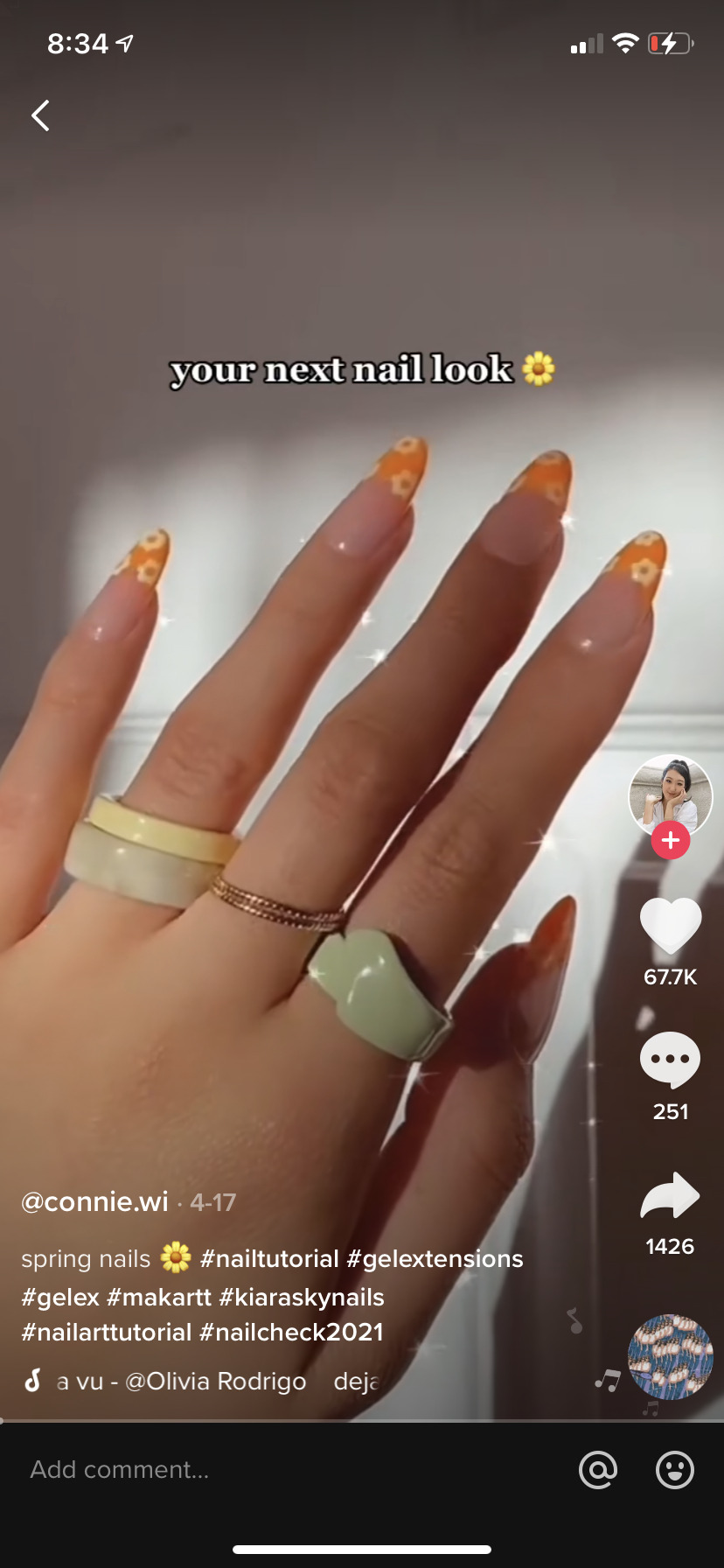 Photo Credit @connie.wi on TikTok
These gel nails have the cutest daises dancing across the orange french manicure, creating a bright and whimsical design. These daisies can even be easily recreated at home. Some nail enthusiasts prefer dotting tools specifically designed for nail art, but the balls at the end of a bobby pin work well as an alternative.
Extra Long French Manicure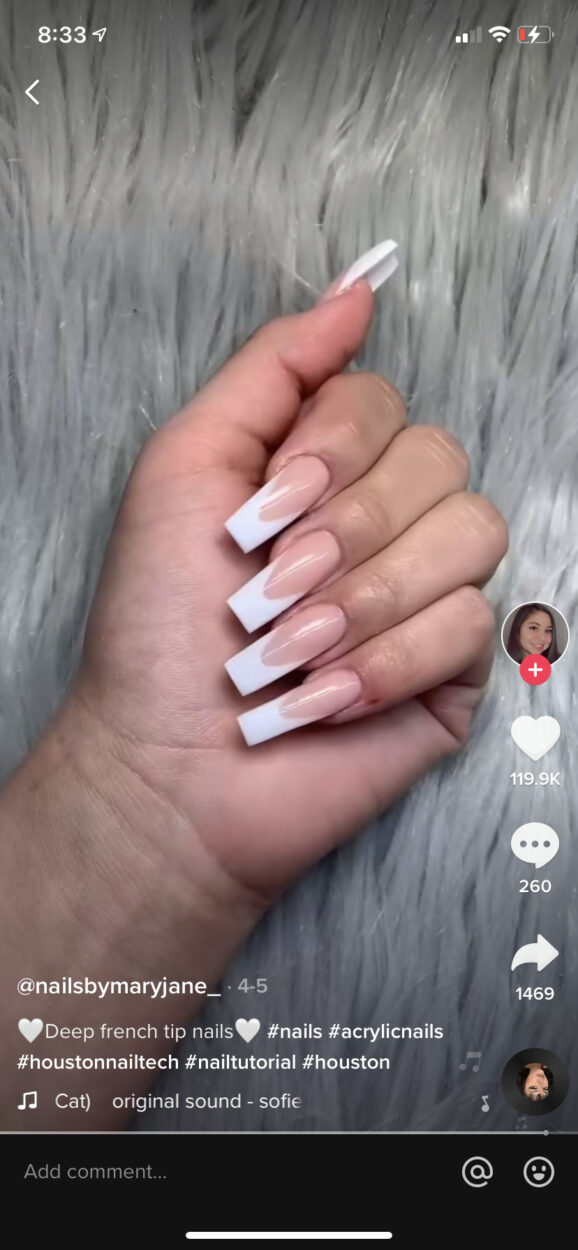 Photo Credit @nailsbymaryjane_ on TikTok
It seems like every season a new take on the classic French manicure pops up. One of this season's creative twists to the French manicure is the extra-long French manicure. Instead of a thin line across the top of your nail, the white section is much thicker and thins out along the side of the nail, going nearly to your nail bed.
Multi-Color French Tips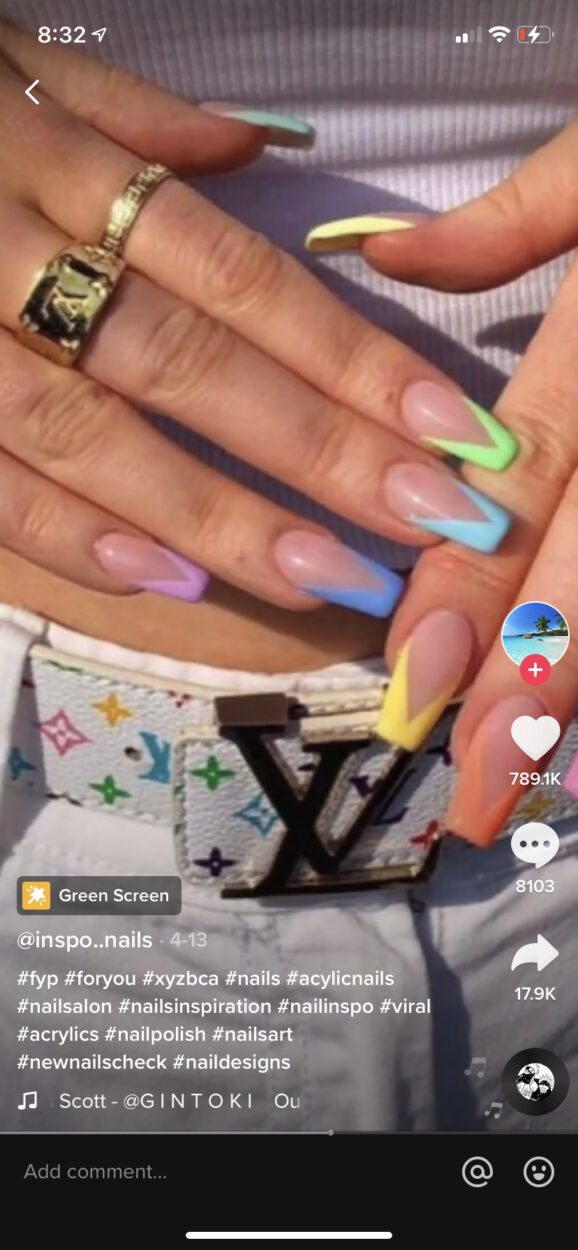 Photo Credit @inspo..nails on TikTok
One of the most durable and popular ways to create the french manicure look is with SNS Dip Powder.
The second twist on a classic French manicure is replacing the white tip with a different color on each finger. The viral nail inspiration TikTok video above even shows an example of a manicure with a multi-colored extra-long French tip. Talk about trendy!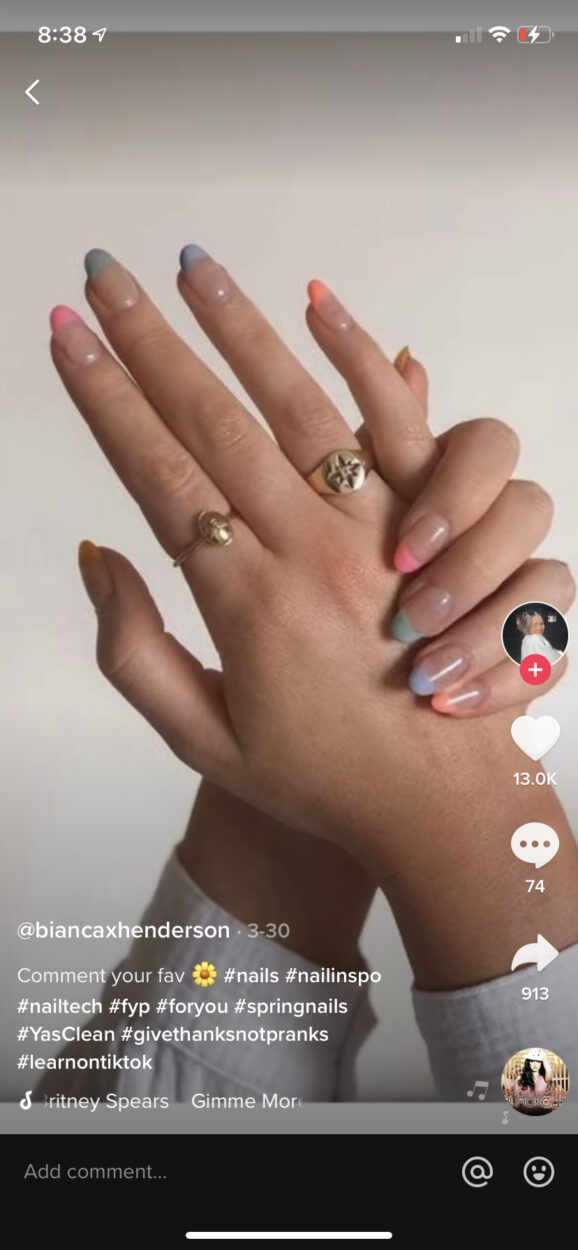 Photo Credit @biancaxhenderson on TikTok
This trend is very common in more rounded-out nail shapes as well. It's a simple design that adds so much beauty and glamour to your manicure.
Clear Matte Nails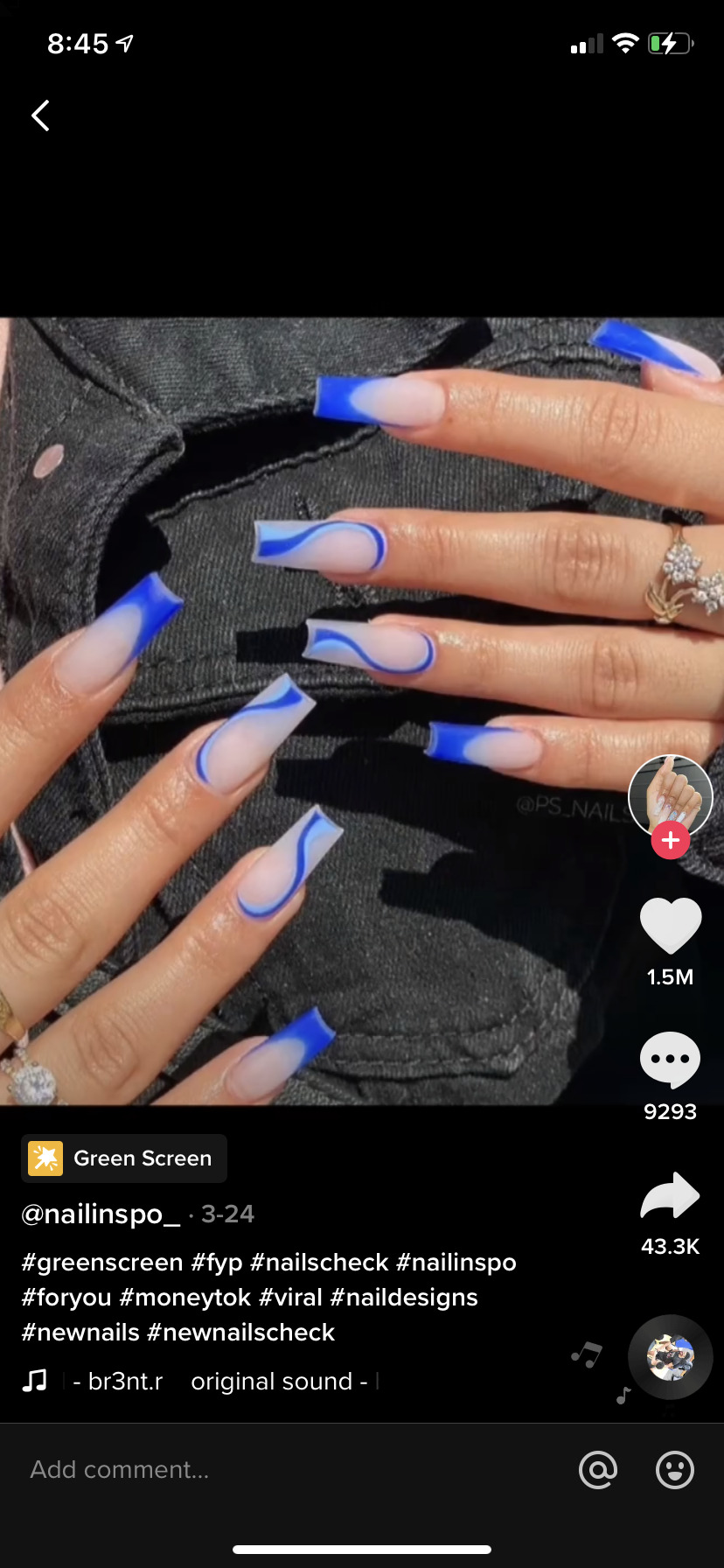 Photo Credit @nailinspo_ on TikTok
If you are looking to play with the texture and finish of your nails, consider adding a clear matte polish. This is an alternative to using nude polish as the base of your manicure or only using clear polish.
The matte polish is a bit cloudy and turns down the shine of normal polish, blurring your natural nail but usually not covering it completely.
The matte polish also looks great on top of colored polish, like the free-hand swirl manicure posted above. You can find this trend being used in combination with many other TikTok nail trends, like daisies and butterfly accents.
Sage Green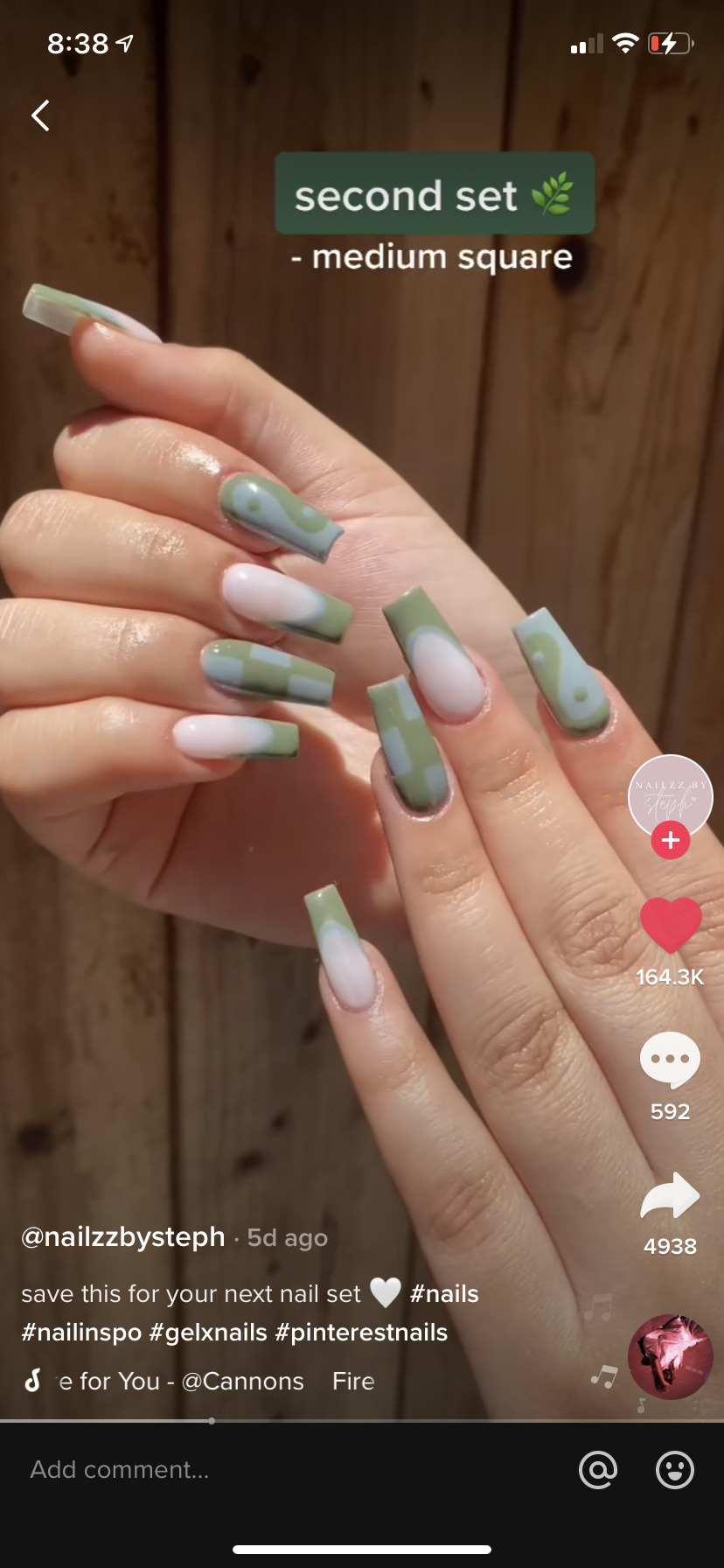 Photo Credit @nailzzbysteph on TikTok
Sage green is the trending color for fashion and beauty TikTok videos. The previously underrated color has been popping up more and more in videos about outfits, nails, accessories, and even aesthetic drinks with matcha.
This nail manicure is combining sage green shades with an "indie nail" manicure where several designs are included like the yin-yang symbol, checkered pattern, and extra-long french manicure. If you're looking for a super trendy TikTok manicure, this is the perfect picture to show to your manicurist.
Abstract Swirls

Photo Credit @inspo..nails on TikTok
The freehanded, abstract swirl nails may just be the most viral nail trend of the summer. This trend features multiple swirls of different colors going in random waves across the nail for a groovy, 70's inspired look.
While the above manicure takes a monochrome turquoise shade approach, combining different colors and even the rainbow is a fun way to implement color into your manicure without there being an overwhelming amount of color.
Indie Nails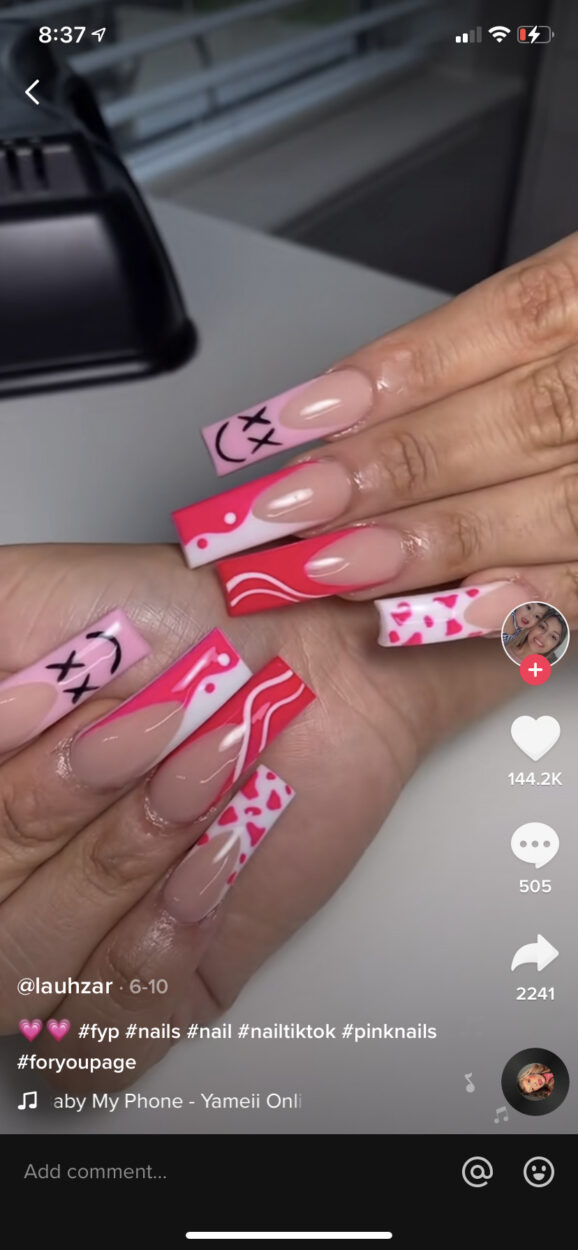 Photo Credit @lauhzar on TikTok
If you are having trouble deciding between trendy nail designs, you're in luck because that in itself is a trend! Indie nails have a mixture of different patterns and designs on the nail, giving the manicurist so much room to experiment and try out new things. This adorable manicure has the yin-yang symbol, free-handed swirls, a smiley face, and even a strawberry cow print. There is no such thing as a boring indie nail manicure.
Cow Print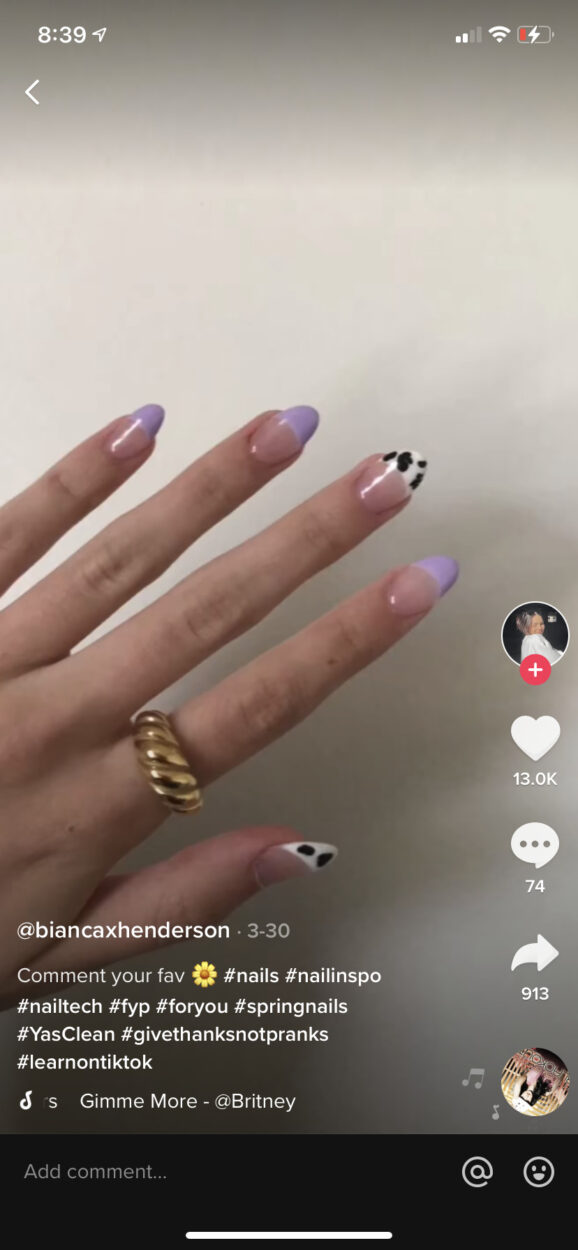 Photo Credit @biancaxhenderson on TikTok
Cow print nails – well, cow print anything really – have become a well-known TikTok favorite.
Since the "strawberry cow" craze, viewers have been inspired to write songs, wear dresses, create rugs, do makeup and even paint nails to match the theme. The cow print is especially popular with pastel colors or uses pastel colors itself.
Custom Press-On Nails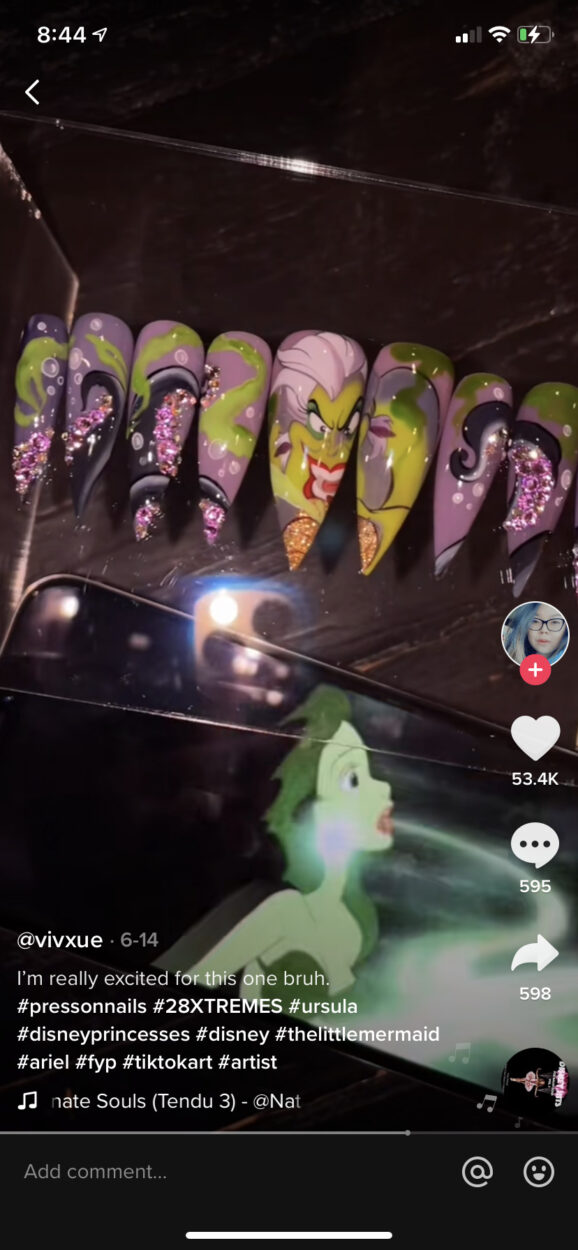 Photo Credit @vivxue on TikTok
Several videos of custom press-on nail sets being painted and decorated have gone viral on TikTok. Viewers watch in awe as the artists draw incredibly detailed imagery on the set with any design the customer can dream up.
This glamorous Little Mermaid-inspired set has Ursula sprawled out across each nail, completed with bedazzled tentacles.
After the artist has completed the set, she ships it off to their new home to be glued onto the customer's nails.
Poly-Gel Nails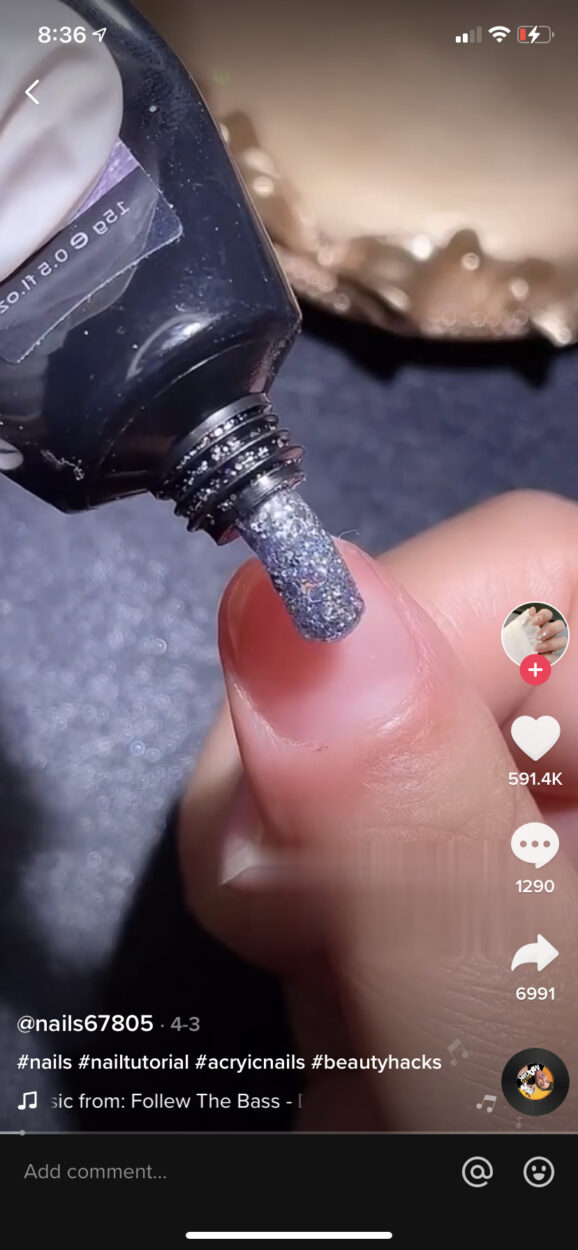 Photo Credit @nails67805 on TikTok
If you're loving the TikTok nail trends but looking for a way to have your nails looking professional from home, the poly gel could be your new best friend.
Polygel nails took the internet by storm while most of the world was quarantining during the COVID pandemic. Nail salons were closed but people wanted cute, long nails even while at home, so DIY nails were a huge need.
Polygel combines the elastic application of gel polish with the durability and additional length of acrylics. The gel is squeezed out of a tube and shaped with plastic shapers. Once cured, the shaper pops off and the nail is filed to the desired shape and length.
While it does take some practice, you can have a long-lasting manicure right from home to recreate your favorite TikTok trends.