Opening the medicine cabinet or make-up drawer to behold a littered mosaic of creams, mascaras, brushes, and the like, many of us face the realization that we are product junkies! Of course, a refined and minimalist approach to beauty is ideal, but where to start?! Deciding what to keep, what to toss, and what can be salvaged is a daunting project. Beauty and Wellness Expert June Jacobs, CEO and Founder of June Jacobs Skin Care, has curated The Beauty Deep Clean Checklist to make the process effective, straightforward, and supremely relieving.
"The thoughtful decisions you make about your products are just as critical as the rituals you do to reset the mind and body. Edit the items on your shelf that no longer serve your skin. Not only will you feel lighter, you'll probably also end up with a skin care regimen that's more personalized, targeted, effective and safe." – June Jacobs
Keep your product collection fresh and effective with June Jacob's three simple rules:
RULE #1: Keep an eye on the PAO!
Always look for the PAO (Period After Opening) symbol on your product. The little symbol is provided by manufacturers based on individual stability testing. Keep a Sharpie in your makeup bag to mark your opening date. Once the PAO has passed, it's time to toss the product as it is no longer effective.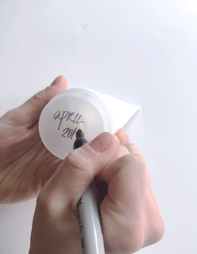 RULE #2: Keep your brushes clean!
Washing your makeup brushes once a week will minimize oil and germ transfer. Follow this process to maximize cleanliness:
Use lukewarm water and baby shampoo to gently wash bristles in the palm of your hand.
Rinse.
Squeeze out any excess water.
Allow brushes to air dry.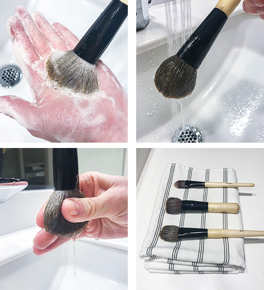 : If you can't remember the last time you used it, let it go!
Product lifespans often depend on the area of application. Mascara and skincare applied around the eyes should be changed frequently. Also keep in mind that packaging impacts the lifespan of your skincare. Anything that you take from the jar with your fingers is at a higher risk for contamination. Once a jar has been opened, it should not be kept for more than six months, max 1 year. Depending on the componentry, the product will be more or less susceptible to oxygen, bacteria formation, and increased speed of aging the product. For example, lotions with an airless pump are protected from the elements and last longer.
Over the counter (OTC) products are FDA regulated and have an expiration date. Of course, for your safety, we recommend you throw away any products that have passed the expiration date.
When to throw out: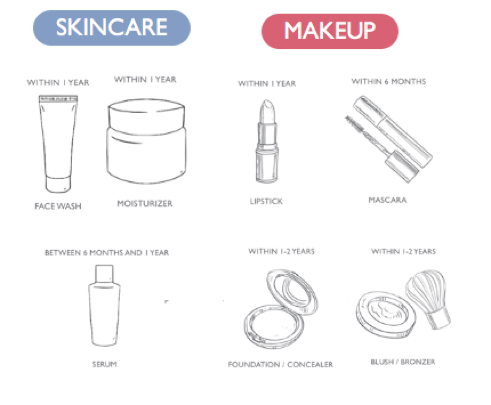 ABOUT JUNE JACOBS
June Jacobs became a trailblazer of the contemporary approach to skin care using her personal life traditions and her 30+ years of professional experience to create her namesake brand, June Jacobs – leading the charge by combining cutting-edge science with botanical remedies for a luxuriant experience. To create this groundbreaking line, June opened her own lab so that she could truly focus on overseeing the creation of botanically based products that delivered results.
Coming from a large extended family steeped in Mediterranean tradition, June was captivated as a child by the myriad of uses from the ingredients local to her family's ancestral home on the coast of the Caspian Sea. June observed the resourceful and beautiful women in her family utilize anti- oxidant rich ingredients for healing and beauty remedies as well as overall well-being. Using remaining leaves from the daily tea infused into creams that were applied to their skin was the norm.
Along with these passed down traditions was the influence of physicians, inventors and merchants within her large family. From them, she learned the importance of science, practical application and technological innovation. June began her career as a consultant working in the offices of several esteemed dermatologists and plastic surgeons. Instinctively, June knew there had to be a way to leverage science with the natural ingredients used by the lineage of the beautiful women in her family for generations.
As a single mother, putting her only child, Rochelle, through college, June was able to sustain her lasting relationships with patients and as a result, her reputation grew. Some of New York City's finest cosmetic surgeons and dermatologists were now retaining June to help build their own clinical skin care products for their practices.
Never satisfied with what was available in the market at this time or even with what she had assisted these doctors in developing, June took her experiences and concluded it was time to go out on her own to execute her dreams and visions. She partnered with Rochelle, now a businesswoman and self-confessed skin care junkie, to launch their own collection of luxury skin care products.
June and Rochelle are committed to evolving advanced formulas with natural ingredients while staying true to the enduring traditions handed down from their family and culture.