Is your Indian friend having an upcoming wedding soon and you want to enjoy all the cultural wedding ceremonies that are celebrated? Enjoy shopping for various outfits and learn what to avoid wearing in these ceremonies. You can have your style as long as you consider some cultural rules and be at par with traditional dressing codes. Since there are many events before and after the main wedding you may be forced to dress to flaunt your fashion taste that will not be impressive in the particular ceremony you are attending. Plus, it is good to enjoy some Indian traditional outfits and mix them up with other personal outfits. Below are some of the styles and fashion wears that you should avoid certain wedding ceremonies in India.
Mehendi Ceremony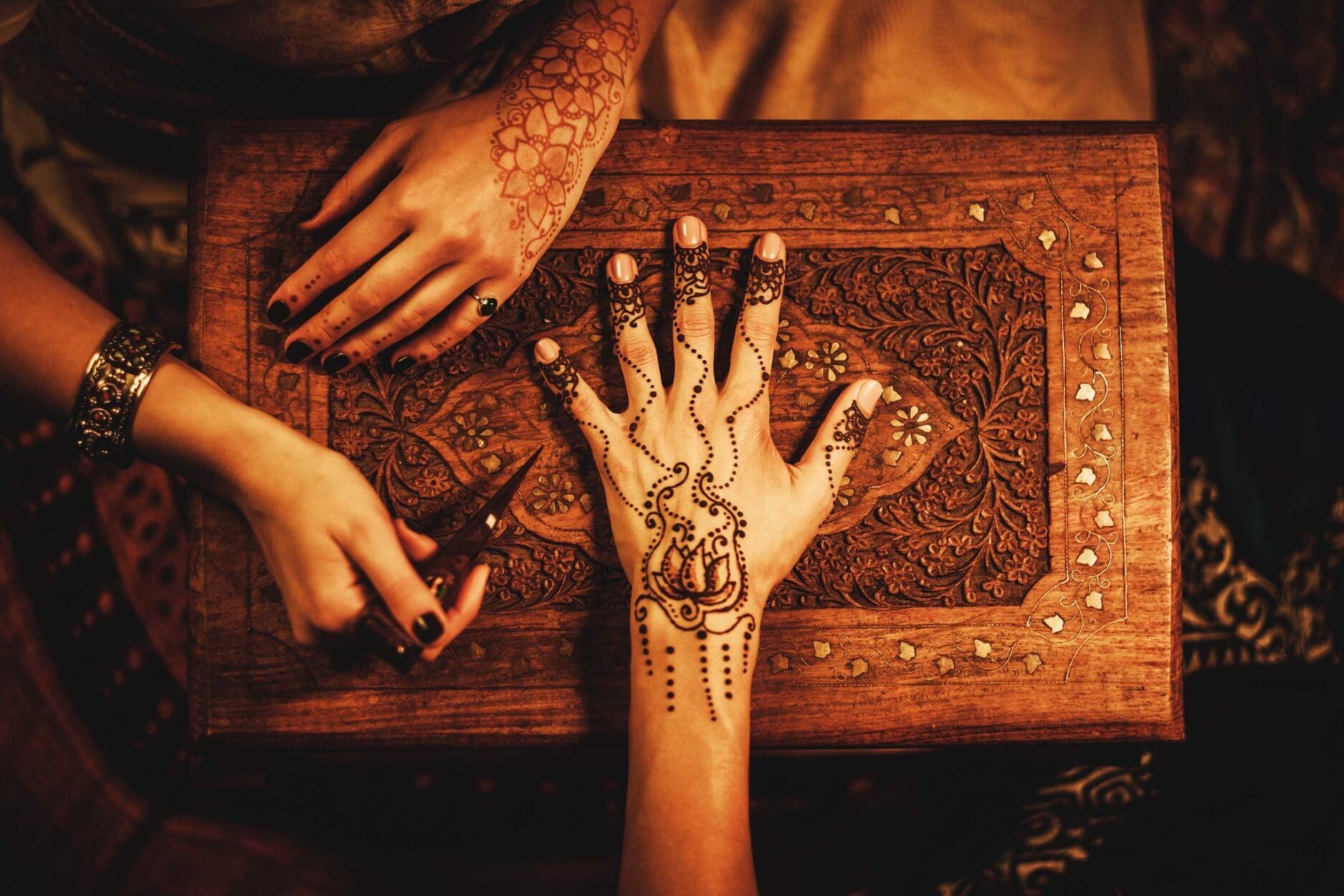 Source: thejehancatering.com
The Mehendi ceremony is among the many pre-wedding ceremonies that are held at home. However, it is still a celebration that you can attend at the bride's home. While many outfits are the best to wear to such an event as a guest. At times you can get it wrong as the dress you choose should be able to accommodate the applying of Mehendi during the ceremony for the women and bride at this ceremony. Therefore, as a female guest in the Mehendi ceremony avoids loose, full sleeves and heavily embellished outfits for you too will have the Mehendi applied on your hands. Expensive clothes are also the worst choice since the Mehendi stain will spoil them. Although the men do not have much to do on the Mehendi dressing too formal is a bring choice and not in respect of the Mehendi celebrations. Choose churidar pajamas or a kurta with floral motifs with pants to have a touch of ethnic wear and be comfortable as you drink and dance in this celebration. The family of the couple should be aware that they will be in most of the photos and the video as well. Hence their choice of attire should be colorful, ethnic and Mehendi cautious especially the females. Dress to a saree with a blouse with short sleeves, avoid the dupatta and other flowy clothes like the Anarkali can be intrusive and limit movement.
Engagement ceremony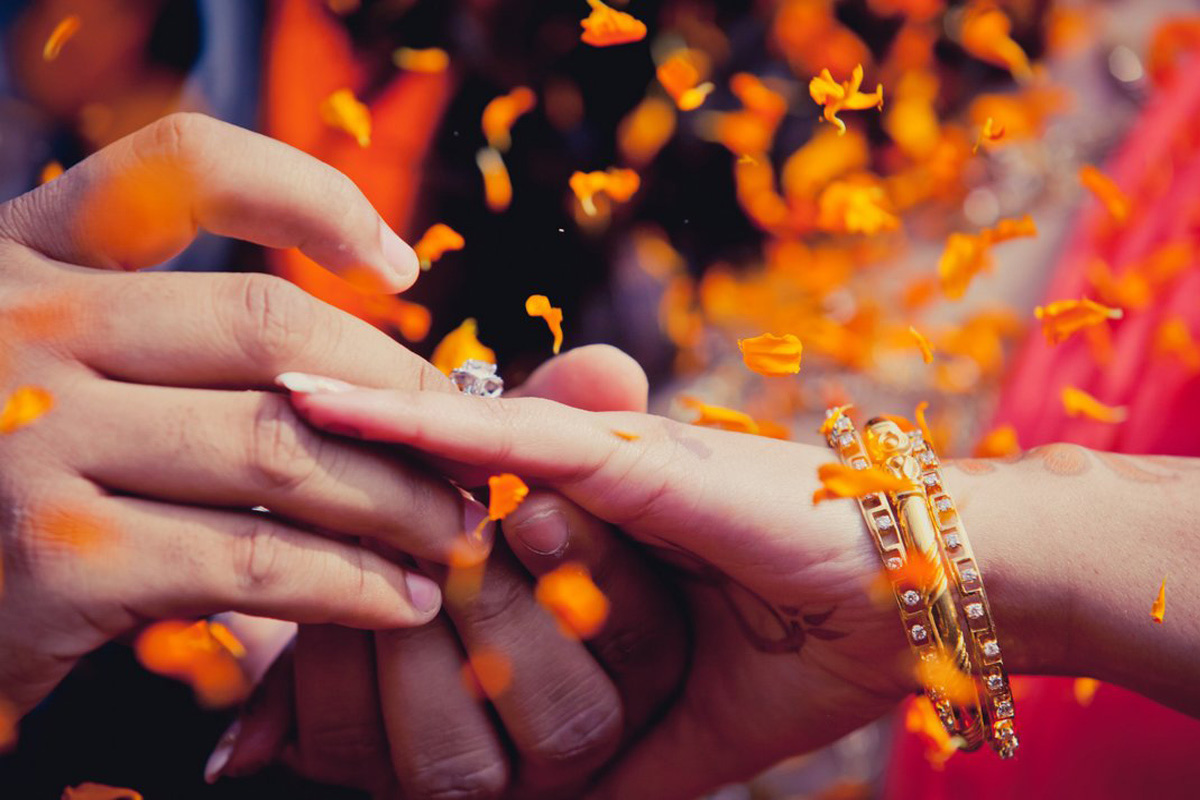 Pick a festive outfit for this pre-wedding ceremony as well if you are attending as a guest. Not necessarily should it be an ethnic choice but some as the crop top lehengas for casual parties is favorite wear to an engagement ceremony. You can have its embellishments or not but ensure it is in the bright and festive colors. Avoid types of denim, short casual dresses and salwar suits may be traditional outfits but too simple for such a wedding ceremony. The heavy silk saree or very tight and revealing outfits should be avoided at all costs for they cause the wrong attention. For the male attendees show some effort in your outfit and refrain from wearing the usual jeans and t-shirts and opt for kurta pajamas instead. The Sherwani is a great Indian wedding male attire but avoid it in this ceremony for it is more of the groom's outfit. The family of the couple should choose a more conservative outfit to be on par with the other side of the family.
Haldi ceremony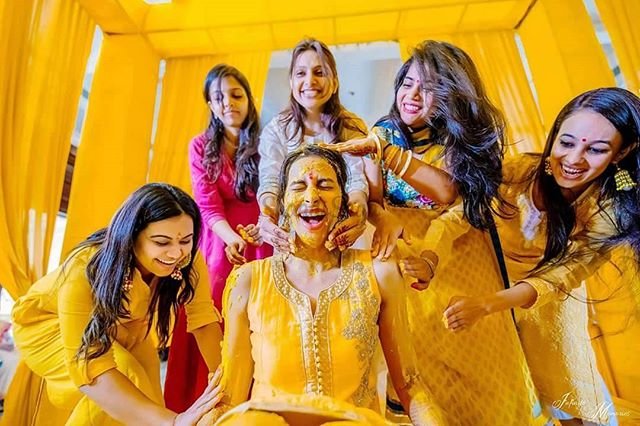 Source:- shaadisaga.com
Just like the Mehendi the clothes to wear during the Haldi ceremony should be considered for this event there is the application of Haldi paste to legs, hands, and face of the bride and groom as you wish them luck. Hence it is easy to get the Haldi on your outfit which will as well stain your clothes. For Haldi is turmeric paste that is used to in this traditional pre-wedding ceremony. Hence avoid dressy, expensive and outfits with too much material like the lehengas. For the male, the kurta still works in this ceremony as well. The family of the couple should keep it simple but beautiful for they are still required to do a lot during the event.
Colors to avoid
Indian festivals and wedding ceremonies are full of vibrant colors, music, and elegant outfits. Hence, choosing the colors as you attend as a guest it is important to know what colors work best and which ones you should avoid. Due to the many states in India, the colors may vary on how the people in a specific area associated with the colors. White is a mourning color to some while in other places a bride would easily celebrate her day in white saree. Hence, it is good to know what the customs are and follow through. On the other hand, black should be avoided completely. Although it is a sensual color that has its level of sophistication. Staying away from it will help you blend with the vibrant tones in the ceremonies and not feel out of place. Red should be out of the list as it is the brides color and it is reserved for on her special day. Other colors like hues of green, blue, yellow and other color blends are better options.
Jewelry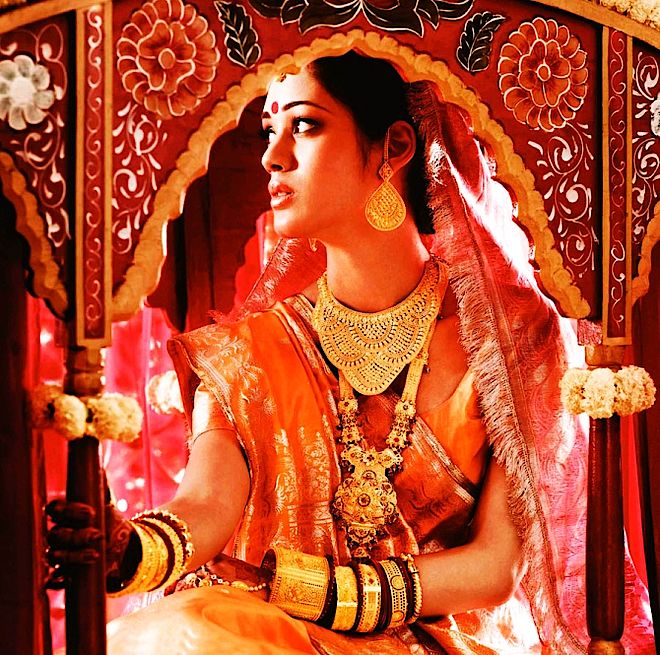 Source:- jubiler24h.pl
In an Indian wedding, accessories are like the icing on the cake. You can never go without them or be too minimal especially when it comes to jewelry. This is a big mistake if you are wearing any Indian outfits to the ceremony for you will look underdressed with no jewelry and as a matter of fact, it has to be the right jewelry. You can invest in some jhumkas as earrings; choose a beautiful neckpiece like a pendant is better than wearing nothing. Bangles go a long way have quite a several different bangles on both hands. Anyhow, be careful not to go over the top especially as a rookie in this field. It is important to get your dazzle on but not too much of it. Remember it is all about looking the part as an Indian guest and blending in to enjoy and make merry with the couple and their family.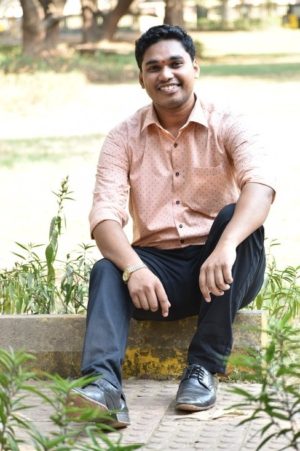 Paresh Patil, He has 3 year experience in IT sector (Information technology). He's best known for writing science fiction; He loves to write about fashion, lifestyle and technology. He is currently worked on stylecaret , a fashion e-commerce portal in India. Follow him everywhere