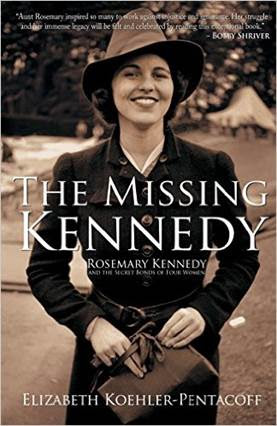 Nov 22 is the anniversary of JFK's assassination.  December 19, 1961 marks the date of Joe Kennedy's stroke, and ironically the date of Rosemary Kennedy's liberation.
Elizabeth Koehler-Pentacoff is the New York Times bestselling author of The Missing Kennedy.  Elizabeth started visiting Rosie Kennedy when she was 4 years old.  Here is the story of the woman who became the catalyst behind the Special Olympics and related legislation from 1960 to the present.
Rosemary Kennedy, younger sister of President John F. Kennedy, was lobotomized in 1941 at age 23. In 1949, she was put out of public view at a remote facility in rural Wisconsin, where, for more than twenty years, she remained unvisited by family and non-family alike, until 1962.
Elizabeth Koehler-Pentacoff (Liz) and her parents were among the first non-Kennedy family members to visit Rosemary following her lobotomy. Elizabeth was niece to Rosemary's caretaker, Sister Paulus, a Catholic nun at St. Colleta, and she visited Rosemary on a regular basis for the next thirty-four years. Through their friendship, Elizabeth discovered the person many had forgotten or never known.
In 2015, ten years after Rosemary's death, Elizabeth has come forward with a fascinating book about the hidden daughter of America's royal Kennedy family.
"The Missing Kennedy: Rosemary Kennedy and the Secret Bonds of Four Women" is a truly unique, eyewitness account of Rosemary's post-lobotomy years. It is the first book published about Rosemary by a non-family member who knew her personally, and includes nearly 100 never-before-seen pictures of Rosemary after she was lobotomized.
Rosemary (Rosie) Kennedy was born in 1918, the first daughter of a wealthy Bostonian couple who later would become known as the patriarch and matriarch of America's most famous and celebrated family.
The five Kennedy kids: Rosie with her two older brothers, and her younger sisters Kathleen and Eunice (taken circa 1923)
Rosemary and Jack Kennedy in their teen years.
Elizabeth Koehler was born in 1957, the first and only child of a struggling Wisconsin farm family.
Her aunt was Stella Koehler, a charismatic woman of the cloth who became Sister Paulus Koehler after taking her vows with the Sisters of the Third Order of St. Francis of Assisi.  For thirty-five years―indeed for much of her adult life―Sister Paulus was Rosie Kennedy's caregiver.
Excerpt:
… More often than not, after Rosemary's escape attempts were thwarted, her frustrations boiled over—she erupted into an uncontrollable tantrum. Screaming like a wild animal, she would fall to the ground, her arms and legs flailing as she kicked and cried out in rage.
Her family was astounded. Why was sweet, gentle Rosie acting this way?
There was no way for them to know Rosie's situation had been incorrectly diagnosed. Her emotional responses aggravated a complicated underlying condition: mental illness.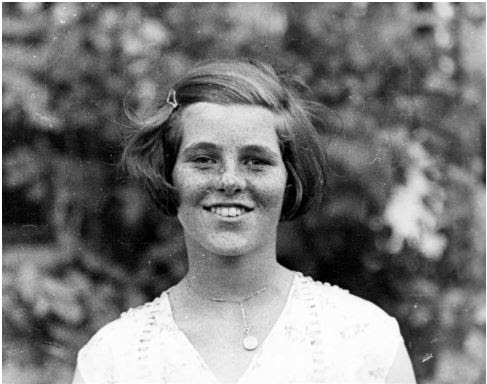 Rosie as a freckle-faced fifteen-year-old.
Rosie, a slow learner prone to emotional outbursts, underwent one of America's first lobotomies―an operation Joseph Kennedy was assured would normalize Rosie's life. It did not. Rosie's condition became decidedly worse.
Alverno buildings at Saint Coletta
After the procedure, Joe Kennedy sent Rosie to rural Wisconsin and SaintColetta, a Catholic-run home for the mentally disabled.
For the next two decades, she never saw her siblings, her parents, or any other relative, the doctors having issued stern instructions that even the occasional family visit would be emotionally disruptive to Rosie.
Sister Paulus and Rosie enjoy a meal.
Following Joseph Kennedy's stroke in 1961, the Kennedy family, led by mother Rose and sister Eunice Kennedy Shriver, brought her out of seclusion and resumed face to face contact with Rosie.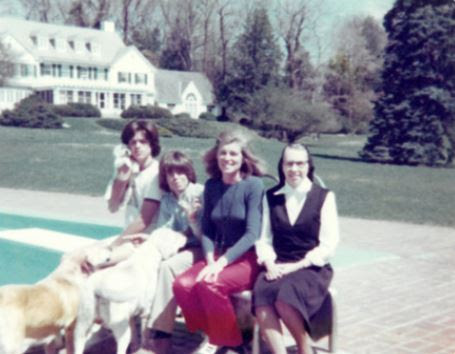 Rosie, Eunice Shriver Kennedy Shriver with her children, and Sister Paulus at Hyannis Port
And that created the opportunity for a young Elizabeth Koehler to begin paying visits to Rosie.
In this insightful and poignant memoir, based in part on Sister Paulus' private notes and augmented by nearly one-hundred never-before-seen photos, Elizabeth Koehler-Pentacoff recalls the many happy and memorable times spent with the "missing Kennedy."
Elizabeth Koehler-Pentacoff and Rosemary Kennedy
Based on independent research and interviews with the Shriver family, she tries to come to grips with Joseph Kennedy's well-intended decision to submit his eldest daughter to a still experimental medical procedure, and his later decision to keep Rosie almost entirely out of public view.
Ted Kennedy lunch date with Rosie
She looks at the many parallels between Rosie's post-operative life, her own, and those of the two families.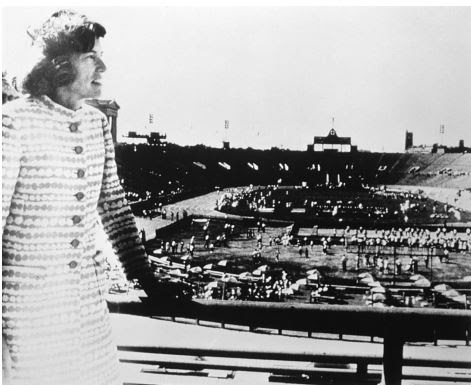 Eunice Kennedy Shriver looking out at the 1968 Special Olympic Games.
And, most important, she traces how, entirely because of Rosie, the Kennedy and Shriver families embarked on an exceedingly consequential campaign advancing the cause of the developmentally disabled―a campaign that continues to this day.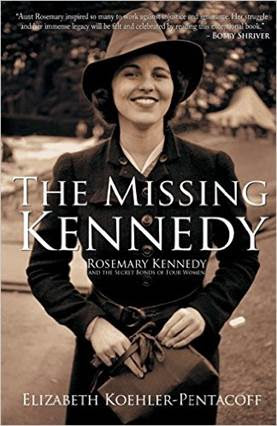 The Missing Kennedy:
Rosemary Kennedy and the Secret Bonds of Four Women
Elizabeth Koehler-Pentacoff
The inspiration behind The Special Olympics and The Best Buddies program, Rosemary Kennedy led a very meaningful life because of how her family responded to her misfortune.  Revealing a very personal look into Rosie's tragic yet inspiring life, Elizabeth Koehler-Pentacoff shares the impact Rosemary had on her life and the life of so many others.  She tells a sad story, yet a very intimate and uplifting one as well.
For more information visit http://missingkennedy.com/
About the Author
Elizabeth Koehler-Pentacoff is a former columnist for Byline Magazine. She wrote frequent humor pieces for the San Francisco Examiner as well as hundreds of articles and essays in newspapers and magazines such as Parents Magazine, Writer's Digest, and Parenting.
With degrees in Liberal Studies and Theater Arts/Children's Theater and two teaching credentials, she's directed plays and taught elementary and middle school students, as well as teachers. A speaker for international and state conferences, she presents assemblies and workshops for schools and libraries.
Born in rural Wisconsin, Liz moved to California for all of her college and post-graduate education, and has lived most of her adult life in the San Francisco area. She is married and has one grown child.
What People Are Saying
"Aunt Rosemary inspired so many to work against injustice and ignorance. Her struggle and her immense legacy will be felt and celebrated by reading this exceptional book."
Bobby Shriver
"…this poignant look at the life of a lesser-known yet remarkable Kennedy, with its dozens of never-before-published photos, is sure to resonate with enthusiasts of this influential family."
Library Journal
Reveals an untold chapter in the Kennedy saga . . . Also shows how knowledge of Rosie's disability led to the founding of the Special Olympics by Eunice Kennedy . . . Provides a few interesting glimpses into one member of the Kennedy clan who was almost lost to her family.
Kirkus Reviews
Koehler-Pentacoff's book offers an intimate glance at the sheltered life that Rosemary lived while her glamorous family grew in prestige and power . . . Heads in the welcome direction of telling the largely untold story of Rosemary Kennedy, and the story of the intellectually challenged and their allies in the fight to place them as equal members of society.
–Irish America
"Anyone in the world who's interested in the famous Kennedy family will find this fascinating memoir to be essential reading. Rosemary Kennedy was the least known member of the family but, it turns out, one of the most significant in the big scheme of things. If you don't read The Missing Kennedy, you won't know a critical and enlightening part of the Kennedy story."
Dr. Abe Bortz, American Historian
"Such a touching book!"
People Magazine
"Fascinating story!"
BBC World News Service (Claire Marshall, "Newsday")
"This is an important and encouraging book. The author tells the story of Rosemary Kennedy (1918-2005) from a personal perspective. In this remarkable account, the grace of God ripples through the pages …"