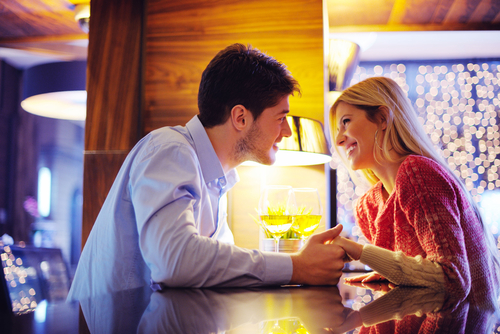 When you're in a new relationship, you are very aware of how a thoughtful, well-planned date can leave a strong, positive impression on your new love interest. But when you're in a long-term monogamous relationship, it's easy to relax into the stale and predictable formula of Netflix and takeout on date nights. But it is important to put in effort and create an experience that the two of you will deeply enjoy and cherish. Here are some tried and true tips to make great date nights your new normal:
The Planning
Have a solid plan for your date night, at least a week in advance. Check the weather forecast so you can plan an activity that will work with the weather conditions. Once you've established your activity day and time, find a restaurant nearby. Make reservations at least a week in advance so you can book your desired time slot. OpenTable is a wonderful online booking resource. You can make a note in the reservation that you will be on a date, so the restaurant manager and hosts know that you'd prefer a more intimate table. Make sure the activity and the restaurant will require the same dress code. You don't want to show up to a fancy restaurant dressed too casually. Let your date know what type of apparel to wear, so they are appropriately dressed for all the special things you've planned.
The Activity
When you plan an activity for your date, take into consideration the season and your date's interests. Autumn is the perfect time to take a trip out into the orchards for an apple or pear harvest. Or if your date is athletic, spend a winter evening at your local outdoor ice skating rink. Many public pavilions will create special, seasonal ice skating rinks, around the holiday season, which are festive and fun.
The Meal
When you look for a restaurant for your date, there are a few essential factors you should take into consideration. Make sure the price range is suitable for your budget. Select a restaurant with a stand-out and unique vibe that will add an air of enchantment to the date. Be sure to choose a restaurant that accommodates your date's dietary preferences or needs. For example, if you plan a date with someone who has Celiac's disease, explore restaurants that are known for their gluten-free fare. Use Yelp to search for restaurants that cater to specific dietary restrictions. Utilize Yelp, Eater and Zomato when you are in search of a restaurant, so you can ensure that the service, food and ambience standards will enhance your special date night.
Special Touches
A small gift is a gesture that can greatly impress your date. Flowers are always a welcome gift. Surprise your date and have a bouquet delivered from FTD the morning or afternoon ahead of your date. If you want to find the perfect gift for a someone you've been dating for a while, find a small trinket that will show you've listened to them share their passions. These small gestures make a world of difference and will make your date feel incredibly special.