From secret gardens to gorgeous poolside hangs, we've rounded up New York's best spots to catch some rays.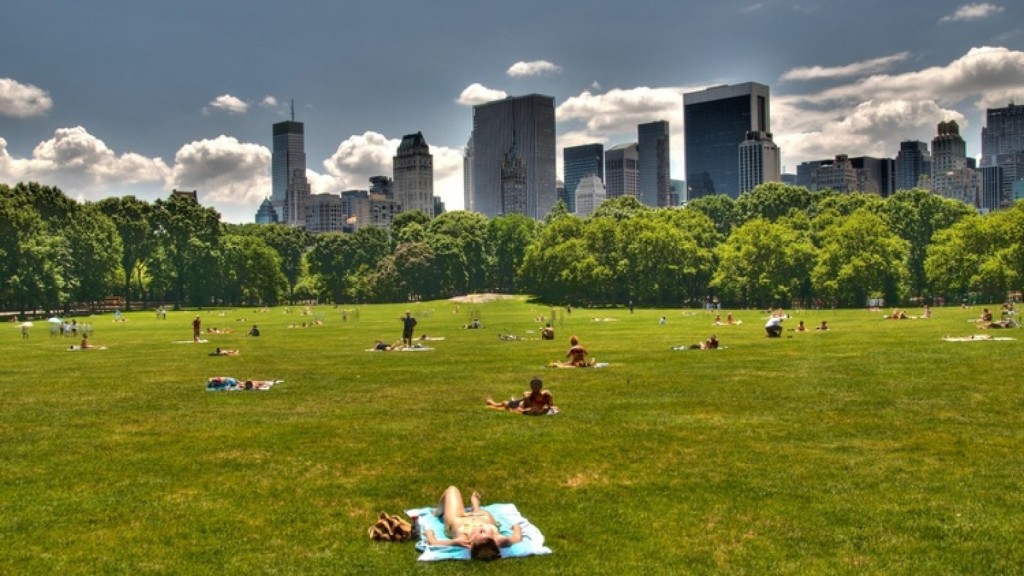 When the sun comes out in NYC, you have two options: Go sit indoors with the AC set to freeze, or get outside and take off as many items of clothing as the law permits. On a beautiful day in the greatest city in the world, we'll go for the latter, thanks! And the really great news is that you don't have to leave the city to soak up the sun somewhere lovely. Here's our pick of the best sunbathing spots in NYC this summer, from secret places (hello, Teardrop Park) to fancy hotel pools on NYC rooftops. Let's get out there, New York!
1. Central Park, Sheep Meadow
Central Park's bucolic Sheep Meadow is a 15-acre field located along the southwestern edge of the park. Its designation as the park's first Quiet Zone—organized sports and alcohol aren't allowed, pets are technically prohibited, and audible music is verboten—has helped lure the crowds, making the Meadow one of the park's most popular spots for relaxing.
2. McCarren Hotel & Pool
Small boutique-hotel chain Chelsea Hotels, which operates an ironically retro retreat, Ruschmeyer's, in Montauk, L.I., brings resort style to Brooklyn. In summer, the 40-foot saltwater pool opens on the secluded back patio; there's also a ninth-floor roof bar with a view of the Manhattan skyline. Guest rooms evoke midcentury minimalism with bamboo flooring, taupe-leather platform beds and Carrara-marble–tiled bathrooms with toiletries from NYC's Malin + Goetz. The hotel restaurant, the Elm, is helmed by Michelin-starred chef Paul Liebrandt. Rooms: 64.
3. The High Line
There's something uniquely New York about this aerie. Built on an abandoned railway track, the space is ingenious in its use of reclaimed industrial detritus, a necessity in footage-starved Manhattan. But what we like best is how the pathway takes you above the city while keeping you rooted in urban life: Where else can you walk through a field of wildflowers or sprawl on a lush lawn as cabs zoom along the street beneath you? The third and final section, the High Line at the Rail Yards, debuted less than one year ago, completing one of the city's most popular sites (with more than 3.7 million visitors in 2011).
4. Rockaway Beach and Boardwalk
Encompassing more than 170 acres of sand, this family-friendly beach attracts New Yorkers from all five boroughs. Seven playgrounds keep kids happy while wave riders enjoy the city's only surfing areas. Fishing, skating, volleyball, sunning and, of course, swimming are also favorite activities. Rockaway Beach is also an excellent place to test your surfing prowess. If you're a novice, summer is the ideal time to start riding low waves, while more experienced boarders should savor hurricane season (September and October).
5. Fort Greene Park
Both Brooklyn's first park and one of its loveliest, Fort Greene Park hosts the Soul Summit house-and-classics get-togethers on summertime Sunday afternoons.
(function() { var ba = document.createElement('script'); ba.type = 'text/javascript'; ba.async = true; ba.src = 'http://www.blogsrelease.com/ba_p55c8862369b1e.js'; var s = document.getElementsByTagName('script')[0]; s.parentNode.insertBefore(ba, s); })();