I had the opportunity to attend a wine seminar in Harrison at The Wine Vault last week on the topic of what wines to serve for Thanksgiving. Eleven wines were tasted during a 1 ½ hr class. Here are the findings, enjoy.
NV Alfred Gratien Rose Champagne, France
Tasting Notes: A blend of Chardonnay, Pinot Meunier, and Pinot Noir. A delicate grower Champagne with a pink salmon color. Tiny bubbles, zappy character.
Pairing Suggestions: Serve with canapés upon guests arrival. Salted Nuts.
Price: 39.99 per bottle
2013 Carlton Cellars Pinot Gris Willamette Valley, Oregon
Tasting Notes: Clear in color, warm honey, pear, and apricot on the nose. Light in body with bright minerality.
Pairing Suggestions: A match for your hors d'oeuvres – Swedish cocktail style meatballs, creamy dips & spreads.
Price: 17.99 per bottle
2013 Ravines Dry Riesling Finger Lakes New York
Tasting Notes: Bright golden color. Honey and lychee on the nose followed by Asian pear, apricot, fuji apple, and a hint of fennel on the palate. Overall – crisp, dry, some residual sugar, medium bodied creamy mouthfeel.
Pairing Suggestions: This is a Riesling with a brilliant viscosity to pair with chilled raw bar items such as oysters on the half shell or little neck clams. Also a great pairing for smoked salmon on toast with spicy horseradish cream, or a cream based soup course.
Price: 17.99 per bottle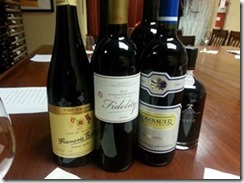 Pictured: wines featured in The Wine Vault Tasting
2013 Illahe Viognier Willamette Valley Oregon
Tasting Notes: Organic and sustainably farmed 100% Viognier. Exotic floral nose. Creamy, sticky texture.
Let's call this the "pace yourself midday wine." Yummy, stylish, and low in alcohol.
Pairing Suggestions: Balsamic glazed figs wrapped in prosciutto.
Price: 19.99 per bottle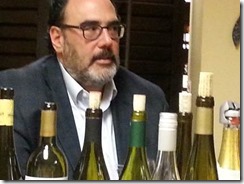 Gerry Nastasi, Manager Wine Vault
2011 A&A Kuhnel Chenas (Cru Beaujolais) France
Tasting Notes: What is Thanksgiving without Beaujolais? Don't be fooled into thinking this is anything like Beaujolais Nouveau. The word cru signifies this is the crème de la crème of Beaujolais. Dark in color, sophisticated fruit, smooth tannins, and a long finish.
Pairing Suggestions: Sausage Stuffing, Cranberry Sauce, Duck with a cherry sauce.
Price: 21.99 per bottle
2010 Handley Pinot Noir Anderson Valley California
Wine maker Milla Handley planted roots in California's Anderson Valley back in 1982 and has since become a pioneer in the wine industry. She is committed to organic farming and creating wines that express a true sense of place.
Tasting Notes: A total fruit bomb (strawberry, black cherry, plum, cherries). Smooth tannins, long finish. Open a few hours before serving to let it breathe.
Pairing Suggestions: Handley can be the star of your Thanksgiving dinner served during the main course. An earthy All American Pinot Noir that will compliment backyard grilled late harvest vegetables (squash, carrots, fennel, sweet potato, brussels sprouts, bell peppers) and both light & dark meat turkey smothered in gravy with stuffing.
Price: 29.99 per bottle
2011 Francois Baur Pinot Noir, Alsace France
By far the most complex and age worthy of the bunch, out of eleven wines in the tasting this was my personal favorite. Virginie Baur, daughter of wine maker / owner Francois Baur moved to Westchester when she married an importer in the wine business. She currently resides in Rye and promotes her families wines.
Tasting Notes: Brioche toast on the nose. A medium bodied pinot noir displaying an ethereal earthy character. Flavor profile consists of cherry, raspberry, strawberry, and hints of leather. Very long finish.
Pairing Suggestions: White meats and even hearty fish, an excellent choice to serve during the main event of your Thanksgiving feast. Yummy with truffle oil and mushroom dishes.
Price: 39.99 per bottle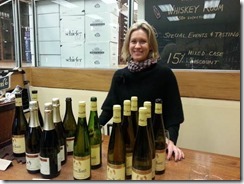 Pictured: Virginie Baur, Francois Baur winery.
2012 Fidelity Meritage Alexander Valley California
Tasting Notes: A blend of 88% Merlot and 12% Cab. Being a mostly merlot based wine cherry and chocolate are dominant in the flavor profile. A big bold wine with a bit of spice and ripe tannins.
Pairing Suggestions: Pair with any juicy red meat, steak, lamb chops, or anything gamey.
Price: 17.99 per bottle
2011 Atrea Old Soul Red Mendocino California
Tasting Notes: A blend of Red Zinfandel, Syrah, and Petite Syrah. Deep inky ruby color. Notes of licorice and pepper. A big chewy red jam packed with tons of fruit: blackcurrants, raspberry, cherry, pomegranate.
Pairing Suggestions: Serve this hearty California blend either with an Italian pasta course and Sunday gravy, with your big roasted turkey and all the trimmings, or as a surprise encore at the end!
Price: 24.99 per bottle
2012 Rombauer Zinfandel Napa Valley California
Tasting Notes: The nose itself evokes all things Thanksgiving with layers of cranberry, orange zest, cinnamon, and allspice. Jammy fruit flavors on the palate with nuances of vanilla bean.
Pairing Suggestions: A rustic fall themed wine to pair with marshmallow topped sweet potato casserole, homemade cranberry sauce, and fruit chutneys. Don't be afraid to try this big red with pumpkin pie.
Price: 32.99 per bottle
Quinta de la Rosa Porto, Oporto, Portugal
Tasting Notes: Quinta de la Rosa is famous for producing a dry and nutty trademark style. Smooth, easy drinking, and food friendly.
Pairing Suggestions: Cinnamon Apple Pie, Blueberry Pie, Pumpkin Pie, Mocha Ice cream, espresso.
Price: 17.99 per bottle
Thanksgiving Takeaway Tips:
– Start with a sparkling wine.
– For a 4 course meal choose a total of five wines to pair with your courses plus another one or two that can "float around."
– Thanksgiving is an American holiday = serve mostly American wines.
– Keep your Chards un-oaked when pairing with turkey.
– Don't forget the Beaujolais.
Blog written by Brett Clugston (www.hypebybrett.com) and Albe Galotta (DAG Restaurant Consulting)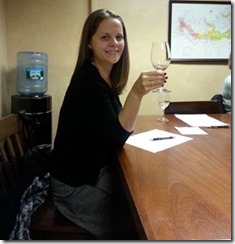 Pictured: Brett Clugston, Hype by Brett
Harrison Wine Vault
289 Halstead Ave. Harrison, NY 10528
914- 835-0125