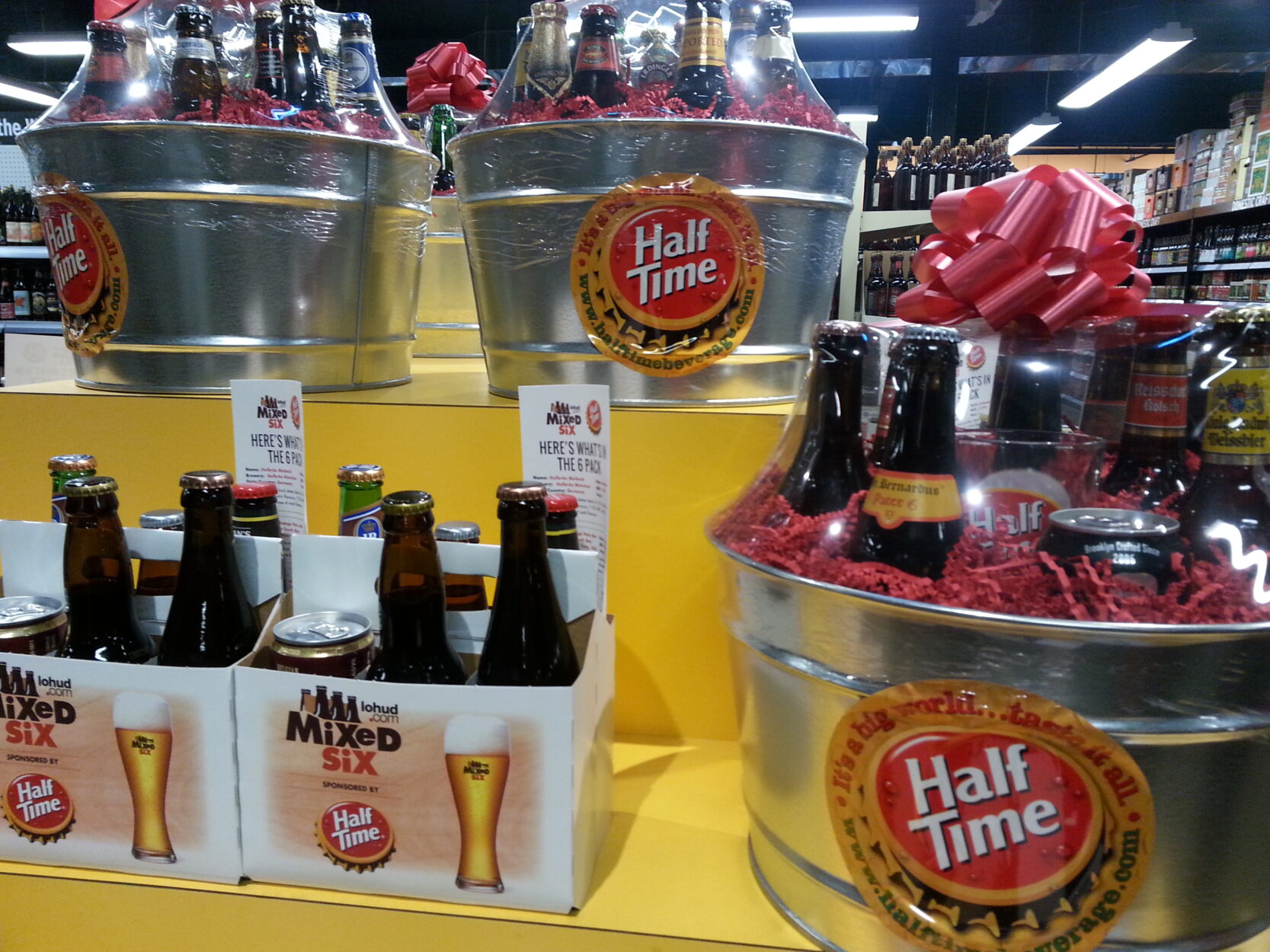 As a sommelier talking about a wines nose, tannins, and length of the finish comes easy.  But when it comes to beer lingo for some reason I get a little bit apprehensive.  I like drinking beer and usually try to drink what seems like the appropriate style to match the meal.  When I go out for Mexican I order a can of Tecate with a chilled salted rim glass.  At a sushi restaurant I'll always order a large Asahi with hot sake on the side.  When in Rome, right?  So when I heard Lohud food blogger / beer expert Megan McCaffrey was hosting a beer tasting at Half Time in Mamaroneck I figured it would be a cool opportunity to practice my beer tasting skills.  Quite a few people must have wanted to give their palate some training as well because when I arrived the parking lot was filled.  Half Time is like an underground spot for beer geeks except it's not hidden and is anything but small.
I headed on over to the tasting table and got the scoop on the offerings.  24 beers in 24 unique styles were being poured.  It must have been tough to narrow it down to 24 considering the store offers 2,000 selections from all over the world.  As a free event each guest was able to taste 4 one ounce pours with popcorn to cleanse the palate of course.  Here's the quick and easy 411 on the four I tasted from a non-beer experts opinion: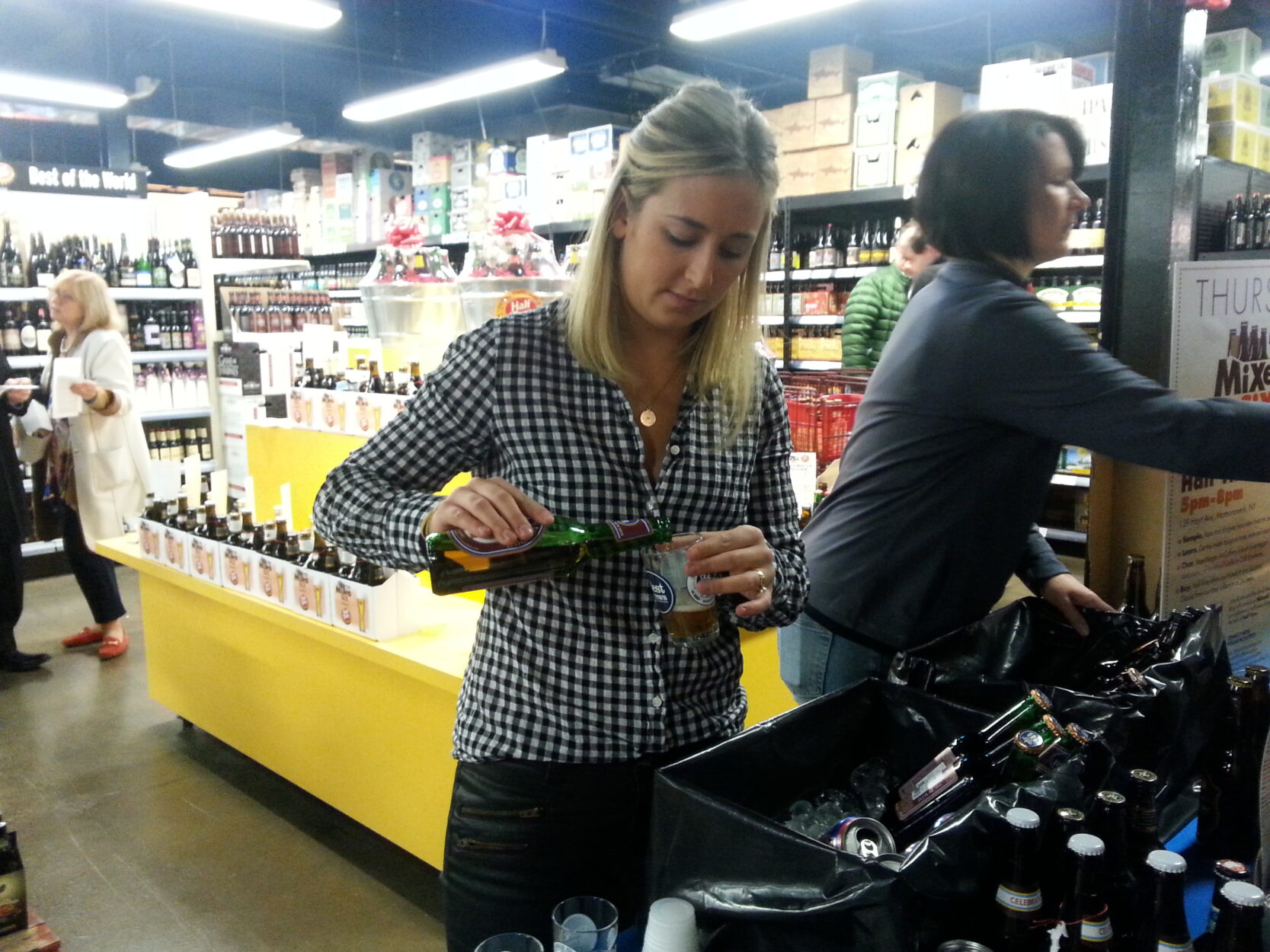 Dale's Pale Ale Oskar Blues
Style- Pale Ale
State/ Country: Colorado, US
Price: $2.19 per can / $11.49 per 6 pack
Notes:  Personally I love drinking a fancy craft beer out of a can so Dale's Pale Ale is just my style.  It's light, easy drinking, and citrusy.
Pairing:  A great brunch beer to pair with a salad or quiche.  If it were August (I wish) I'd drink it on the beach with some chips & salsa.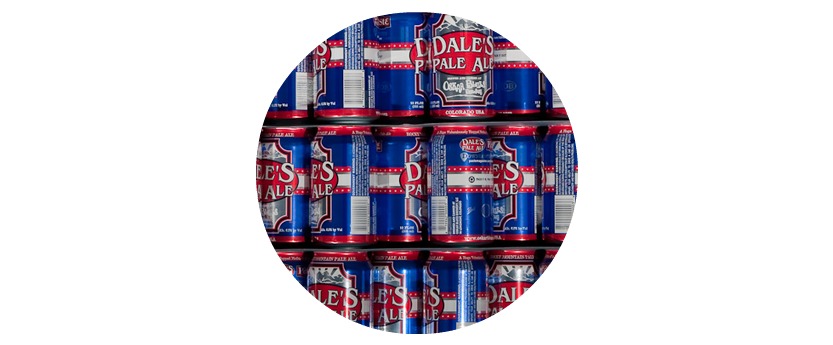 Hofbräu Maibock
Style- Maibock
State/ Country: German
Price: $2.29 per can / $12.29 per 6 pack
Notes: Traditionally served in the spring this Maibock is bright and zingy. Don't let the light amber color fool you this beer is jam packed with flavor.
Pairing– A rustic homestyle dish such as Cioppino or Bouillabaisse or a stew with lamb and potatoes would be delicious.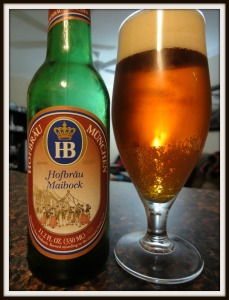 Mother's Milk Keegan Ales Stout
Style- Milk Stout
State/ Country: USA
Price: $1.99 per can / $10.99 per 6 pack
Notes: Perfect for late night drinking, fireside at a holiday party. It's rich, creamy, and dark.  Hints of chocolate and coffee.
Pairing- Cheese and fruit platter with balsamic glazed figs.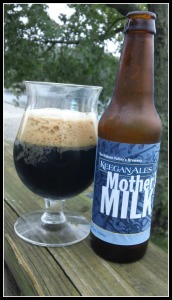 Dogfish Head Festina Peche
State/ Country: USA
Price: $2.49 per can / $8.99 per 4 pack
Notes: The name in itself says party beer for girls. Lots of fruit flavors with some tartness.
Pairing- In my imagination I'm drink this beer in a Chinese restaurant paired with Peking Duck L'Orange.  More easily executed I'd pair it with any light fish with a citrus sauce at home.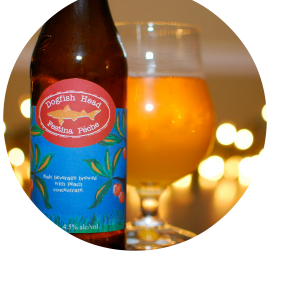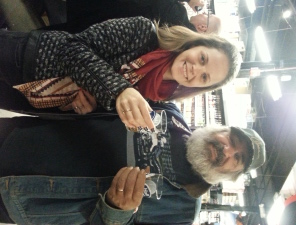 Visit Half Time-
139 Hoyt Ave, Mamaroneck, NY 10543
www.halftimebeverage.com
Written by Brett Clugston
Brett Clugston blogs about food, restaurants, wine, and social media at www.hypebybrett.com