It's hard to believe but Food Truck Friday season in Pound Ridge is coming to a close. Stop by on September 20th for an end of Summer/back to school event! Spend the last Friday of Summer "hanging local"!  The event runs from 5PM to 9PM and an open mic will be hosted by the Recreation Department. For more information follow the event on Instagram Food.Truck.Fridays.and.More
  Harvest Festival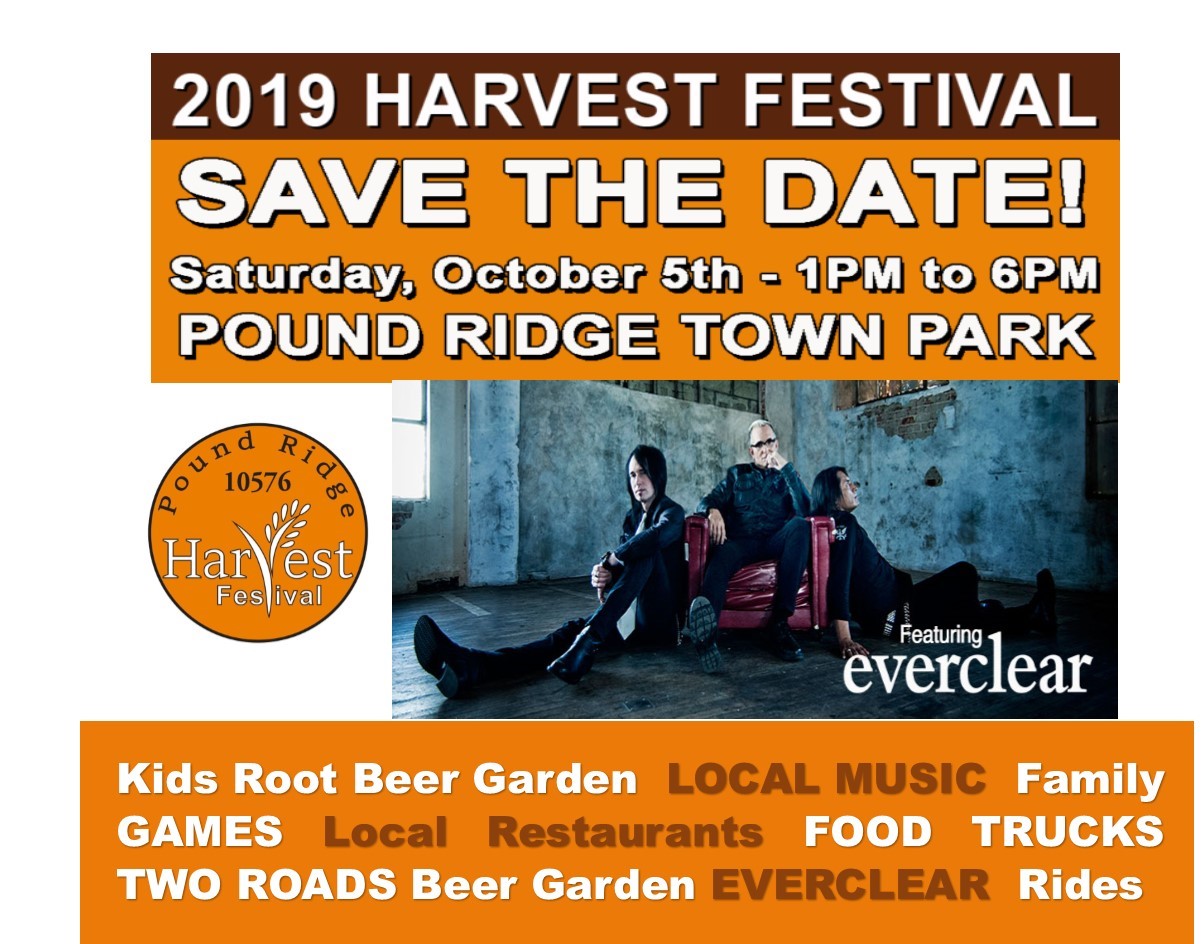 Harvest Festival celebrates its 8th annual event on October 5th!  Festivities run from 1:00PM to 6:00PM at Pound Ridge Town Park. Celebrate local food and culture alongside great music and activities for the entire family. Local restaurants, specialty food purveyors and craft breweries provide something for every member of the family. The Root Beer Garden includes a Hot Cider Bar to keep you warm!  Kids can enjoy rides and crafts, fun games and prizes. The Scarecrow Competition allows teams to show some imagination and creative decorating skills. Limited VIP tickets will be sold, benefits include on-site parking, exclusive viewing area, swag bag and fast pass that will boost you to the front of selected lines. This year's headliner with its '90's alt-rock hits is the Grammy award winning band EVERCLEAR.. The opening bands are the Pound Ridge Pride Battle of the Band Winners, Wheelhouse and Postscript; selected during Pride Day on June 2nd.
Admission is free! Parking has a fee $20.00
Visit the website for more updates: www.poundridgeharvestfestival.com
Follow us on Instagram @poundridgeharvestfestival and on Facebook @prharvestfest
 Eco Chic Evening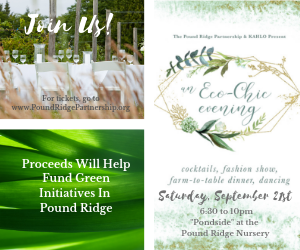 Saturday, September 21st, the Pound Ridge Partnership & KAHLO present an Eco-Chic Evening, a fundraising event to raise awareness about the environmental and social impacts of our fashion choices, and celebrate being green & chic! Proceeds will fund green initiatives in the business district, such as electric car charging stations, increased beautification with native plantings along with expansion of the pollinator pathway, recycling programs, and more. The event will take place "pondside" at the Pound Ridge Nursery featuring cocktails, a farm-to-table dinner by Purdy's Farmer and the Fish, an eco-fashion runway show and dancing. To purchase tickets, visit https://poundridgepartnership.org.