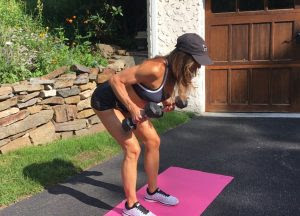 Christmas is less than 100 days away! And while we usually think of summer when bearing our bathing suits and tank tops, the Holidays are is a time where we will be getting dressed in our formal wear which will be baring our arms as well! We all want to look our best regardless of what time of the year it is, and it's true that there is no "season" for getting into shape, that we must maintain our healthy and fit lifestyle all year long if we really want to see results.
With that being said, we have a little under 3 months to get those arms looking sexy and sculpted and that is more than enough time! So if you follow these exercises you are sure to go into the holiday season with a bang sporting that sexy dress or top that you plan on wearing!
My favorite part of the body and the area that most people will see are the shoulders! And the good part about sculpting sexy shoulders is that you don't need heavy weight, a gym or any fancy equipment. If you have dumbbells in the house or go to a gym, fantastic! But if you don't grab water bottles, or anything with a bit of weight that you can hold in your hands.
Some of my favorite shoulder exercises are:
Side Lateral Raises – start with weight in front of your thighs and lift out to the side. Do not lift the weights past your shoulders and the weights should be in your peripheral vision, a V shape, not hyper-extended out to the side.
Front Raises – take the weights and extend them out to the front. Again, don't lift higher than shoulder height. Elbows should not be locked but keep arms straight. Legs should be a few inches apart for stability.
Shoulder Presses – stand with legs shoulder width apart and press the weights above your head. Palms should be facing out. This is great for your core too as sitting engages it a bit more.
Training triceps is also a great idea. Triceps are those "bat wings" that most women love to hate. While many people focus on the biceps, the triceps are a much larger muscle. So if we can begin to grow the triceps your arms will take on a much more toned shape as they are located on the outside of the arm.
Tricep exercises include –
Overhead Extension – place dumbbell directly over your head, holding with both hands. Bend just the top portion of your arm (elbow to wrist) back. This is a very isolated move so your back should not move in any way.
Chair Dips – stand in front of a bench or chair and place your arms behind you, hip level. Walk your feet forward to you are not touching the bench with your butt. Slowly lower your body down, bending the top part of your arm (elbow to wrist) in and squeeze the tricep when extending out. Push up to starting position.
Your back is always important to train and build muscle on. The goal is to widen your back so that you create the illusion of a smaller waist. While we don't get to see our own backs very often, it is extremely flattering to have a sculpted, toned back. All sorts of rowing exercises are excellent for building muscle in your back. Because our back has much larger muscles than our shoulders and triceps, we are able to push a bit heavier weight. Don't be afraid to test your strength! You are much stronger than you think!
1 Arm Row – place a leg up, knee on bench (or ottoman or chair at home), leaning forward, row with the dumbbell in the opposite hand. You never want to be leaning over – chest should be pointed out and butt should be out. Good form is very important!
2 Arm Row – Bend your knees, push chest out and butt back, and row both arms simultaneously. Arms should come down all the way, and back up to a rowing motion. Do not round back or bend over.
Renegade Row – Get into a push-up position with hands holding dumbbells and row. This is great core work as well while building muscles in your back.

Perform 3-5 sets of 10-15 reps. It's important to always add progression to your workouts. So if you can only do 3 sets of 10 reps the first time, aim for 11 reps the 2nd time! When you reach a 12 reps, it's time to move on to 4 sets! We must always push our muscles out of their comfort zones! Remember, muscles grow when they are fed and rested. So be sure to include a healthy, nutritious diet into your lifestyle so you can reap all the benefits!
So as you can see, all of these exercises can be done at home, at your own leisure and convenience. If you perform all of them it should only take about 30 minutes and they are all very effective! With the proper nutrition you should have gorgeous, sculpted arms just in time to show off that beautiful holiday dress or tank top!
Sloane Davis is a Certified Nutritionist and Personal Trainer who has helped thousands of people, both men and women, around the world get in to top shape both mentally and physically. Sloane has her undergraduate degree in Bachelor of Arts from Syracuse University and became accredited through ISSA with her degree in Sports Nutrition and Personal Training. She works personally and online with thousands of clients around the US and globally.

She has been featured in People, Fitness Magazine, New Beauty Magazine, Apple News, The Daily Mail, Yahoo News, FOX Good Day New York, FOX Good Day DC, NY1, Bay Area Focus, Women's Fitness, Womanista, Livestrong, Mind Body Green and Westchester Magazine.

Connect with Davis on Pancakes And Push Ups. Follow her on Instagram at Pancakesandpush_ups, view videos of her on YouTube and follow her on Twitter and LinkedIn Website: Pancakesandpush-ups
Fitfully yours,
Sloane Davis
Pancakes and Push Ups
www.pancakesandpush-ups.com
Facebook: Pancakes and Push Ups
Instagram:pancakesandpush_ups
Twitter: pancakespushups