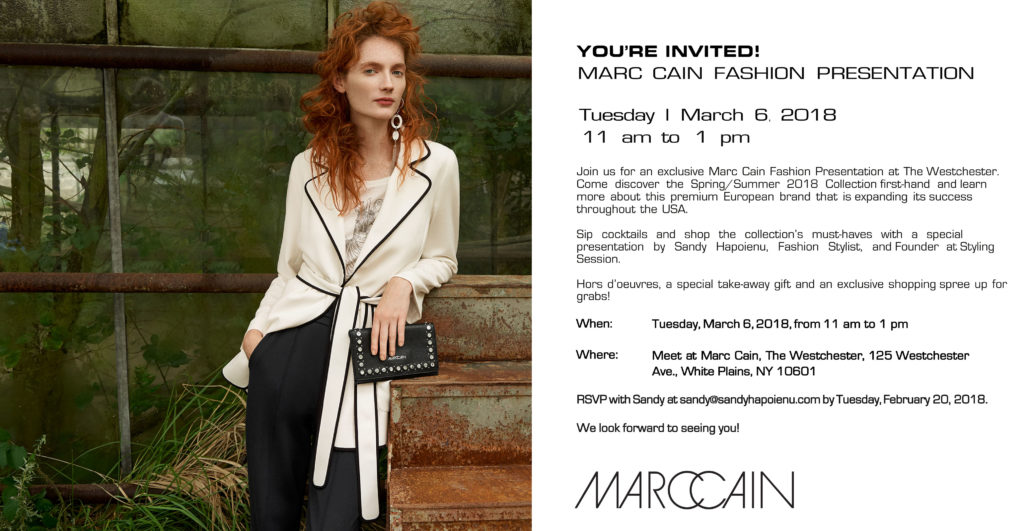 An exciting new store has opened in the U.S. "Marc Cain" and we are lucky to not only have it in our backyard but also be invited to an exclusive Fashion Show hosted by Personal Stylist, Sandy Hapoienu. Sandy is known not only for her styling expertise but for her charm in hosting many of these types of fabulous events.
Grab your girlfriends, drink champagne, learn about the new Spring Trends. Be camera ready, Greenwich Magazine will be there to snap photos. "RSVP's" are a must to get on the list. Receive your swag bag and be entered to win a shopping spree. Sandy says, "This is the most exciting line to come to the U.S. in years!"
Sandy Hapoienu, Founder -Styling Session. The fashion company that empowers women to strategically take control of their image and find their authentic style. Sandy's special eye for all things fashion has made her a top asset to everyone from corporations, publishers, celebrities and the girl next door. Check out more of her fashionable sense on her fabulous blog and social media handles.
https://www.facebook.com/stylingsession?ref=hl
https://www.instagram.com/shapoienu/