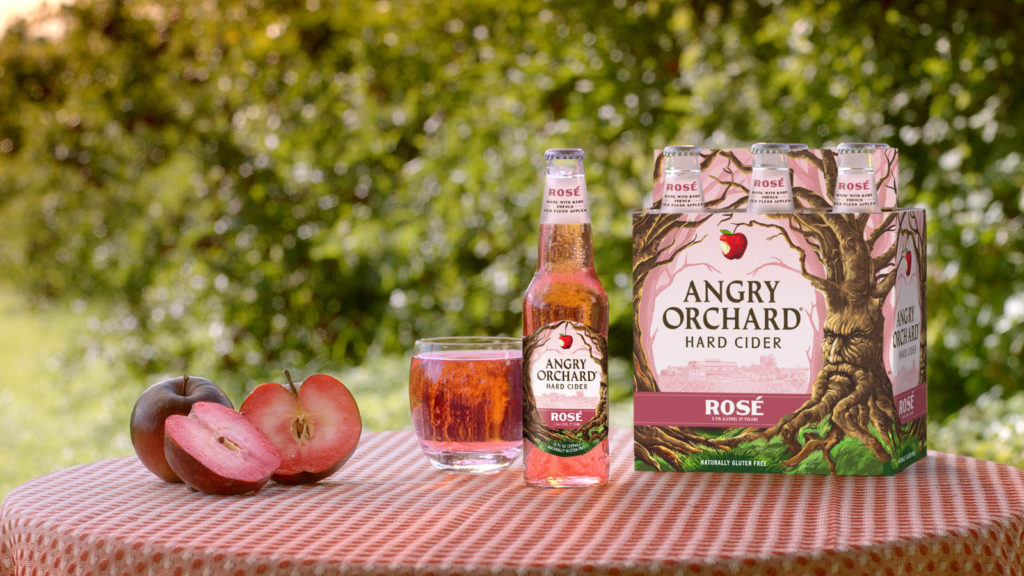 Drinkers are familiar with Rosé wine, which continues to grow in popularity. This year, drinkers have a new, unexpected option: Angry Orchard Rosé hard cider, made with a delicious blend of apples including rare red fleshed apples from France. Angry Orchard Rosé delivers the crisp and refreshing qualities of cider with a rosy color and floral aroma. It is apple-forward in taste complimented by refreshing light tannins, similar to a semi-dry wine.
Inspired by their love of Rosé wines, the cider makers experimented with small batches of rosé cider for more than a year at the cidery on Angry Orchard's 60-acré orchard in Walden, New York, looking for the perfect blend of apples. Their experimentation took them to Brittany, France where they found the unique red-fleshed apples, called Amour Rouge, or Red Love. When cut open, the apples are rosy inside. The cider makers blend six different apple varieties in this cider, but it's the red flesh French apples, along with a hint of hibiscus, that gives it its rosy hue.
Cider, like wine, is derived from harvested and fermented fruit (apples!) to create a refreshing beverage. As Rosé wine has grown in popularity as a year-round beverage, Angry Orchard's cider makers were inspired to play around with the elements of Rosé wine's profile. The result — an unconventional, apple-forward style that brings a new fun flavor to the palates of wine and cider drinkers alike.
For more than 20 years, the cider makers at Angry Orchard have been experimenting with ingredients and cider making techniques from all over the world to give drinkers new and unique ciders that are complex, distinctive and balanced. Angry Orchard Rosé is the latest innovation as they continue to push the boundaries and explore the various styles of cider.
Angry Orchard Rosé apple-forward flavor pairs well with a variety of cuisines including creamy cheeses, like gouda and feta and hearty meats, such as ham and proscuitto. It's the natural drink of choice to accent gatherings with family and friends either around the table or hanging out by the firepit.
Angry Orchard Rosé Cider Details
Gluten-free, with 5.5% ABV.
Medium mouthfeel with a delicate floral aroma and apple forward taste, complimented by refreshing light tannins, similar to semi-dry wine.
In addition to the fresh juice from rare, red-fleshed apples called Amour Rouge, or Red Love, this cider includes a blend of culinary apples including Gala, Fuji, Red Delicious, Golden Delicious and Granny Smith, used to enhance the crisp apple flavor in the cider.
Rosé Cider will be available year-round in 6-packs for $7.99-9.99 (varies per market) and 12-pack variety packs with other Angry Orchard styles for $14.99-16.99 (varies by market) starting February 2018.
Angry Orchard is the number one selling hard cider in the U.S. according to IRI, Total U.S. Multi-Outlet, last 52 weeks ending 1/4/18.
Visit the orchard at www.AngryOrchard.com, on Facebook at www.Facebook.com/AngryOrchard, and on Twitter at www.Twitter.com/AngryOrchard.