Just Live combines unique design and superior construction into a high quality yoga pant that fits great, looks great and doesn't cost a fortune!
I just did my first workout in my Just Live leggings. They were comfortable and cute. They weren't black!!!  They didn't ride up or down. I got a ton of compliments and could stay in them all day.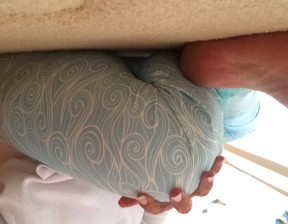 Prints are the new black.
The busier the print, the more flattering it is, because the eye follows its movement, proponents say. Prints hide everything and enhance all the right parts.
In the world of fitness fashion, there are two options: affordable but uncomfortable, unsupportive, see through and short-lived; or a major premium brand that looks great, but empties bank accounts with a single pair of pants! At Just Live they believe women shouldn't have to choose. That's why they've searched high and low for the best fabrics and techniques to create high-end, functional, and fashionable yoga pants that encourage women to appreciate all that they have and just live!
Just Live's own propriety precision fabric blend, Yolon, ensures their yoga pants are:
Breathable, soft, and lightweight
4 – ways Stretchable
Stain Resistant and fade proof
UPF Protected against harmful UV rays (plus, they aren't see through)
Fast-drying
Antimicrobial
Virtually odor proof
Grown tremendously over the past four years.
Already established as a favorite among women in Miami and South Florida, Just Live has grown tremendously since their founding in 2011. Money raise through theirKickstarter campaign will go towards two major goals: Research and Development, and making their yoga pants even more premium.  This includes padding in the leggings for support and fit, breathable mesh inserts for increased airflow, stronger yet softer materials that offer an opportunity for reusable resources to keep carbon footprint down.
For more information, please visit https://www.kickstarter.com/projects/1428920854/119504178?token=9d16cb43 or contact [email protected].