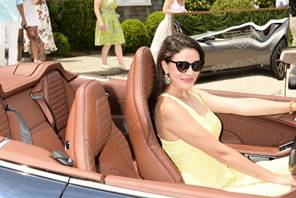 Bradford Rand of RAND Luxury has once again hosted an exclusive, Invitation-Only brunch at a private estate in Sagaponack, NY, where the brand new DB11 was debuted along with the other latest models from Aston Martin and other luxury brands. On Saturday, July 22nd, 2017 from 11:00 AM – 3:00 PM, the event featured a showcase of the unique timepieces, couture luggage, private aviation, electronics, fashion and much more. The official media sponsor was Hamptons Magazine.
During the event, guests were also able to participate in a live and Silent Auction benefiting the North Shore Animal League America.
The newly constructed Sagaponack estate, where the event was held, was also showcased by The Corcoran Group's star real estate agent Susan Breitenbach. This home was available for acquisition for $12.995 million.
Notable attendees included: Bradford Rand, President / CEO RAND Luxury; Alexandria Schneft, Susan Breitenbach, William Cho / LG CEO; Thomas Yoon / President of Home Appliances; Heaven Lee / President of Home Electronics; Peggy Ang / Head of Home Appliance Marketing; Dave Vanderwaal / VP of Marketing; Jason and Robin Boyarski, Jake and Maya Phipps, Sharif El-Gamal, Samantha Perlman, Zach Erdem, Peter Pierce, Jackie Rogers, Maria van Vlodrop, Jean Shafiroff, and Steven Carl.
Sponsoring brands: LG Signature, Jet Aviation, The Macallan, Château Saint-Maur, Hastens, Morgenthal Fredericks, Godiva, Cohiba, Home Technology Experts, Savant, Sonance, Idea Lab, EchoBox, Peroni Italy, Montegrappa, Cavelier, Harmless Harvest, Honest Tea, Cavelier, Stone Farm, RockStar Hotels, Immotor, Hotel Chocolat, Macaron Bites, Parsons Xtreme Golf, & Antigua Barbuda.
Invited guests also enjoyed signature spirits throughout the mid-day soiree from Patron. Acker Merrall & Condit, America's oldest wine shop and the world's leading Wine Auction House conducted vintage wine tastings. Cohiba provided hand-rolled fine cigars and The Macallan conducted scotch tastings.
WHEN: Saturday, July 22, 2017
11:00 AM – 3:00 PM*
(Cocktails and Hors d'oeuvres)
*Subjected to client approval
WHERE: A Private Residence
Sagaponack, NY
(Address was provided upon RSVP confirmation)
To download selected photos, please visit: http://bit.ly/2tX37f1
To view a full gallery of Rob Rich/SocietyAllure.com images, please visit: http://www.societyallure.com/Hamptons-2017/E-Rand-LuxuryAston-Martin-Brunch-at-a-private-residence-in/
(Photo Credit Rob Rich/SocietyAllure.com)
About RAND LUXURY:
RAND Luxury is an international event-production company founded by entrepreneur Bradford Rand that caters to the world's finest and most unique brands. Based in Manhattan, the RAND team has produced over 1,100 events since 1993. Events include "The Luxury Technology Show," in New York & Los Angeles, "The Luxury Lounge" during The Sundance Film Festival and the Toronto Film Festival which showcase brands during exclusive film receptions to producers, directors, celebrities, film investors, directors and VIP guests, "The Hamptons Brunch Series" takes place on $6 to $20+ million dollar estates featuring driving experiences from Rolls-Royce, Bentley, Maserati, Lamborghini & Aston Martin. RAND Luxury has also produced unveiling events for such brands as Rolls-Royce, SONY, Bugatti, Hasselblad, Giorgio Armani, Leica, Lexus, Aston Martin, LG Electronics, Bentley and more. Other notable shows and charity fundraisers the team has produced include The Luxury Review, Go Green Expo, The Red Cross Ball and City Harvest. The team also produces the Fashion Career Expo, a professional hiring event for the industry since 2003 that is sponsored by WWD / Women's Wear Daily. Bradford Rand's other conferences include The Cyber Security Summit & TECHEXPO Top Secret.
For more information, visit: www.RANDLuxury.com