Created during the pandemic, 'Land of Positive Thinking' — a deck of
51 original sayings on colorful cards — delivers bitesize inspiration and humor
If there was ever a year that called for positive thinking, 2021 is way up there. "We are living in one big mess o' stress," says Bill "Tish" Tisherman, a suburban New Yorker, whose response to the pandemic was to create a set of funny, inspirational cards to help people laugh and think at the same time — in the Land of Positive Thinking.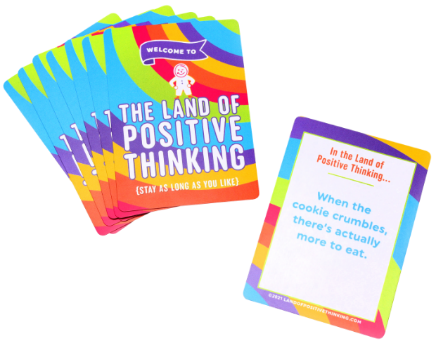 The deck of 51 cards is rich in one-liners designed "to brighten any day". To wit:
In the Land of Positive Thinking, the sweet smell of success is right under your nose.
In the Land of Positive Thinking, opportunity knocks, then rings the bell.
In the Land of Positive Thinking, Plan C is even better than Plan B.
In the Land of Positive Thinking, when the cookie crumbles, there's actually more to eat.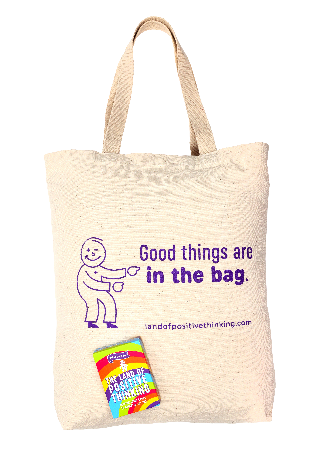 Topics range from food to romance, money to motivation, workplace to home life — always with a chuckle in mind. The colorful cards are available online (landofpositivethinking.com) as well as at select retailers and festivals in New York and Connecticut. Decks are minimally packaged with a tabletop stand and magnet frame to display favorite cards ($12.50/deck). The LPT website also offers upbeat Positivity Kits — tote bags filled with "fun meets function" imprinted items:
A bright green stress ball promises: You can RELAX in all caps.
Coasters declare: I think, therefore I am. I drink wine, therefore I am more.
A stylus pen asserts: Everyone Gets to Leave a Mark.
A collapsible cup reminds: Life is refillable.
Memo pads turn a to-do list into a "ta-da!" list
Stickers bring yet more colorful imagery and sayings ("Whatever it is, you can stick to it"; "Dance like everybody's watching"; "Chill Pill Meets Pep Pill").
While well-known in the wine industry as an editor, educator and speaker, Tish's roots are in comedy (Harvard Lampoon) and poetry (MFA in Creative Writing), and he had been compiling Land of Positive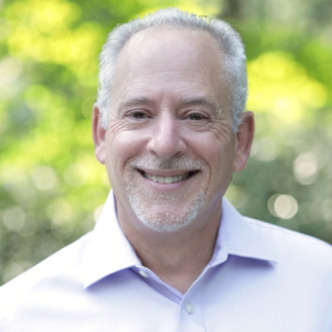 Thinking punchlines for years. In early 2021, he decided that now, mid-pandemic, was the time to launch.
"Positive thinking is more than just optimism or looking at the bright side. It's an active choice," Tish reasons. "Especially when paired with a sense of humor, positivity is—in itself—rewarding and motivating. And I think we can agree it's something everyone can use, now more than ever."
Defining positivity can be tricky, but it can be embraced broadly and has even been researched. A team at Johns Hopkins, for example, identified a 13% lower risk of heart failure among people who had a "positive" versus "negative" outlook (based on factors like cheerfulness, energy level, anxiety level, and overall satisfaction with life). Studies have also found that negative emotions can weaken immune responses.
One of Land of Positive Thinking's stickers touts "Wellness with a Wink"—and while the cards are not intended to be therapeutic, they are designed to provoke both laughter and, if not reflection, at least distraction. "It's humor with a hmmm," says Tish. "We endorse the OK in-joke."
Laughter is the best medicine, goes the age-old saying. And indeed, the spectrum of laughter running from chortle through heh-heh-heh through rib-splitting has been credited with multiple benefits: It relaxes physical tension, triggers feel-good endorphins, increases blood flow, and burns a few calories. Most important of all, laughter brightens moments, brings levity to situations, fosters camaraderie, and sometimes even diffuses anger.
Now, laughter has a new hangout: LandofPositiveThinking.com.