OKO, featuring Japanese inspired cuisine and Nigiri sushi from celebrated chef and Westchester native Chef Brian Lewis, is set to open in Rye, New York at 29 Purchase Street (the corner of Locust Avenue) on December 18, 2019.
"Having grown up in Westchester and kicked off my culinary career in local restaurants, I'm ecstatic to be back for the first time in years with OKO," said Lewis.  "This is a true passion project for me, combining my love for classic Japanese cooking techniques with sourcing the freshest, highest-quality ingredients, all in a lively, fun and welcoming atmosphere.  Named in honor of okonomiyaki, or "OKO," a savory pancake filled with seasonally-inspired ingredients that I introduced at The Cottage as my first Japanese-inspired dish on a menu a few years ago in Westport, I'm looking forward to meeting new and old friends in the Westchester community at our second OKO location."
The food menu at OKO will include several styles of Japanese-influenced cuisine, including Sushi Nigiri, Sashimi and Temaki (hand rolls), as well as vegetable tempura, seasonally inspired salads and vegetable dishes, okonomiyaki, homemade tofu, hand-cut soba, Bento Boxes and meat dishes from the tepinyaki grill.  A traditional Omakase menu will also be available at the Chef's Table, offering a spontaneous, multi-course menu of the chef's choosing, as well as a "Chef's Selection" offering of Nigiri Sushi, Sashimi or Chirashi Sashimi.  A special children's menu will offer younger guests a variety of Bento Box options.  Dessert will include house-made soft serve ice cream and build-your-own sundaes and cones, OKO – Chokobols (housemade chocolates), housemade Matcha Kit-Kats and the restaurant's signature Ooey Gooey Chocolate-Matcha Birthday Cake.
The beverage program at OKO will also celebrate the Japanese culture with seasonal, local ingredients.  A robust offering of Sake (by the bottle and on tap), Japanese, European and American Beer (by the bottle and on tap), hot and cold iced tea, matcha and wine will be offered.  Custom cocktails and Highballs will integrate traditional Japanese ingredients – sake, barley shochu, Japanese craft whiskey and matcha – with spirits including gin, brandy, rye and tequila.  Creative, non-alcoholic drinks will also complement food options.
"I'm excited to share that Charlie Gilhuly, Chef Christian Wilki and Ralph Leon, who were the opening team at our first Westport location, will be involved here in Rye, with Charlie overseeing operations and front-of-house activities, Christian serving as my Chef de Cuisine and Ralph running the beverage program," added Lewis.  "We're pleased to welcome Jen Morris as General Manager, Tan Tandy as our Sushi Chef and Fecedio Douglas as our Sous Chef.  Jen brings 20 years of food and catering experience throughout Fairfield and Westchester Counties to our team, Tan has specialized in creating creative sushi and Japanese-inspired cuisine for more than 20 years at New York City restaurants such as Nobu and Morimoto and Fecedio comes to us from such recognizable restaurants as Homewood in Dallas and The Dutch in New York City."
Architect Rick Hoag from Frederick William Hoag Architect and Interior Designer Megan Zwick from MZ Interiors once again collaborated with Lewis and his team to create the vibrant dining space offering a direct view of the heart of Rye's downtown. The interior continues to take inspirational cues from OKO's distinctive palette of culinary colors, featuring a post-industrial scheme of natural ash, concrete greys and black steel, combined with large windows, exposed brick walls and a restored tin ceiling with a decorative pattern.  Ash wood furniture, slender wood LED lights and Japanese-inspired, geometric lighting fixtures add to the creative element of the restaurant.  A custom-designed steel structure, inspired by traditional Japanese scaffolding, is suspended over the pass to the kitchen, offering an exciting, behind-the-scenes view of the team at work.  Traditional and banquette style seating, including two round tables to host large parties in the restaurant's front bay windows, a high-top Chef's table and bar seating offer several choices to savor OKO's cuisine.
OKO will be open Tuesday-Saturday for dinner service, expanding to offer Sunday dinners, lunch and OKO TO-GO options in the new year, as well as on- and off-site private event options.
The restaurant accepts reservations via OpenTable.com, or by contacting the restaurant at 914-481-8660.
About Chef Brian Lewis: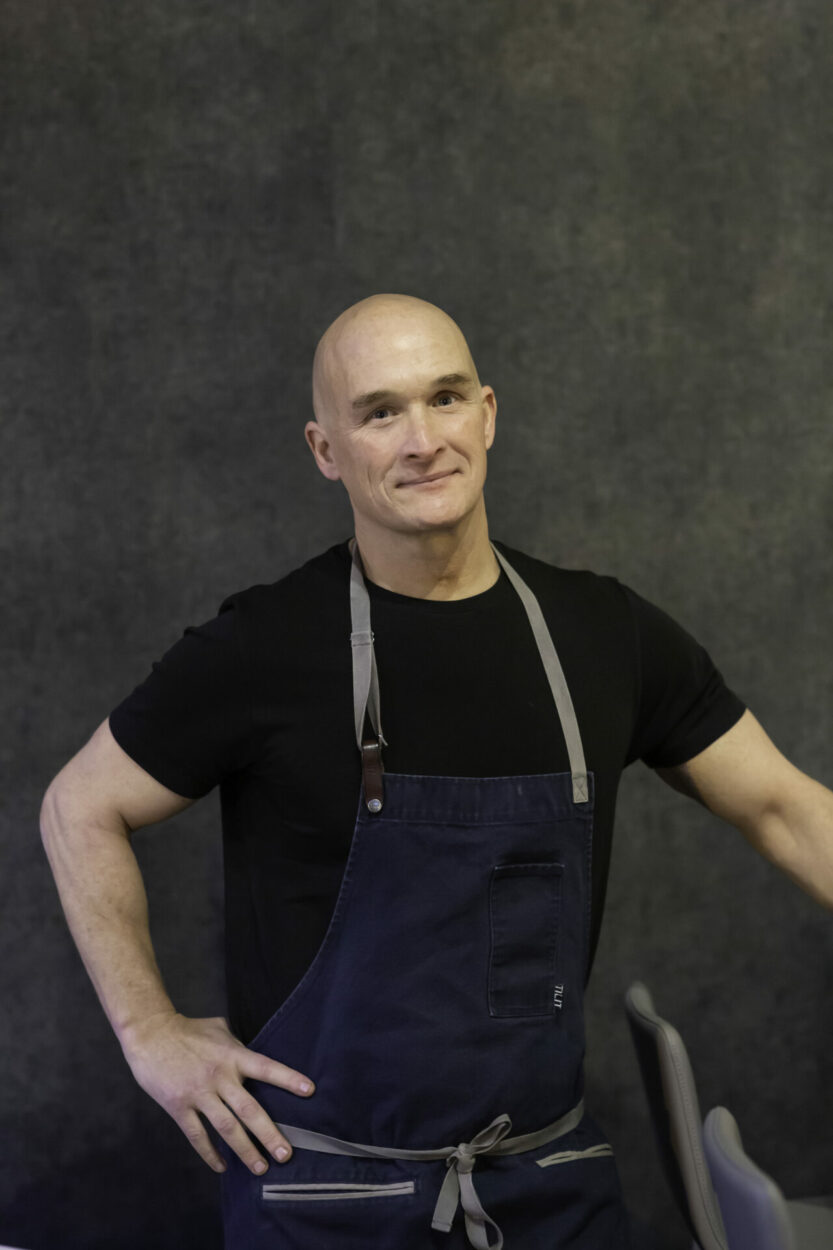 Brian Lewis is one of Connecticut's most celebrated chefs, lauded for his commitment to quality and seasonally driven American cuisine featured at his restaurant, The Cottage, as well as his love for Japanese cuisine at his newest venture, OKO.  The Cottage, based in Westport, Connecticut, was recognized with an "Excellent" review in the New York Times, after only being open for four months, commending Lewis' sophisticated menu in a cozy setting.
Lewis was also honored in 2018 as a semi-finalist for the James Beard Awards' Best Chef: Northeast in the 2018.
He first received national recognition as the opening Executive Chef of actor Richard Gere's The Bedford Post Inn, a Relais & Chateaux property that featured two destination restaurants, The Barn and The Farmhouse. There, he acquired national acclaim including Esquire Magazine's "Best New Restaurant" list in 2009, and an "Excellent" review in the New York Times for his thoughtful and consciously sourced cuisine. He launched his first solo venture in March 2012 with elm, where he was once again named to Esquire Magazine's "Best New Restaurant" list, this time in 2012, before leaving to focus on launching The Cottage in Connecticut's Westport neighborhood.  Lewis has had the honor of being invited to cook three dinners at the historic James Beard House in New York City, most recently in January 2017 on behalf of The Cottage.  He has made appearances on "The Martha Stewart Show" and "TODAY."
Raised in Westchester, New York, Lewis discovered his love for cooking at a very early age. He graduated from the Culinary Institute of America with honors and went on to earn his Bachelor's degree in business Management from Johnson and Wales University. Early experiences working under the guidance of legendary chefs like Jean Louis Palladin and Marco Pierre White strongly shaped Lewis' culinary style to what it is today.
About OKO:
OKO is the heartfelt interpretation from Chef Brian Lewis of Japanese ingredients, cooking methods and cuisine, paired with seasonal, local ingredients from New York, Connecticut, the United States and the Toyosu Market (formerly Tsukiji Fish Market) in Tokyo.  Showcasing Lewis' innovative take on traditional Japanese cuisine and sushi, casual, small plate dining meant for sharing is encouraged, in a lively and charming atmosphere.
OKO's first location is located in the historic Vigilant Hose Company Firehouse in Downtown Westport, Connecticut (6 Wilton Road), with a newly opened second location in the heart of Rye, New York (29 Purchase Street).  For more information, including hours and reservations, visit www.okokitchen.com.