JUST IN TIME FOR THE HOT DAYS OF SUMMER, #WESTCHESTER WILL WELCOME A NEW WAY TO COOL DOWN AND IMPROVE YOUR HEALTH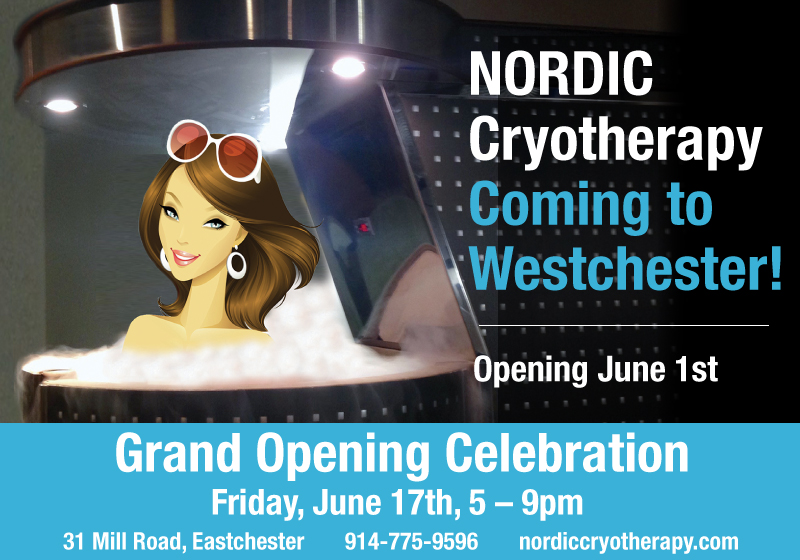 On June 1st Westchester residents can enjoy the benefits of the first cryotherapy center in the area. Nordic Cryotherapy will open at 31 Mill Road in Eastchester and offer whole body cryotherapy as well as localized treatments. Some of the ailments for which people use cryotherapy include rheumatology, orthopedic conditions, joint pain, athletic recovery, and reducing inflammation. The center's founder, Marie O'Connor, is a Registered Nurse in New York and Connecticut and received her Doctorate Degree in Nursing from Sacred Heart University and her Masters in Nursing Administration from Kaplan University. She most recently worked at Stamford and White Plains Hospitals as well as a Care Consultant for Empire Blue Cross Blue Shield.
"When I researched the benefits of cryotherapy I knew I wanted to be able to offer the services to people in this area particularly because there isn't any other facility nearby. I have seen and experienced the benefits first hand and know how great people feel after the short but effective treatment," stated O'Connor, a resident of Yonkers and a member of the American Association of Critical Care Nurses and the American Nurses Association.
Nordic Cryotherapy will open at 31 Mill Road on Wednesday, June 1st and be open 7 days a week from 9 – 9 Monday through Friday, 10 – 7 on Saturday and 11 – 5 on Sunday. The telephone number is 914-775-9596 and the website is www.nordiccryotherapy.com
BACKGROUND
Whole Body Cryotherapy (WBC) uses liquid nitrogen vapors to lower the skin's surface temperature through a process called thermogenesis which has been used for more than 30 years around the world. The cryosauna delivers the cool temperatures for a very short period of time, 2-3 minutes, during which the skin reacts to the cold and sends messages to the brain that act as a stimulant to the regulatory functions of the body. It also delivers anti-inflammatory molecules throughout the body as well as endorphins leaving the individual feeling more energetic, an effect that lasts up to 8 hours. Many individuals report a better night's sleep and overall reduced pain. The other benefit of cryotherapy is the burning of calories which can range between 500-800 kcal in a 3-minute session.
The machines used at Nordic Cryotherapy come from a company called Juka in Poland which has been in business for 25 years and is considered the leader in the Cryotherapy industry. Some of the ailments for which people use cryotherapy include rheumatology, autoimmune disorders, neurologic disorders, orthopedic conditions, joint pain, athletic recovery and sports medicine, reducing inflammation and increasing blood flow as well as weight loss, and wrinkle reduction and stimulating collagen production with localized treatment.
Whole body cryotherapy is well tolerated with minimal risks but O'Connor will provide a health screening for each client before any services are performed. Localized cryotherapy for specific areas on the body and CryoFacials will also be offered. Individuals are encouraged to speak with their healthcare provider before receiving treatment to discuss any concerns they may have. The new center will offer an exercise room for use directly after treatment which helps to release endorphins and adrenaline thus enhancing the effects. Treatment packages will be offered at a reduced rate.
GRAND OPENING
During the ribbon cutting and grand opening ceremony taking place on Friday, June 17th from 5 – 9pm, individuals will be able to see the facility as well as a demonstration of the whole body and localized cryotherapy treatment. O'Connor will also be on hand to explain the process further. In addition, anyone registering at the link https://nordiccryotherapy.eventbrite.com will be entered into a drawing to win a free whole body treatment. Refreshments will be available at the event. In addition, Transformation Fitness and Training, HFactor Water, and Tomorrow's Medicine will be on hand to speak with people about fitness, training options, and weight loss and will offer discounts on their services during the event. There will be giveaways and raffles for cryotherapy treatments and other prizes for everyone attending.
For more information visit www.nordiccryotherapy.com or follow them on Facebook at https://www.facebook.com/cryospalife/
Enter to Win
Win a Free Cryo Sauna Treatment at Nordic Cryotherapy