Sea to Table
Situated adjacent to Harbor Marina on Three Mile Harbor, Bay
Kitchen Bar (39 Gann Road, East Hampton, NY 11937, 631-329-3663,
www.baykitchenbar.com) is the latest venture of successful culinary pursuits from Chef-
Restaurateur Eric Miller and partner, Richard Silver. Opened on April 17th, Bay Kitchen Bar
offers the ideal location for Miller's vision of a picturesque waterside dining establishment where
patrons will enjoy the most fabulous sunset views, refreshing cocktails and best "sea-to-table" seafood that local
and East Coast suppliers have to offer.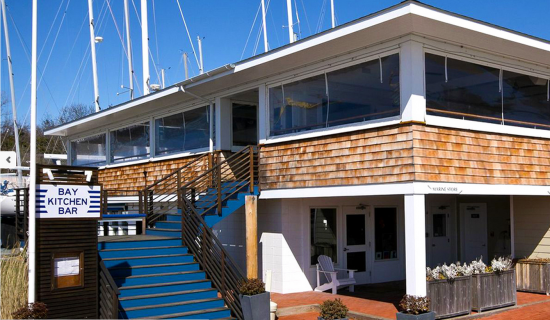 For this new venture, Eric Miller, who will serve as Executive Chef and Partner, is thrilled to
welcome his son, Adam Miller, to the family business. Observing Adam excel in the wine
program at the International Culinary Center, Miller says: "I thought to myself, 'it would be great
for Adam and I to take this ride together, at Bay Kitchen Bar and for our future projects.'" The
younger Miller partner will be responsible for all front of house operations as Managing Partner.
Rounding out the team is
Chef de Cuisine Keith Rennie (Madison and Main, Nice Matin), who brings his own
considerable seafood expertise to the kitchen.
The menu sticks to what Miller and Rennie are best known for: local and East Coast seafood
classics. For Bay Kitchen Bar, Miller will rely on his relationships with local clammers,
lobsterers, fisheries and other purveyors to source the best possible quality ingredients. These
relationships have been fostered for years while Miller was at the helm of Madison and Main,
The Catch, Hampton Clam Bake and even The Long Wharf and Carol's in the 1980s. SaysMiller,

"When you can go into a dining room and tell the customer the oysters came out of the

water this morning in Montauk, it doesn't get much better."
m