WHY IS EVERYONE STILL SINGLE?
LEADING PANEL OF EXPERTS HEADLINES NYC EVENT
TO ANSWER QUESTION "WHY IS EVERYONE STILL SINGLE?
   Opening Acts and Meetup are proud to announce THE GREAT LOVE DEBATE tour will be coming to The Culture Project's Lynn Redgrave Theatre in New York City on Monday, April 21st.
This lively, interactive Town hall-style discussion and debate on the current state of the date will be comprised of an audience of 100 of New York City's most eligible bachelors facing off against 100 of its most dynamic single women to answer the question, "Why is everyone still single?"
'We are thrilled that this unique, entertaining, and engaging event is coming to New York City," says the event's moderator, Jo Piazza, award-winning journalist and best-selling author of Love Rehab. "New York singles are extremely passionate about love, the evening will be a really fun and exciting way to raise questions – and find answers!"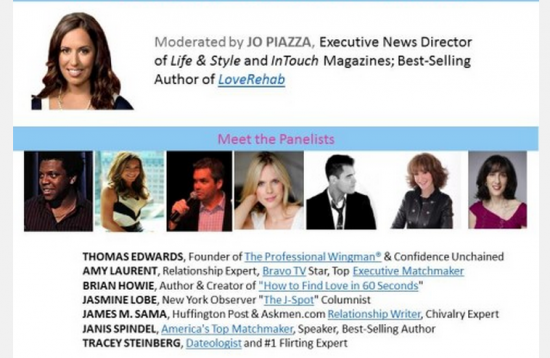 The New York City show is the third stop of a 26-city East Coast spring tour, and features a panel of the City's most prominent relationship experts, including Thomas Edwards, Founder of The Professional Wingman and Confidence Unchained;  Brian Howie, Author and Creator of How to Find Love in 60 Seconds; Amy Lauren, Top Executive Matchmaker and BravoTV star; Jasmine Lobe, the New York Observer's "The J-Spot" Columnist; James M. Sama, Huffington Post and Askmen.com Relationship Writer and renowned Chivalry Expert; Janis Spindel, America's Top Matchmaker and best-selling author; and Tracey Steinberg, Dateologist and Top Flirting Specialist.
Tickets for this event are $40 and are available online at www.greatlovedebate.com, showtime is at 9pm. Save $10 by using promo code LOVESTACY.
Seating is extremely limited (100 per gender), all attendees receive admission to the "Meet, Greet, Mix, Mingle & Match" party which immediately follows the show.