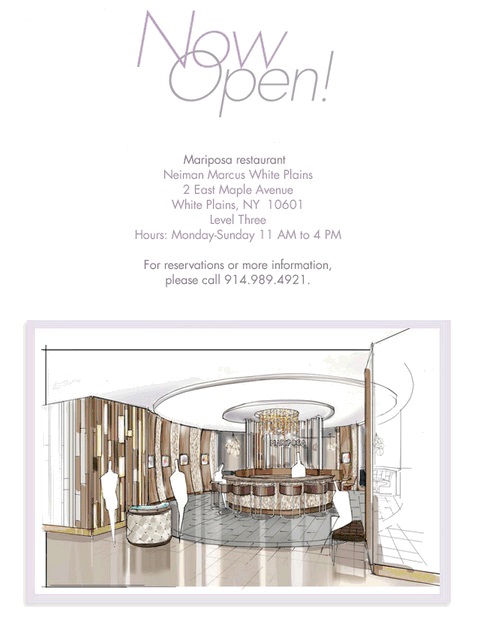 Neiman Marcus Westchester is proud to announce the grand opening of the Mariposa Restaurant. After a million-dollar transformation from the former Zodiac Restaurant, the store is thrilled to open its restaurant doors once again. The revamped restaurant will feature upscale contemporary cuisine including Neiman Marcus Classics with the traditional NM favorites such as popovers with strawberry butter, chicken broth, orange soufflé, and chicken salad. The menu selection includes seasonal salads, sandwiches, and entrees using artisanal and local ingredients when available. Go Figure Cuisine items are also featured for a healthier lifestyle with complete nutritional value.
In addition to an extensive food menu, the beverage menu includes an excellent selection of wines, beers, and non-alcoholic drinks. The Mariposa proudly features Illy Caffè and Dammann Frères Teas along with house made desserts.
This full-service restaurant is available for exclusive events that accommodate up to 76 guests and 8 additional at the counter. Prices range from $16 for sandwiches up to $26 for salads and entrees. The restaurant is open from Sunday-Saturday from 11 a.m. to 4 p.m. Reservations can be made by calling 914-989-4921 or visiting www.opentable.com.  For more information, visit www.TheRestaurantsofNeimanMarcus.com.