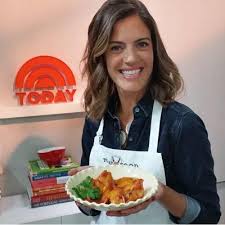 Westchester Magazine's Wine & Food Festival, taking place on Saturday, June 9, is shaping up to be bigger and better than ever before. With more celebrity chefs, world-class wines and over 50 top restaurants, the festival will be sure to please every palate.
"Grand Tasting Village will have more celebrities and new and exciting restaurants," said Westchester Magazine Publisher Ralph Martinelli. "The audience will have both local and national celebrities under one tent here demonstrating their culinary skills."
Westchester Magazine is excited to welcome NBC TODAY Food Contributor and cookbook author Siri Daly to the NewYork-Presbyterian chef demonstration tent at Kensico Dam Plaza to do a live cooking demonstration and sign her new cookbook, Siriously Delicious. Daly, who often cooks on-air with her husband Carson Daly, will demonstrate a recipe from her new, debut cookbook. A meet-and-greet book signing will immediately follow, and copies of Siriously Delicious will be available for purchase. "I'm thrilled to be participating in Westchester Magazine's Wine & Food Festival this year as part of the culinary community and to benefit the various charities that take part," said Daly.
Also new this year, Chef Peter X. Kelly of X20 and Chef Emilie Berner, Chef and Coordinator of the Peter X. Kelly Teaching Kitchen at NewYork-Presbyterian Hudson Valley Hospital, will create a healthful and delicious dish in front of a live audience. Their collaboration, "The Garden and the Vine," will feature a Mediterranean diet-style dish featuring fresh vegetables from the NewYork-Presbyterian Hudson Valley Hospital Organic Garden. A wine specially selected by the event's wine consultant Kevin Zraly will be paired with the dish. "Just because a dish is nutritious doesn't mean it can't be delicious, too," said Chef Peter Kelly. "I'm delighted to partner with Chef Emilie Berner to demonstrate a delectable – and healthful- dish that can be replicated at home."
About Grand Tasting Village
The signature event of the Wine & Food Festival, the Grand Tasting Village, takes place Saturday, June 9, from noon to 5:00 p.m. at Kensico Dam Plaza in Valhalla. It features tastings from 50 + local restaurants and more than 200 wines & spirits.
The chef demo lineup includes:
12:00 p.m. – Bernard Janssen, Zwilling J.A. Henckels
1:00 p.m. – Chef Peter Kelly, X20
Chef Emilie Berner, NewYork-Presbyterian Hudson Valley Hospital
2:00 p.m. – Siri Daly, NBC TODAY Food Contributor, author of Siriously Delicious
3:00 p.m. – Rafael Palomino, Sonora
4:00 p.m. – Ethan Kostbar, Moderne Barn
Experience Grand Tasting Village as a true sommelier by purchasing a ticket to the exclusive Connoisseur Tent, which features rare, high-end wine and food, and reserved seating at the chef demos (first come, first serve).
The 2018 Wine & Food Festival, which draws more than 6,500 people from across the New York Metro area including New York City, Westchester County, Long Island, New Jersey and Connecticut, will feature 100+ top restaurants and a selection of world-class wines. Visit www.westchestermagazine.com/winefood for complete details, participating restaurants, chefs and ticket sales.