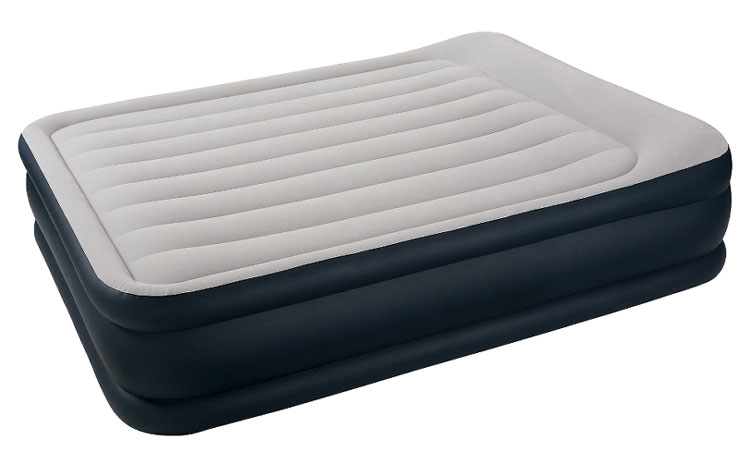 I love that room…the bedroom that is.
It's the one place that's my retreat from the fast pace of a modern life.
Now, don't get me wrong, I love the rush of a fast-paced day, and I swim in it pretty well. But as the sun is closing shop and our brains mellow down, there's nothing like flaking out into a cozy set of linen.
My mattresses over the years
Over the years, I've tried sleeping on pretty much every type of mattress there is, from the firm latex to the plushest memory foam. In the end, I settled for something in-between…what they call a hybrid.
A hybrid is, as the word says, a combo of springs and foam – it's supportive but has a lofty foam finish. For more luxury feel check out Sleepdelivered.com's take on the Dreamlcoud. It is a great choice for a firmer feel.
A hybrid is, as the word says, a combo of springs and foam – it's supportive but has a lofty foam finish.
But that's not what I wanted to talk about today.
There's a new trend has been brought to my attention recently (and it kind of took me by surprise) is that blow up mattresses are back, and with a bang.
Why it was a surprise
Most of us will remember the mania of the inflatables just before the turn of the century.
They were all over the place; you couldn't open your fridge without seeing the face of Hillary Duff or Britney smiling from a ridiculously colorful box of an inflatable chair.
The trend was short-lived back then – I didn't get one myself back in the day but I did some reading while researching for this post and it turns out it was a simple quality issue.  Apart from the flashy colors, the inflatable chairs and the few airbeds that hit the market then didn't have much more to offer. Check expert bedrooms for better nights sleep.
The shift
So, the reason I decided to write this piece is that I kept hearing (from different people) that they were sleeping on an inflatable mattress. And loving it, too.
Fifteen minutes into researching the topic and I was intrigued – it was obvious that the inflatable beds we're talking about are far out compared to what we saw a few decades back.
air-mattress
But enough about the process let me get to the substance – a few tips on how to choose the best air mattress should you decide to give it a go.
First things first – who might go with a blow up mattress?
The idea of an air mattress as a long-term sleeping solution is yet far from getting into the mainstream culture of sleep.
As it is today, people who will go with an inflatable bed have a very specific situation – some of them are battling back pain issue or insomnia. Others have a limited space and the fact that you can pack down your mattress in the morning and throw it into the closet makes all the difference.
Even the companies stress that airbeds are not meant to be slept on every day. To be fair, when they state that, a lot of it has to do with the warranty most of the inflatables have – limited, which is reasonable.
Having said that, a few of my friends who were the reason for me diving into the subject in the first place, did use an airbed as their primary mattress, fully aware that it makes the warranty void.
The "trick" here, as they explained, is choosing a high-quality inflatable mattress – one that you won't have to claim the warranty for in the first place.
So here's what I've learned about choosing right
The material
Most commonly used material is vinyl. The main difference and the improvement in quality is a result of a strict regulation of anything derived from plastic, including vinyl.
To compete in the changing market most of the top brands had to make sure that, even when outsourced overseas, their products meet the strict safety criteria set by the ASTM international.
Types of vinyl used
To get an edge over the competition, each of the top brands has introduced some form of improved vinyl quality.
Most of them go with a multi-layered material. But there are some outliers that went a step further and introduced a more substantial improvement in the form of thicker materials, vinyl that's encased in a less stretchy material (like nylon) and, finally, using what they call virgin vinyl (meaning that it's not recycled).
Choosing the best air bed in terms of material
Although the standards of how the products are regulated, there is still room for vague language and most of the top-rated airbeds I looked at have similar claims, like being puncture-proof.
Instead of taking these claims at face value, look for 3rd party certification about the quality and, more importantly, read the reviews of the air mattresses – there's no better source of information than the reviews of the owners.
Size and dimensions – not all of them are true to the listed numbers
One thing I noticed is that a surprising number of users mention the issue of the bed being true to size. I looked at the top-rated blow up mattresses in all sizes (Twin, Full, Queen, King and California King) and shortlisted a few that I saw to be superior.
The problem – an inch shorter, an inch narrower
Before getting to the specifics and mention a few airbed with highest ratings, let me first define the issue.
These products are listed to meet the same sizing guidelines as classic mattresses, but that's not always accurate. Some of the lower-rated products seem to be an inch or two shorter or narrower than the standard for a Twin or Queen size.
In some cases, it's the nature of the material, because vinyl needs to "set in." This means that it stretches into its final dimensions over the first few days of use and that's not a big deal.
It becomes an issue when you see that the mattress is in fact somewhat smaller than the listed dimensions and I did see more than example of that in the reviews of some inflatables.
Best Twin and Queen size air mattress
These are the two most popular sizes and most people will find what they are looking for here – a Twin is just right for one person and Queen for 2 people.
A true Twin size should be 37 x 74 inches, while a Queen should measure 60 x 80 – no more, no less.
Let's put the products that are simply smaller whichever way you look at it and dig a bit deeper because it does get tricky.
With regular beds, you know that there no much room for error, but with inflatables, there is. The reason is that the listed measurements can be those of the outer edges and not of the sleeping surface.
The highest-rated and most comfortable air mattress in Twin and Queen size, based on what I've seen in the reviews, seems to be the SoundAsleep Dream Series.
Best Full (double), King and California King air mattress
A Full size is somewhere in-between the Twin and the Queen and, if true to size, should measure 54 times 74 inches. It's a good option for people with limited space that still need their bed to accommodate 2 people.
If you have the room to pamper yourself, you might go for a roomy King or California King airbed. The dimensions of the two are, respectively, 76 x 80 and 72 x 84.
The King size will probably be the choice of restless sleepers because it's wider and the Cali King is better suited for taller people.
The two products with highest ratings in these sizes come from the same manufacturer – Fox. One of them is sold under a name "Best Choice," and the other one is simply named Fox.
Note: The picks that I mentioned to be the best air mattress in their respective sizes are based on my research and the reviews of the airbeds from TheSleepStudies.com.
Coils beat beams
This is the quality aspect that seems to have caused the shift in the market.
I looked at some "older" models from top brands that I've heard about even before setting out to write this post. The products that have taken a back seat in the past few years seem to have one thing in common – it's either air beams for the inner structure or a lower number of coils.
Now, I know that this sounds unclear for the average buyer so let me clarify.
What I'm talking about here is the way the top and the bottom surface are connected.
The beams are simply chambers of air that run the full length of an airbed, whether horizontally or vertically. On the other hand, the coils are based on separating the chambers in a way that "mimics" the behavior of a spring.
The later seems to be superior and the few models that I saw are outranking the competition are based on coils.
Best air mattress for camping
If you are not looking for a bed for your home, whether it's your main bed or one for a guest room, but a camping airbed, there are a few additional features to look at.
The main difference is the pump.
With products for home use, the pump is built in and plugs into a standard electric outlet. For camping, you'll want an inflatable that can use a battery operated or a manual pump.
A few of the products I mentioned above to feature an extra valve, so they can be used both at home and for camping.
Rule of thumb – the choice here will depend on whether you need a model that's versatile and can do both or one that's dedicated for camping. If it's just the later, you'll want to look at some of the Coleman products.
PROs and CONs – my experience
The PROs:
Affordable – even the best go for under $120.
Versatility – home, camping, guests.
Choosing your firmness – this is probably why most people try it in the first place, especially those with back pain issues.
Space-saver – for people with small apartments, they can be a God-sent. Inflated, you have a nice full bed and, come morning, you pack it down and throw it into the closet.
The CONs:
Still not as comfortable as my hybrid – even though I did sleep well, even the most comfortable air mattress is still no match for the support of a classic bed.
Air leaks and durability issues – even the most durable, heavy-duty air beds are still plastic and air and they can be punctured or, even worse, develop mysterious leaks and pinholes that you can't find.
The subjective feeling of sleeping on a cheap mattress – when I step into my bedroom I like to feel that I'm leaving the outside world behind, and that includes the daily worries of trying to save money every way you can. No matter how good, an inflatable still doesn't give me the feeling of pampering myself.
To sum it up
When all said and done, the conclusion of this little experiment of mine is that I won't be replacing my permanent bed for an air bed anytime soon. But it also opened some new possibilities.
What I'll be using an air bed for is welcoming guests and for camping trips.
It's a nice space saver because you can turn that guest room that's hardly ever used into, say, a home office. When welcoming guest, you just move a few things around and, voila, you have a guest bedroom.
Sources: TheSleepStudies.com , ASTM.org, Amazon.com