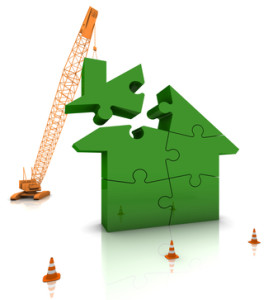 Deciding which home to buy is just the first of many choices you'll be facing as a new homeowner. From paint colors in the master bedroom to landscaping the front lawn, making decisions about your home can feel overwhelming. To stay sane, narrow the list to one or two options and evaluate the benefits and drawbacks of each.
Gas vs. Electric Appliances
After shelling out money on the mortgage, you're likely pinching pennies to save elsewhere. According to the American Gas Association, homeowners who use gas appliances save an average of $518 per year compared to those with electric appliances. Savings are largest for those who choose a gas furnace versus electric.
Switching to a gas water heater, clothes dryer, and cooking range are other money-saving options. However, part of your decision depends on the options available in your home. Without available connections to a gas line, it may pay to stick with electric appliances rather than put in a new connection.
Granite vs. Quartz Countertops
If you're itching to tear up those old laminate countertops and replace them with something more durable, there are many options to choose from. Quartz and granite are among the most popular countertop materials for those seeking durability. Granite has long been a top-end option for its extensive range of colors and patterns, according to interior design website Houzz. However, natural stone such as granite requires sealing to ensure that it doesn't become stained.
Engineered quartz is a solid, durable material that is resistant to staining and nicks. The downside of quartz is that it lacks the natural coloring and patterns of granite. If you like the look of quartz, it's a great alternative to granite. Both granite and quartz are available in a range of prices, with quartz costing $40 to $90 per square foot and granite costing $35 to $100 square foot. Unless you're in love with a specific granite pattern that quartz simply can't provide, quartz's easy upkeep and stain resistance makes it the better buy.
Comcast Cable vs. DirecTV
To compare Comcast and DirecTV it's necessary to evaluate the costs associated with each. Although Comcast is widely available in urban markets, DirectTV offers a greater number of channels, according to Gadget Review. Plus, DirecTV offers a 1 terabyte hard drive called "Genie" that allows you to store up to 400 hours of standard definition television while recording five shows simultaneously.
Although DirecTV requires a two-year contract, it's likely to pay off for homeowners who stick with their television service for several years. DirecTV is also free to set up, unlike Comcast, which charges installation fees.
Basic vs. Broad Form Homeowners Insurance
Now that you've got assets to protect, insurance is a must. Deciding what type of policy to choose is a matter of personal risk tolerance. Basic home insurance covers a limited number of events, according to the National Association of Insurance Commissioners. Basic insurance typically covers fire, windstorm or hail storms, explosions, lightning, or vandalism. However, events outside this list are not covered.
In contrast, broad form insurance covers damage incurred due to burglary, falling objects such as tree limbs, freezing plumbing, and accidental water damage. These represent the most common types of property damage, meaning that a broad form insurance policy will protect you from most damaging events.