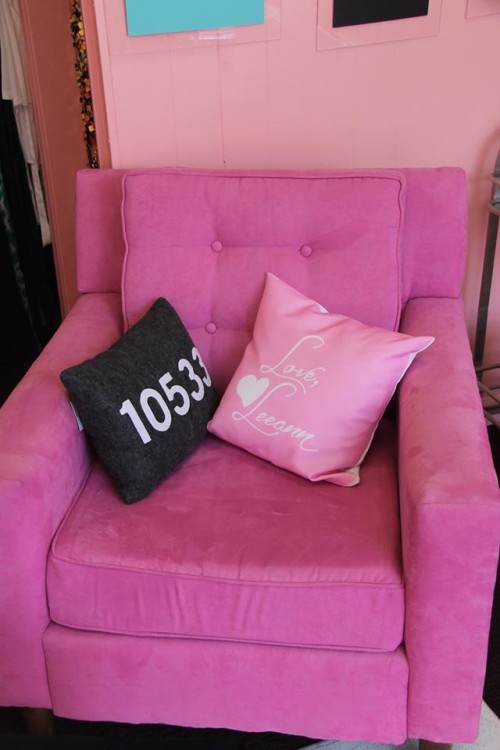 Until this past weekend Irvington was not the go-to spot for shopping but a new women's boutique has opened called Love, Leeann. Love, Leeann was founded by Irvington resident and lifestylist Leeann Cerrito. I had the pleasure of talking with Leeann about the new chique store and the experience that she is hoping to bring to Irvington. And I can't forget to mention the most exciting news, she offers personal consulting, both in-store and at your own home!
My interview with Leeann Cerrito, founder of Love, Leeann.
What inspired you to open the store? 
Throughout my entire career I have always been a stylist.  I started doing freelance fashion consulting, which helped me gain a following. I have many friends who love coming over and having "clothes parties" in my closet. My friends enjoyed the intimate shopping experience so much that it inspired me to create a store that felt like shopping in your best friends closet!
Can you describe what the shopping experience is like at your store?
It's like shopping in your girlfriend's closet! When you first walk into the store, you notice the sparkling pink walls and gold changing room curtain. At Love, Leeann, every customer receives personalized service. It's fun. It's girly.
For customers who want a more intimate shopping experience from the comfort of their own home, I will go to their home. I go through their closets and show them how to wear clothes and maximize what they currently have. I also offer personal closet visits where I bring clothes from the store to the client's home.
What's different about the store? 
The service, intimidate shopping experience and unique merchandise differentiates Love, Leeann from other boutiques. The merchandise is comprised of transitional, basic, effortless items you can wear all the time. In terms of my service motto, I don't ever sell anything that doesn't look good on you! I always tell my clients what looks good and what doesn't. The shopping experience at Love, Leeann feels like a great escape. We have pink champagne, logoed water bottles, and a fun, relaxing environment. Not to mention we are located on Main Street with an absolutely breathtaking view of the water!
What type of items do you carry? Tell me about the assortment and brands you carry?
Easy, timeless, and effortless items you can wear 10 different ways. Love, Leeann offers affordable price points, amazing jewelry, great bags, the perfect gifts, trendy accessories, stylish home goods, and go-to clothes. There are always new things coming into the store every day.
Love, Leeann carries various brands. As we get new items in daily, we continue to expand the line of designers we carry. Some of the brands that we currently carry include: KamaliKulture, Elan, Cotton Citizen, Peace Love World, and Solo.
What are your top 5 trend predictions for spring fashion in Westchester? 
My fashion trends are based off of what my customer wants.
1)     Versatile Maxi dresses
2)     Jumpsuits
3)     Wide leg trousers with a great print
4)     Statement necklaces
5)     Red lipstick
Love, Leeann is located at 94 Main Street, Irvington, N.Y. Hours are; Monday – Wednesday 11am – 5pm, Thursday noon – 7pm, Friday 11am – 5pm, Saturday 11am- 4pm and closed on Sunday. Appointments can be made for in-store or at-home personal consulting by calling (646) 831 – 9822