Come to the Ridgefield Playhouse to see Chazz Palminteri perform the One-Man Show that Made Him a Star.
On Friday, September 18th, Chazz will appear at the Ridgefield Playhouse in the stage version of A BRONX TALE, the one-man stage version of his critically acclaimed film.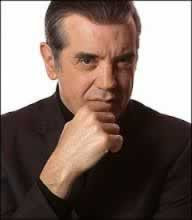 Based on his childhood memories of working men and gangsters in the Italian-American neighborhood where he grew up, Palminteri originally wrote the script for the stage and performed it in Los Angeles where it became the hottest property in Hollywood since ROCKY. He moved the production to New York, where the stage version played to sold-out audiences.
While in New York he completed the screenplay and soon found himself playing the role of Sonny on the big screen opposite Robert De Niro.
Chazz has more than 50 movies to his credit including The Usual Suspects, Bullets Over Broadway and Analyze This.
Tickets are $85.00
The Ridgefield Playhouse
80 East Ridge Road
Ridgefield, CT 06877