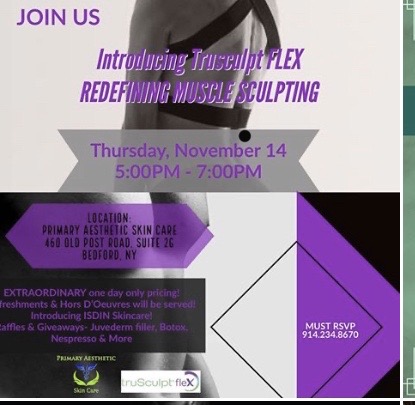 New body, new year, new technology!
————————————-
Intoducing trusculpt flex!
Redefining muscle sculpting
————————————-
Wednesday, November 14
5:00 pm – 7:00 pm
PRIMARY AESTHETIC SKINCARE
460 Old Post Road, Suite 2G, Bedford, NY
JOIN US! ——–


Must RSVP
914-234-8670
EXTRAORDINARY One Day Only Pricing!
Refreshments will Be Served!
Introducing ISDIN Skincare!
Amazing Raffles & Giveaways!
LIVE TruSculpt Flex Demonstration!
TruSculpt Flex is a personalized muscle sculpting treatment that adjusts to your fitness level, shape and goals to strengthen, firm and tone your muscles!
Get the Workout without the Work!
Kick Start Your New Year Goals & Be Bikini Ready!