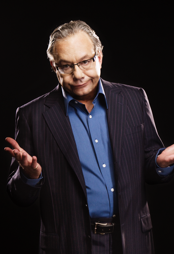 Known as the king of the rant, Lewis Black uses his trademark style of comedic yelling and animated finger-pointing to skewer anything and anyone that gets under his skin. His comedic brilliance lies in his ability to make people laugh at the absurdities of life, with topics that include current events, social media, politics and anything else that exposes the hypocrisy and madness he sees in the world.
Receiving critical acclaim as a stand-up, actor and author, Black has performed for audiences throughout Europe, New Zealand, Canada and the United States. In 2012, he performed eight sell-out shows at Richard Rodgers Theatre on Broadway. In the midst of a rigorous touring schedule, regular TV appearances and movie roles, Black has written three best-selling books: "Nothing's Sacred" (Simon and Schuster, 2005), "Me of Little Faith" (Riverhead Books, 2008) and "I'm Dreaming of a Black Christmas" (Riverhead Books, 2010). All garnered critical praise as well as commercial success and spent numerous weeks on the New York Times Best Sellers list. Lewis Black prides himself on providing all of his audiences with a cathartic release of anger and disillusionment!
Tickets: $95
AllShows.com VIP Party Pass available! Includes priority parking and free house wine and beer from 6:30 – 7pm! Available for $25 by calling box office (203) 438-5795!