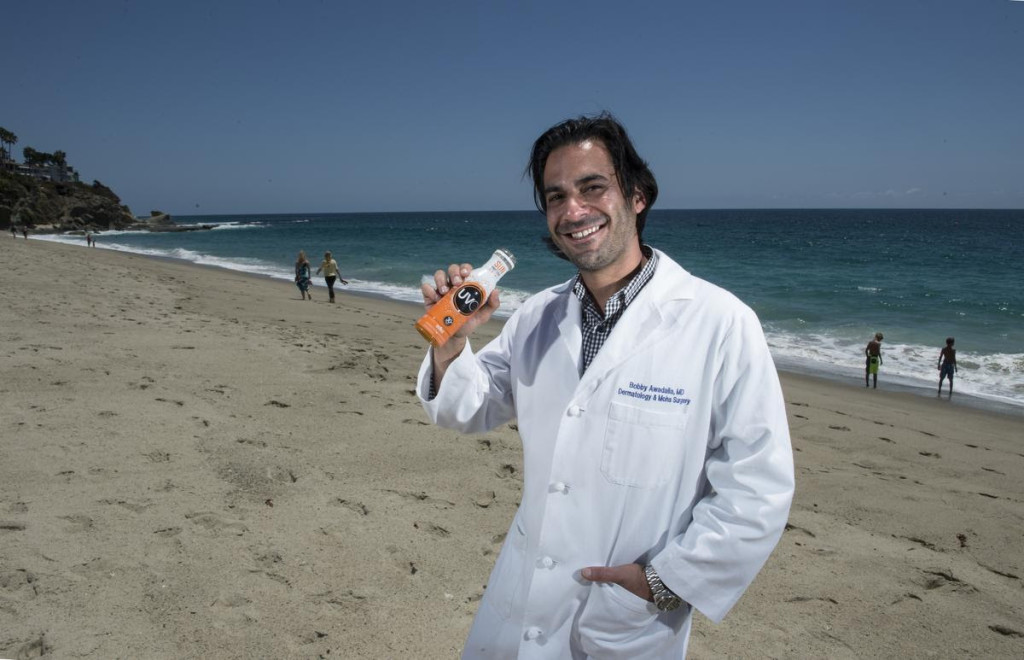 Bobby Awadalla was eating lunch at a cafe in Los Angeles when he had his "Aha!" moment.
It was triggered by a man he saw dressed in athletic gear downing an energy drink.
"If we can make skin care as easy and delicious as drinking a Red Bull, I thought, people would use it more," said Awadalla, a dermatologist and skin cancer surgeon in Laguna Beach.
"People resist putting cream on their skin because they don't like the greasy feel and smell. Athletes don't like sunscreen dripping into their eyes."
UVO is being marketed as a dietary supplement, which means it does not need FDA approval.
Awadalla, 34, sees the need for sun protection daily.
He does at least 1,000 surgeries for skin cancer each year, he said. And those numbers are rising. Baby boomers are his most regular patients, with some visiting monthly for Mohs micrographic surgery- a tissue-sparing skin cancer removal and facial reconstruction procedure. He's also seeing an increasing number of millennials with skin cancers, many a result of harmful rays from indoor tanning beds, he said.
Awadalla says he hopes his product,
UVO
, might make using sunscreen more palatable.
UVO was made available to the public, at about $5 per bottle, after three months of clinical trials.
The trials suggest UVO provides three to five hours of protection after the user consumes a flavored, 12-ounce bottle, Awadalla said. Maximum benefits kick in after an hour, he said.
The product's formula combines 30 vitamins, phytonutrients and antioxidants – including beta carotene and grapeseed extract – that have been scientifically proven in peer-reviewed studies to protect the skin from the sun's harmful ultraviolet rays. The product is said to work by absorbing UV rays, protecting and repairing DNA and collagen, and reducing inflammation to decrease damage and the severity of sunburns.
"When UV rays reach the skin, whether you get a sunburn or not, skin cells, DNA and collagen can be irreversibly damaged, which can lead to aging and skin cancer," Awadalla said. "Despite mainstream thinking, our bodies are naturally good at protecting us from the sun, as they have been doing it for centuries. We have countless internal mechanisms to protect our skin from UV radiation but they get depleted. With the proper supplements, we can help strengthen this natural protection significantly."