Are you tired of the basic interior you come across everywhere? Do you feel like you don't feel at home unless something stands out? Whether you are constructing a new house or are already living in one, a simple faux finish on an accent wall, ceiling, or door will be just enough to perk your mood right up.
What Are Faux Finishes?
Faux finish painting is an interior decorating technique that dates back to the ancient Egyptian days and has been used avidly since then in almost every era. The finish mimics another material, whether that's fabric, marble, granite, or wood. In modern-day housing and interior decorating, using faux finish paint for finishes such as crackling, antiquing, and many more are the go-to to make your place look expensive on a budget. Keep in mind that each faux finish technique incorporates different techniques and steps, so before you purchase your supplies, thoroughly research and decide which kind of look you want to go for, for your interior.
Faux finishes are one of the best ways to enhance your home's interior. The standard products and tools that you will need, however, are:
Paint;
Paint Sticks to stir the paint;
Paint Pouring Spout;
Paintbrush;
Sponge Roller;
Painter's Tape;
Measuring Tape;
A Step Stool (or even a Ladder if you're working on your wall); and
A Tarp.
How to Incorporate Faux Finishes into Your Interior
Marbelizing
As the name itself suggests, it is a paint finish that resembles and mimics the look of marble or granite. The stone itself can become quite expensive to purchase, but by styling a bedroom or bathroom wall with this faux finish, you're surely going to make your home look high-end.
The process requires some patience, and you must make carefully calculated strokes to get the look right.
Antiquing
Upgrade the appearance of your furniture or even your kitchen countertops with the faux method known as antiquing. All you need is 1 part paint and 2 parts glazes. Once the mixture dries very slightly, use a rag to make long and smooth strokes across your desired surface.
You can give your interior a lovely vintage look this way, bring life and an effect of history into your home.
Color Washing
With a few simple supplies, you can bring an old-world, vintage effect into your interior. Simply prime your wall, cover it with your preferred paint hue, and once it dries, apply a glaze of a contrasting view with a sponge roller in circular motions.
Wall Stripes
Do you want to give your kid's room more life? Do you want them to feel excited to do their homework in their room? Well, then wall stripes are the way to go.
Carefully measure how wide and thick you want your stripes and mark your location. Apply the painter's tape to the carefully measured area, and paint over the wall. Remove the tape once the paint dries.
Wood Graining
Whether you do this on doors, cabinets, some artificial beams on your ceiling, or a piece of furniture, you can make any material resemble wood with this technique. Paint a coat of your preferred hue, and then glaze it thinly once the paint dries. Using a wood grain rocker, a supply material easily available anywhere, run it across the glaze till it resembles the traditional grain of the wood.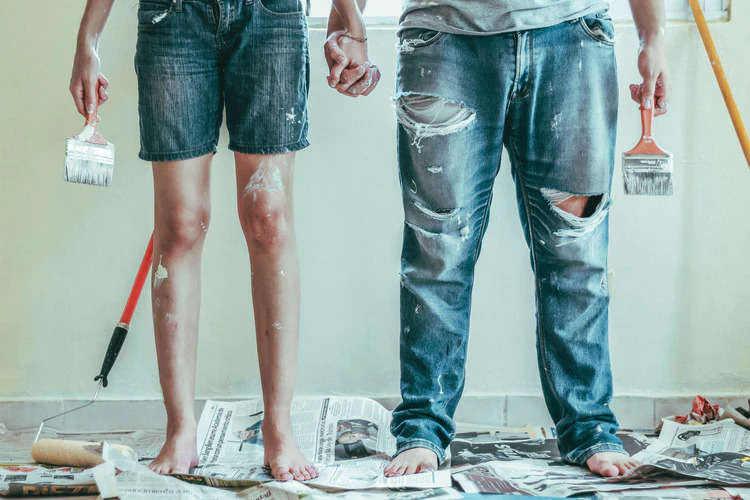 There you have it! Create your very own faux finish to customize your home and add some texture and dimension to your interior, whether it is refurbishing a chippy dresser, your kitchen cabinets, or marbling your bathroom walls. You are bound to leave your friends and family awe-struck every time they step into your place.