Urban living and lack of space have left people yearning for the great outdoors. Concrete jungles leave limited space for luxurious greenery, but even a small space outside your house can give you the exuberant feel of the outdoors if you maintain it well. Here are a few tips to turn your dull patio into a luxurious retreat.
Climbers and Creepers
This option works well even if you have a small space. Mounted greenery on walls will give a fresh look to your patio. Pots and planters can be mounted on hooks on walls and this not only save space but give you a feeling of being amidst nature. Depending on your budget, automated drip irrigation can also be installed. A green wall makes you feel closer to nature.
Give it a Natural Look
The use of wood as stepping stones or for outdoor furniture adds to the natural look and gives you a warm and cozy patio. Wood can also be used to build a small deck or as wall cladding on your property. Potted greens aesthetically placed here and there will not only increase the oxygen levels but also provide you a wonderfully invigorating experience of being amidst nature.
Zen Inspired Courtyard
If you are on a tight budget, there is nothing more affordable than a zen-inspired courtyard. This Japanese style is minimalistic and does not require a lot of maintenance. You can use white pebbles, shrubs of varying heights, and clay pots to create a comfortable, welcoming, and soothing space.
Your Cozy Shaded Corner
A shaded corner gives you your own space, whether you want to relax with a cup of coffee or read the newspaper. A comfortable chair placed in the shaded area of your patio, whether it is a pergola or the natural shade of a tree, can give you just the space you need for your 'me time.'
Wood and Stone
Wood and stone combined together can give your patio a wonderfully rustic feel. It adds to the aesthetic beauty and gives it a comfortable feel. You could use pebbles on the floor with wood used for stepping stones in between.
Tiles and Paving
If you have a narrow area between your walls and your house, you can use tiles to add a beautiful look and create a welcoming space linking the outdoors to your house. Regardless of the size of your garden patio, you will be amazed by what a difference a bit of paving will do. It will give a completely different feel and dimension to your patio garden. The professional pavers at Limitless Paving give an amazing insight into what kind of services and options you can pick from when it comes to adding a bit of character to your garden. It is generally best to hire professionals rather than taking this on yourself so that you can get a solid outcome without ruining your garden patio.
Pergola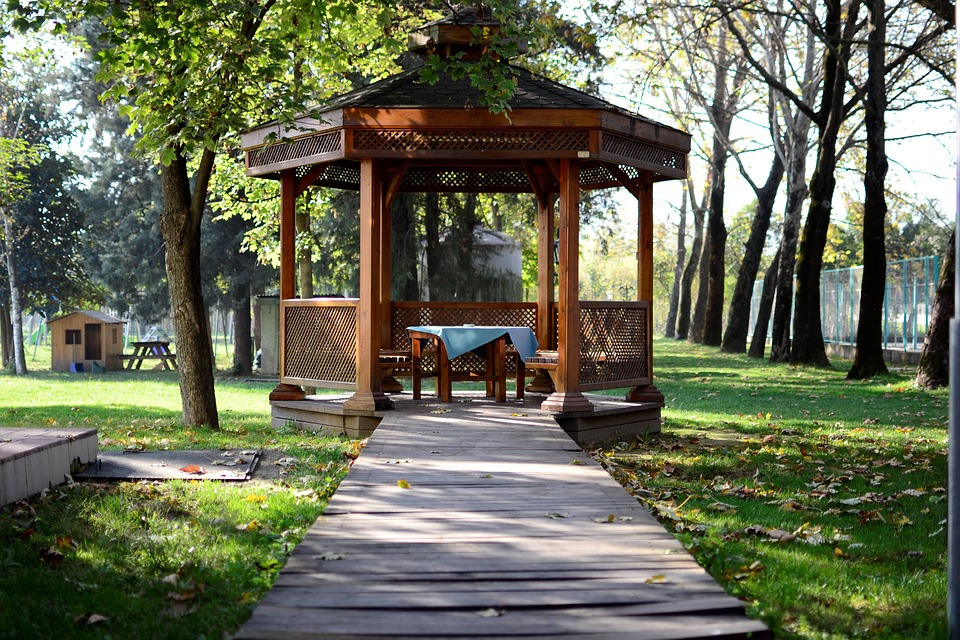 Limited space should not stop you from building a pergola. If you don't know what a pergola is, well, it is simply any shaded space that you create either to sit or even as a walkway or passageway. Many pergola designs can be built in limited space adding a touch of luxury and sophistication to your patio.
Create a Virtual Private Beach
You need not restrict yourself to the use of wood and greenery. You can obtain a beach feel at home just by adding a sandbox, beach chairs, a sun umbrella, and anything else that you would find at the beach.
A Warm Welcome
The pathway to your house is the first glimpse visitors will have of your home. Greenery on both sides of the pathway can give your home a very approachable look and make your visitors feel welcome.
The Appropriate Lighting
Lighting, especially LED lighting, helps bring into focus the features you want to highlight. It could be lights that border the edges of the landscaping or stair treads. The manicured landscape can be highlighted by strings of lights on trees or shrubs.
Gravel and Colorful Walls
Gravel adds to the beauty of the patio on a low budget by giving it a natural look. Bright walls make the patio pleasant and welcoming.
Make a Grand Entrance
The entrance to your patio is your stepping stone to luxury. The door should be decorated in a grand manner that welcomes your visitors. It should give them an insight into the comfort and luxury they can expect in your patio. Change the old hardware for new, replacing doorknobs and hinges, and add a fresh coat of paint.
Include a Hammock
There is nothing that matches the comfort of lying in a hammock and reading a book. A glass of lemonade on the side, a book of your liking, and you are done for spring afternoons.
You might not always want to entertain inside. A luxurious and aesthetically decorated patio will work as a retreat for you and also as a welcoming space for your visitors, especially on days when the pleasant weather outside welcomes you with open arms. So go ahead and upgrade your patio to a warm, welcoming space for yourself and your visitors.