Have you recently experienced a fire in your home, which has caused a lot of damage to your possessions? Maybe you have purchased a fire damaged house, and are looking for ways to fix it up in order to resell for a profit? Maybe you inherited an old home that has a large amount of smoke or fire damage? Whatever your situation is, it can be difficult to properly repair a fire-damaged home if you do not know the right way to go about it. By making unnecessary mistakes, you can add hundreds or thousands of dollars to your final repair costs, causing you to go over budget and lose money. This article will seek to shed light on a few easy ways to repair a house with fire damage, without going over your budget. By using your brain and doing some research, you will be able to find some easy ways to quickly fix up any fire-damaged property.
Calculate Costs
One of the first steps in the process of making any large purchase, including repairing a fire damaged house, is to figure out a ballpark figure of your total costs. By carefully planning all of your repairs and finding the necessary materials, then you will be able to much more accurately prepare a plan which will fit within a budget. Be sure to factor in the costs associated with all the different things required to repair your home. This could include things like inspections, interior, and exterior repairs, and also any associated labor costs.
Create A Budget
The next part of creating a plan to repair your fire damaged home within your budget is to actually create a budget! There are many different templates and software options online which can allow you to quickly create an easily accessible budget spreadsheet. In order to create a budget, you must take an honest look at the amount of money that you are willing to spend on your repairs. Some people want to build a nice home to live or retire in, so they might have a larger budget than someone who is just trying to quickly flip a fire-damaged home for a profit.
Is It Worth It?
In some cases, after looking at the number of repairs needed on a fire-damaged home, you may begin to feel like it may not be worth the time and investment to fix up a fire-damaged home. Sometimes changes in the housing market can allow you to sell a fire-damaged home you own without doing any repairs, and still make a profit. This URL discusses the different types of options you have to quickly sell a fire-damaged home, in order to either break even on your investment or even make a quick buck. Be sure to use online resources to your advantage, in order to assure yourself that you are getting a good price on your home, and getting a good return on your investment.
Crucial Repairs
In order to properly repair your fire-damaged home, you must first take a look at the absolutely crucial repairs which must be done. This could include things like structural support, removing heavily damaged infrastructure, checking the wiring, and hooking up your gas and water lines. By getting the most important repairs done first, then you will not need to worry about ruining previous repairs in the process of making crucial ones.
Quick Fixes
Another easy way to fix up a fire-damaged house in an affordable way is to look for little quick fixes that can make your home look much better without spending a huge amount of time or money. This can be simple things such as repainting, getting new curtains, replacing the carpet, and many other little things that will have a drastic impact on your home. In many cases, you will need to do most of these things anyway if your home sustained a large amount of damage from a fire.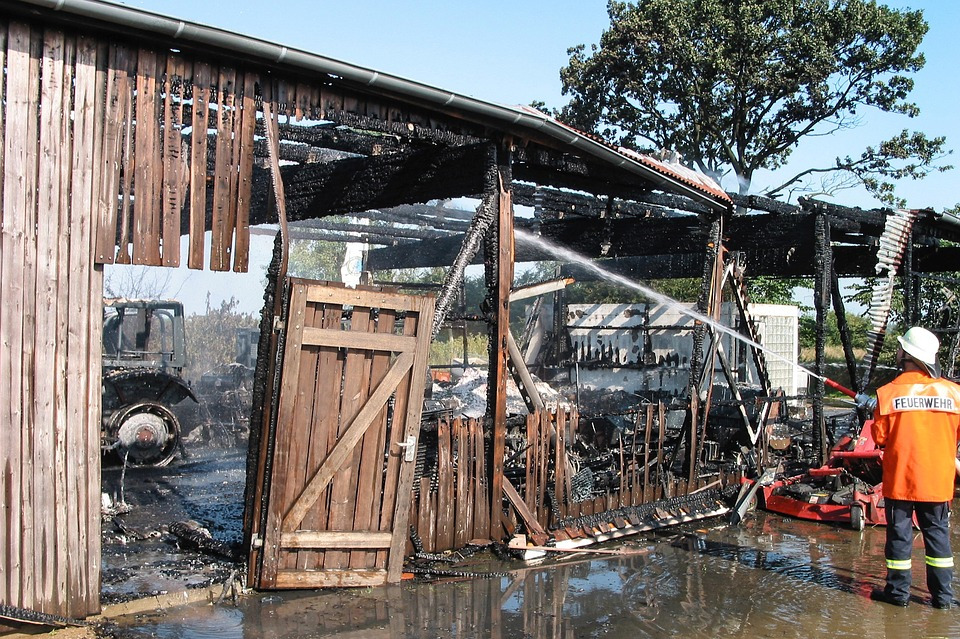 Hopefully, this article has been helpful and informative regarding the different ways in which you can repair your house with fire damage, while still staying within your budgetary constraints. There is no reason to pay huge sums of money for fire damage repairs when you can find similar solutions for a much more affordable price. IF you want to actually make money by flipping fire damaged homes, you need to be able to find affordable ways to make drastic changes to the home. By using the aforementioned tips and tricks, then you should have no problem finding some effective ways to repair your fire-damaged home, without breaking the bank.