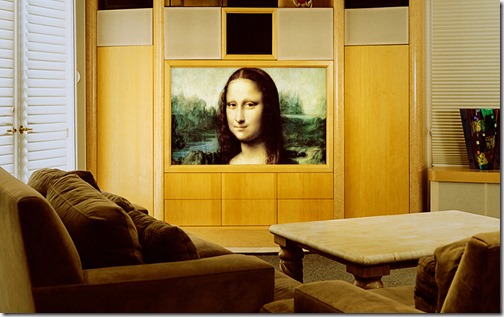 Displaying iconic art and favorite images makes a heck of lot more sense than staring at large, ugly black rectangles .
If you want some art in your home, but you've only got room for your TV, ArtKick can help. The app, available on iOS and Android, turns your telly into an interactive picture frame for some of the world's top pieces of art, and it'll display information on them too. If art's not your cup of tea, ArtKick can also pull down images from your Flickr, Facebook, Instagram or SmugMug accounts so you can have something more personal on display.
High-end art used to be just for the rich and famous — something to appreciate at The Louvre or purchased at Sotheby's.
But now Google Chromecast is making billions of dollars worth of art available to everyone;
Much of the world's greatest art has just become available for free so that anyone, anywhere, can stream it direct to their TV, using Artkick [www.artkick.com] — a free app that turns home TV's into a digital frame for world-class art.
Now a billionaire's collection of visual masterpieces are available for display in your home today, including:
* $1,000,000,000: 'Mona Lisa' by Leonardo da Vinci
* $269,400,000: 'The Card Players' by Paul Cezanne
* $200,000,000: 'The Concert' by Johannes Vermeer
* $200,000,000: 'The Wedding Dance' by Pieter Bruegel the Elder
* $155,800,000: 'Portrait of Adele Bloch-Bauer I' by Gustav Klimt
* $150,000,000: 'Self-Portrait (with straw hat)' by Vincent van Gogh
* $141,500,000: 'Bal du Moulin de la Galette' by Pierre-Auguste Renoir
* $122,200,000: 'The Scream' by Edvard Munch
* $109,400,000: 'Irises' by Vincent van Gogh
* $99,700,000: 'Massacre of the Innocents' by Peter Paul Rubens
* $90,000,000: 'The Visitation' by Rembrandt
* $87,500,000: 'Le Mont Sainte-Victoire vu des Lauves' by Paul Cezanne
* $86,200,000: 'Water Lily Pond' by Claude Monet
* $85,000,000: 'Still Life, Drapery, Pitcher and Fruit Bowl' by Paul Cezanne

To display this grand collection of art on any TV, simply download the Artkick app [www.artkick.com] and choose the "Most Valuable Paintings" view list.