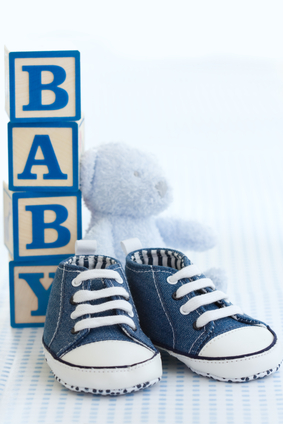 It's time to plan a baby shower for a bouncing baby boy and you want to save money on the party. The more you save, the more you can gift to the new mother. Finding an inexpensive or free venue is easy enough, but you will need favors, decorations, activities and food—essentially all of the things Parents.com puts on its helpful checklist. Doing all of that and still managing to throw the best baby shower ever is possible on any budget if you heed these tips.
Food and Beverage
You do not have to provide a full menu for a baby shower. In fact, appetizers and desserts are more appropriate. For an appetizer, make a fruit basket in a toy truck bed. Find a toy truck with a large bed and wash it thoroughly. Fill it with cut fruit purchased the morning of the shower. Place the finished product on a tray surrounded by fruit or edged with baby blue fabric.
Ordering a cake or fancy cupcakes can be expensive. Cake pops are an easy-to-make frugal option. They are also easier for guests to eat from their handy little sticks. Baby blue sugar decorations will fit the "It's a Boy" theme. Drizzle them with blue icing, roll them in blue sprinkles or make little baby bottles on the pops with fondant. Check out Pinterest or similar sites for some creative cake pop ideas. The cake itself can be any flavor or color. To make the cake pops, you'll need a special cake-pop maker. These will run around $10 to $20.
The guest of honor can't have real cocktails, but you can make fun mock-tails everyone will love. MarthaStewart.com has ideas for elegant and festive drinks. Stick to drinks of the season. If it's spring, make some hibiscus-mint iced tea or tropical ginger punch. Pink grapefruit virgin margaritas are great for summer baby showers and pomegranate sparklers or apple cranberry cider work well for the fall and winter. Even the kids at the party can enjoy these fun beverages!
Invitations and Favors
The setting and theme of the party starts with the invitations. Clearly state it's a party for a baby boy (some guests might not know) and consider the mother-to-be's style and taste. Reflect your elegant, classy party or bright, flashy party through the invitations you send.
Ordering fancy invitations can take up a big chunk of the budget, but you can make and design your own for much less and no one will know. Lots of moms or baby shower enthusiasts post free baby shower printable invites on design sites.
It's important to thank guests for attending by giving them something to bring home. Party favors can range from cute picture frames and magnets to elegant candy arrangements. Sites like Party Pail offer boy-themed shower favors like adorable blue sneaker candles, chocolates or bubble gum celebratory cigars.
Games and Activities
Give guests something to do that will also benefit mom and baby by having a decorate-a-bib table. Place a stack of blank bibs on the table and add non-toxic fabric decorations from your local dollar store. Provide craft aprons so your guests don't have to worry about their clothes.
Printable baby shower games cost only as much as the paper on which they are printed. Go to a site like BabyCenter.com for free printables and other cheap game ideas to use at the shower.