When you're holding a big special celebration, you'll more likely need the assistance of a group of people to do a variety of chores, especially in the kitchen. That being said, employing catering companies that can take care of the food is the newest trend nowadays. Established itself as a brand, the catering services aren't only involved in cooking and serving food, but they're also hands-on in the preparation, arrangement of tables, and the making of cocktails. With their help on your side, you can focus on preparing and planning the other aspects of your event. So, here are the benefits of hiring catering services to make your special occasion successful.
Professional Assistance
Catering companies have people who are well-equipped to handle any significant events. From the chefs to the crews, everyone knows exactly what to do to make sure the occasion is perfect from beginning to end. They have adequate knowledge when it comes to food preparation and presentation. Not only do they show class and a sense of professionalism through their services but they also provide you with a variety of options regarding the meals they offer.
Variety of Menus and Cuisines
Holding a big celebration means you have to make sure that all the foods on the table are of different kinds. And getting a catering service provides you the freedom to select the foods you want to be prepared. Typically, catering companies have a variety platter that the customers can choose from. You have to pick your choices, and they'll arrange everything for the event. They have experienced chefs on board who know how to make the menus and cuisines more flavorful.
Fast and Hassle-Free Food Preparation
Preparing your food in-house can be extremely stressful. With all the things that need to be done, you'll be confused about where to start. That's why sponsoring an event will be more successful if you leave the food preparation to the hands of the professional caterers. If you hire a catering service, for instance, everything from planning a menu, buying the ingredients, cooking, and even cleanup will be done more efficiently and in an organized manner.
Good Impression About You
If you're having an event for a purpose, working with a catering business can be a huge help. For example, the delightful and tasty delicacies can help boost the reputation of your company. With a catering service in place, you'll get to impress a potential business client. As a result, you'll not only make your corporate event extra special, but you'll also be able to achieve productive results. Remember, establishing a rapport about your business is one of the advantages of partnering with a catering company.
Time-Efficient
If you choose to have a catering service for your event, then you allow yourself to take care of some important parts of the planning. Just call a trustworthy catering company like Elia Taverna to handle your hungry guests. Letting a professional service manage everything allows you to invest your time on other parts of the program. Indeed, your event will be a success with the help of professionals.
Less Costly
You can save on the overall costs of your event if you hire a catering service. If you do in-house food preparation, you need to get more people who can help you with everything – from purchasing the ingredients to cooking. However, having a catering company to assist you is an advantage. They're ready to offer you good catering packages which are less costly on your end.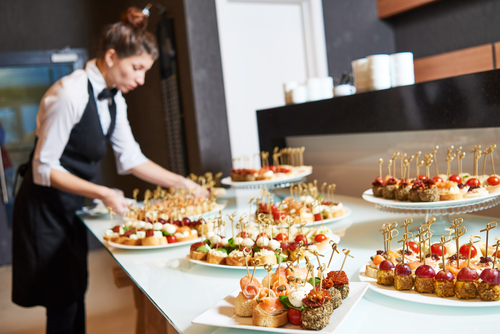 Spectacular Event
You always want your guests to be happy and satisfied with your food. That's why having your meals catered can make your guests go "wow." If you have people who'll take care of your hungry guests, the heavenly food experience from the start to the main course and desserts will make your event spectacular.
Conclusion
Organizing an event can be a tedious job for any organizers. But with the booming presence of many catering services today, you can treat your guests with mouth-watering dishes. By hiring a catering company, you'll also be able to customize your meals and make everything superior for your guests.