You're not stuck at home.
You're safe at home.
Isn't it interesting how one word can change your attitude? That's a nice thought for our Floral Decor section.  We are safe at home.
I don't know about you, but I've been staring at my walls and thinking of what I want to change.
Turns out that I'm not alone in wanting to redo my home office. Many experts see that this will be a growth sector in home decor.
"The coronavirus outbreak has triggered an anxious trial run for remote work at a grand scale,"  wrote  Atlantic Magazine's Derek Thompson "What we learn in the next few months could help shape a future of work that might have been inevitable, with or without a once-in-a-century public-health crisis."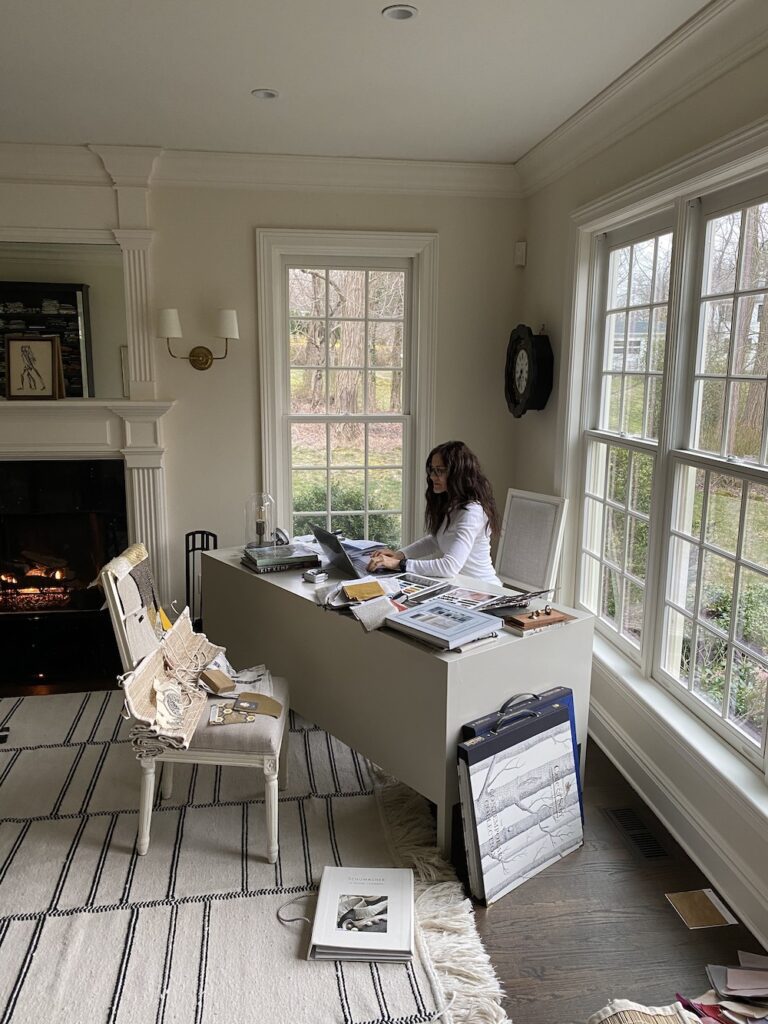 Decorator Deborah Spiro converted part of her living room into a home office.
"Living rooms are usually larger and people rarely use that space," says Spiro. "How wonderful to use that room every day instead of letting it go to waste. It becomes part living room, part office."
In fact, she just ordered two tufted swivel chairs that are great for guests as well as clients who will sit near her desk that abuts a large window.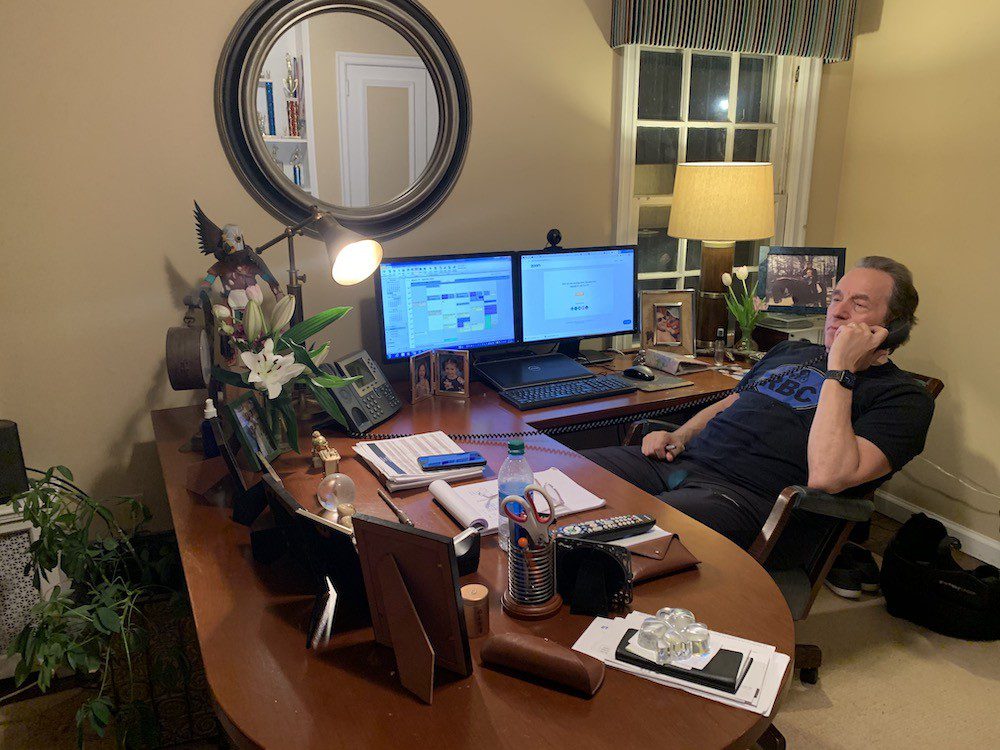 My husband Gary Goldstein, who is an executive recruiter at Whitney Partners, says there will be a rise in people working at home once the Coronavirus pandemic passes.
"Patterns will now change in that people don't need to travel to have meetings as was the case before the pandemic," he says. "Everyone is zooming and face timing from their home offices." Furthermore, employers will see that some people can permanently work from their home and the company doesn't need to invest in unneeded office space and rent costs.
Thus, home offices will become a focus for those who used to work at companies.
Many homes – including ours – already have them.
A special analysis done by FlexJobs and Global Workplace Analytics found that there has been a major upward trend in the amount of people working remotely anyway.
In 2015, 3.9 million U.S. workers were working remotely. Today that number is at 4.7 million, or 3.4% of the population
Over the last five years, that number grew  44% and over the previous 10 years, the growth was  91%.
Now that number will certainly rise due to necessity and also people being laid off. In this aftermath, people will be trying to get jobs and freelancing more from their homes.
Therefore people will either be improving their existing home offices or wanting new ones.
"You don't need a lot of space but rather a personal environment to call your own," adds Jackie Higgins of Beach Glass Interior Design. "Find an alcove, set up your supplies in nice containers, add some flowers, or a piece of art to personalize your space."
Speaking to a variety of designers, here were some ideas to consider for Home Office improvements.
Room with a View
Storage through Shelving or File Cabinets
Adapt Spaces Creatively
Colorful Art
Desks can be also updated with new hardware
Make Sure You Have Printer
Have an idea board like interior designer Kit Kemp,
Designer Mara Solow says ergonomic chairs will be very popular, from brands that include Herman Miller for the high-end client as well as ones she likes from Design Within Reach. "Since people will be home more, the Versa desk will become more popular since it has a function where you can raise or lower the legs. It allows you to stand-up as well as sit down."
Another great resource she says is the Container Store which she describes as "most genius place on earth."  Because, as she says, organization is essential to keep sanity when you are both working and living in a space.
Last but not least, experts agree that flowers always add a burst of positivity and calm to any environment, whether in wallpapers, live plants or fabrics. Or even updating desk hardware like these lovely knobs from Addison Weeks.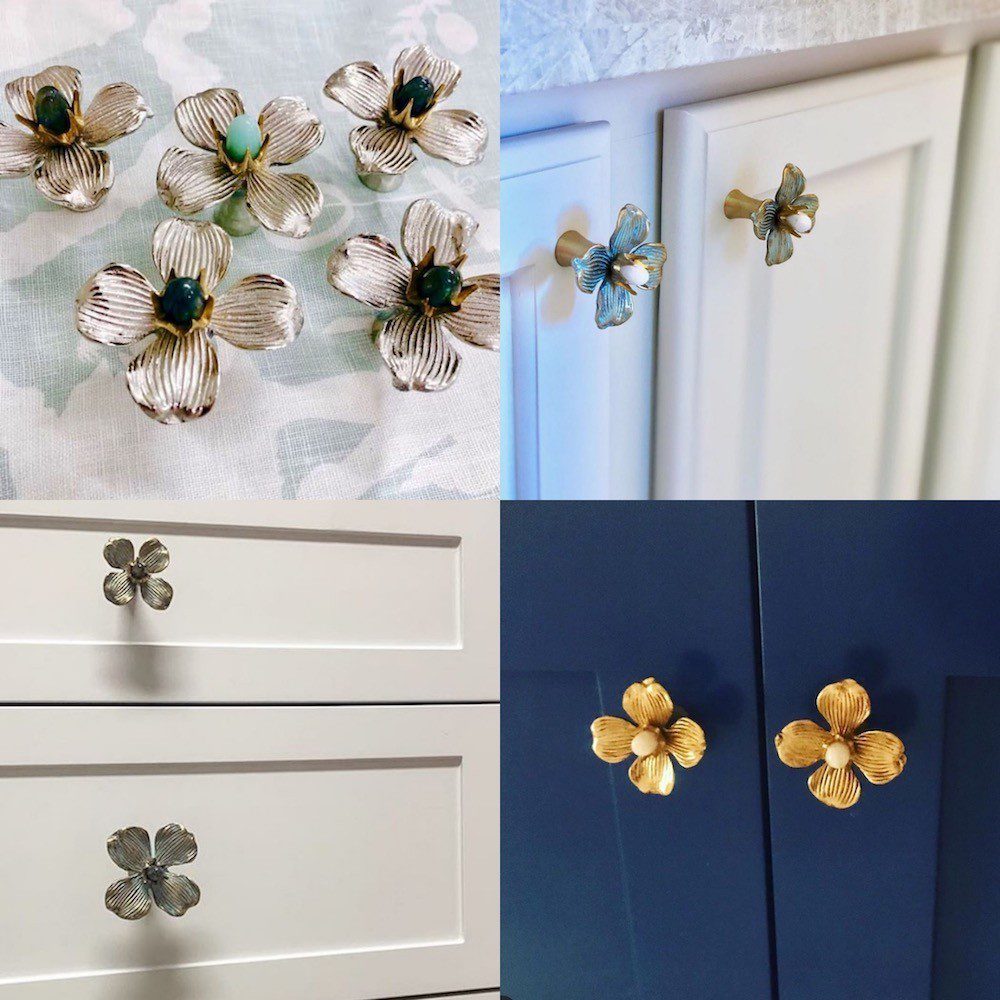 Another tip came from Feng Shui consultant Nitu Patel.
In your office,  identify the far left corner of the room and place purple flowers there. Purple is the color of royalty and can attract a lot of prosperity. Purple carnations, violets or lilacs are excellent flower choices for this corner. You can also opt for purple plants like a fuchsia orchid or fresh lavender. 
The goal, of course, is to create a professional space that resonates with efficiency as well as your own personal style.
As Kit Kemp, one of my favorite interior designers said to me, "you always want something that feels cozy and personal."
Photo Credit: Top photo: House Beautiful, Addwell wallpaper,Designer, Jessica McCarthy,  FPD all photos except Kit Kemp courtesy of Kit Kemp Inc.
Jill Brooke is a former CNN correspondent, Post columnist and editor-in-chief of Avenue and Travel Savvy magazine. She is an author and the editorial director of Flower Power Daily