Family, guests, too much food…Thanksgiving is upon us, and in preparation,  I turned to my most favorite party planner, celebrity event planner Larry Scott (
www.lawrencescottevents.com
) who shared some great ideas for making your holiday table stop guests in their tracks.
The secret to a show stopping table — "What's old is new again — mix and match whatever you have." says Scott.  From grandma to everyday…Larry told me to mix my grandmother's china with everyday dishes.  Flowers are yesterday, today's centerpiece is about creativity — put a lamp in the center of the table and surround it with mini fern plants.  Or, a glass jar filled with candy.  Edible centerpiece — mix nuts, dried and fresh fruit, breads, cheese, nut crackers to create a colorful centerpiece that guests can nibble on.
 
Key elements to ensuring a great holiday gathering:
FOOD
– comfort food is best for the holidays — turkey, lasagna, mashed potatoes, baked ham, yams, ribs, wedges of iceberg with bacon and blue cheese and
ALWAYS
lots of desserts.  We like to serve comfort food to set an easy relaxed atmosphere.  Holidays conjure memories and food is one of the triggers — we serve it elegantly and set our tables with spectacular china and richly colored linens, but the food is classic favorites.  LSE believes
"
MORE is MORE"

and nowhere is 
this approach better showcased than his mouth-watering displays and g
ourmet offerings. Variety is key when it comes to

FOOD

at a holiday party — it adds to
the overall visual impact and playful possibilities…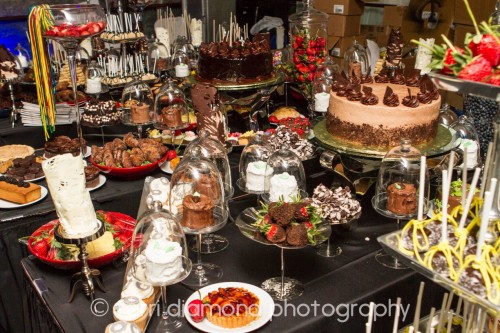 STYLE
– holiday parties are best as a buffet or family style food.  People can gather at the buffet or share family style dishes which spark conversation and engage.  Whether the party is dressy and formal or casual, buffet and family style works — it's about bringing people together.
FIREPITS / FIREPLACE
– we like gathering places to bring people together and to create atmosphere.  S'mores for dessert work especially well when it can be a do it yourself treat at a fire pit.  If fireplace isn't an option, other gathering areas such as the bar, a dessert table work.
DESSERT BUFFET
– more is more…
 

LOTS

of choices — Larry often includes dessert on the buffet at the same time as dinner — interesting plates with many choices.
THE MIX

– the high and the low, the formal and relaxed — comfort food on elegant china tables filled with crystal.  The Mix  should always be unexpected  to make for a "wow" factor when everyone walks in.  Surprise guests with interesting visuals — place lamps, vases, books, whatever your favorite items,  on your buffet.  Mix flowers with candles, with bowls overflowing with fall/winter fruits.
No one can plan a part like LARRY!!!!! I was lucky enough to meet in on an airplane. I would never have a party without him. Larry and his team have planned and produced many of New York's biggest charity events, parties and celebrity events where guests have included: Andy Cohen, Mariska Hargitay, Christie Brinkley, Kelly Clarkson, Usher, Jennifer Hudson, Kelly Ripa, Judge Judy, Janet Jackson, John Varvatos, Mark Wahlberg, Prince Albert, Donald Trump, Fergie, Whoopie Goldberg and Aretha Franklin, among others.