Want to make sure your New Year's resolution sticks this year? Here's the answer. Combining the unique and creative health tips of nutritionist Elizabeth DeRobertis and the mesmerizing power of hypnotist Bob Pargament, this sought after weight loss team is hosting a first-of-its-kind New York City event on January 25th from 11AM to 1PM at The Magnet Theater. They will be offering a conscious and sub-conscious experience to help you to control your appetite and eliminate unhealthy food cravings. This is something you won't want to miss!
Elizabeth DeRobertis, MS, RD, CDN, CDE, Director of the Nutrition Program at Scarsdale Medical Group, will be offering cutting edge weight loss knowledge and tips to ensure that you continue your weight loss throughout the New Year. Liz has shared her expertise via national media including Dateline NBC, Fox 5 and The Food Network (www.nutritionistliz.com).
Bob Pargament, CH and Advanced Weight Loss Hypnotist, is the owner of the Westchester Hypnosis Center. He will explain hypnosis and then provide powerful hypnotic weight loss suggestions to empower you and change your thinking about food. Bob has successfully hypnotized thousands of people and has proven results, having helped people lose from 5 to 150 lbs. Often called on by the media, he has been on NPR, Eyewitness News, and in Westchester Magazinewww.westchesterhypnosis.com).
The program will include a one hour nutrition presentation by Liz, a one hour group hypno-weight loss session with Bob, a hypno-weight loss CD and other take home materials. Attendees will receive a FREE one month supply of HungerShield (www.hungershield.com), a natural appetite control drink mix developed by Liz and three other nutritionists. This event, a $600 value, is being offered at a special rate of $125 per person. Seating is limited to fifty people so be sure to RSVP as soon as possible.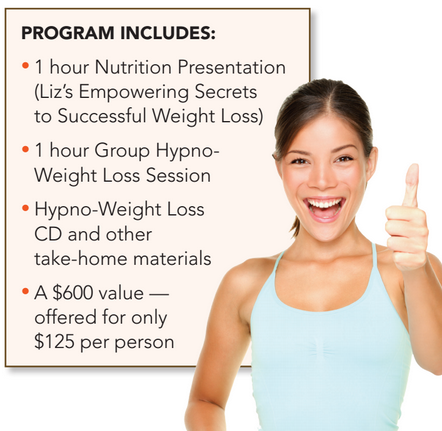 Less than half of Americans make it past the one month mark with their resolution, but it can be different for you this time. Don't miss out on this opportunity to take charge of your health and your weight!
Event details:
Where: The Magnet Theater 254 West 29th Street, NY, NY
When: January 25th, 11:00am – 1:00pm
Why: Stick to that healthy diet and New Year's Resolution for 2014!
RSVP: hypnosis-weightloss.eventbrite.com