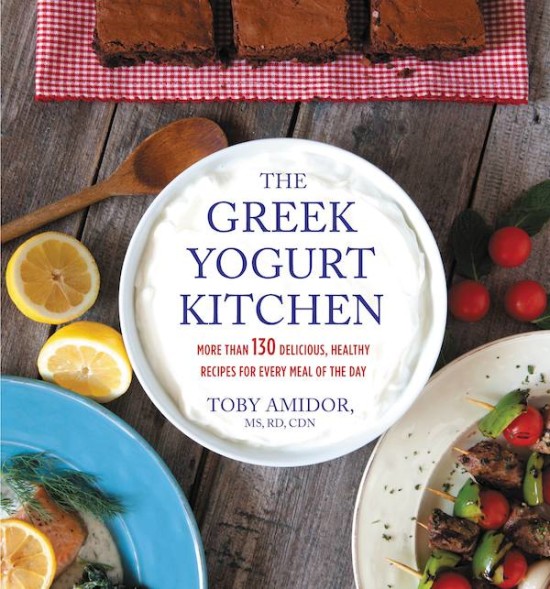 What a treat to eat in Toby Amidor's kitchen.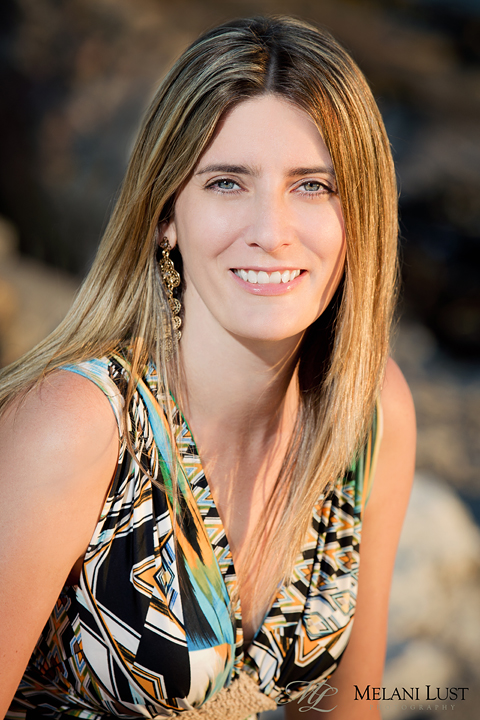 I was lucky enough to be treated to a luncheon in her home,the authentic Greek Yogurt Kitchen  along with other tweeters and eaters from Westchester County.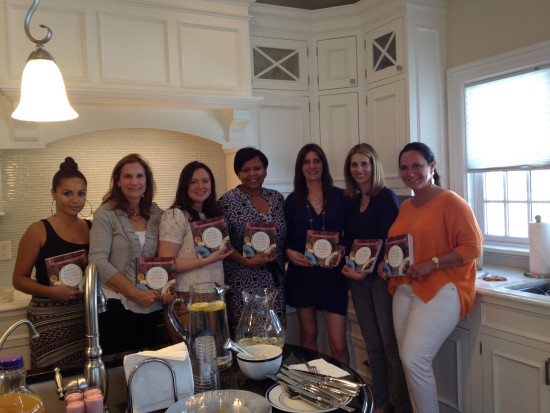 We  we're treated to a delicious menu (see below) of smoothies, salads, quiche, blueberry french toast, dirty blondies and more.
Toby Amidor, MS, RD, CDN, founder of Toby Amidor Nutrition, has written a book entirely devoted to the cult product, "The Greek Yogurt Kitchen: More than 130 Delicious, Healthy Recipes for Every Meal of the Day".  Toby is the contributor to FoodNetwork.com Healthy Eats blog and US News & World Report Eat + Run blog and has a monthly column in Today's Dietitian Magazine. She is also the nutrition advisor for Sears' FitStudio and an adjunct professor at Teachers College, Columbia University. 
Greek yogurt has quickly become one of America's favorite foods, its tangy, luscious taste going far beyond a typical breakfast or simple snack. Thanks to its health benefits, this power food has become a staple. Greek yogurt's protein quantity builds muscles and regulates metabolism and the probiotics help maintain a healthy digestive tract and boost the immune system. Greek yogurt is also an excellent source of calcium and very low in sodium-and it's lactose-intolerant friendly, too! Because it is strained, resulting in very low water content, the ingredient is thick, creamy, and indulgent. Why wouldn't you want it in every meal?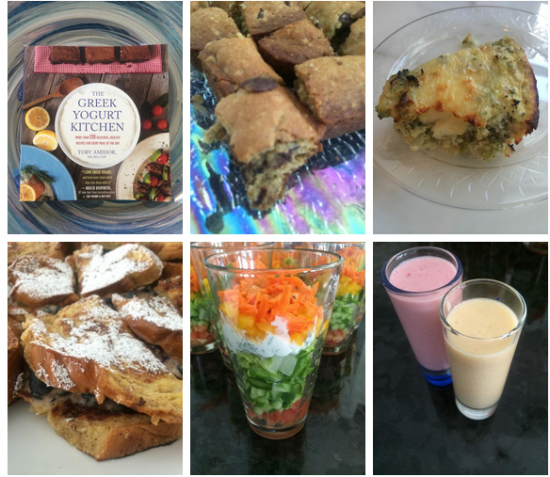 I was trying to eat all  veggie today so needless to say I focused in on the  Salad Parfait.  
Salad Parfait (SERVES 4)
Ingredients:
½  cup nonfat plain Greek yogurt

2 tablespoons chopped fresh basil

2 tablespoons chopped fresh parsley

1 clove garlic

2 tablespoons white balsamic vinegar

¼  teaspoon mustard powder

¼ teaspoon kosher salt

¼ teaspoon freshly ground black pepper

¼ cup extra-virgin olive oil

2 plum tomatoes

2 Kirby or Persian cucumbers

¼ head romaine lettuce

1 yellow bell pepper

2 medium carrots
Directions:
Put the yogurt in a medium bowl, add the basil and parsley, and stir to combine.

Set aside.

Mince the garlic.

In a medium bowl, whisk together the garlic, vinegar, mustard powder, salt, and black pepper.

While whisking, slowly drizzle in the olive oil until emulsified.

Cut the tomatoes and cucumbers into ¼-inch dice; you should have about 1 cup of each.

Shred the romaine.

Cut the yellow bell pepper in half, discard the seeds, and cut into ¼-inch dice.

Peel and grate the carrots.

To assemble the parfaits, layer the bottom of each of four parfait glasses with ¼ cup diced tomatoes, followed by ¼ cup diced cucumbers and ½ cup shredded lettuce.

Gently press down with the back of a spoon to pack the ingredients.

Top with 2 tablespoons of the yogurt mixture, ¼ cup of the diced yellow pepper, and then ¼ cup of the shredded carrots.

Drizzle with 1½ tablespoons of the vinaigrette.
SERVING SIZE: 1 parfait
NUTRITION INFORMATION (PER SERVING): Calories: 168; Total Fat: 14 grams; Saturated Fat: 2 grams; Protein: 4 grams; Total Carbohydrates: 9 grams; Sugars: 4 grams; Fiber: 2 grams; Cholesterol: 0 milligrams; Sodium: 166 milligrams