Congratulations for working up the courage to ask someone out, and they said yes. Now the tough part is planning the first date. First dates are exciting and nerve-racking. Sometimes things do not work your way. Maybe that girl from Tinder doesn't text back, or that guy was not cracked up to be. Some cases are out of your control.
Now, some things are in your control, for instance, how you present yourself and behave during the date. Here are some tips you should implement to ensure you get a second and a third date.
Body Language
Non-verbal communication is the loudest way of communication on your first date. It can be overwhelming to stay calm around your date. According to the Dating Skills Masters' suggestion, you should maintain eye contact when talking to your partner. You are encouraged to look at her lips for not longer than two seconds and less than eight seconds apart. By looking at her lips, you are triggering seductive ideas, and you might get a kiss.
Be Honest
Honesty is the best policy during a date. If you are having the best time of your life, then say it. Forget about the "play it cool" because that is an outdated technique. If the date is not going as intended, do not crush his self-esteem by saying, "I don't like you." However, you are not obligated to say you had a good time, yet you didn't enjoy the date. If your date asks you out again, you can be truthful, while maintaining a polite tone.
Location
When it comes to the date's location, go for whatever makes you and your date comfortable. If you met someone on Tinder and you feel uncomfortable meeting in a secluded place, pick a public space where you will be more comfortable and safe. If you don't want to be picked up for the date, communicate your will in advance. You will not be hurting someone's feelings by picking a location that is ideal for you. The location of your date, sets the tone for the meeting. If you know the activities that your partner likes, pick a place with those activities. If you do not know what your date likes, choose a neutral environment where you can focus on learning from each other.
Be Yourself
This is the best opportunity to show your date who you are. You are special and unique, and that is why your partner asked you out in the first place. So, instead of saying what you think will impress your date, say what you feel. If you think you are weird, so be it. Do not play a part you are not. This also applies to dress. Finding the right dress for the first date means trying on many outfits in search of the perfect dress. The problem is you are dressing to impress your date, and this is wrong. You should focus on finding a dress that you are most confident in. If it's your little black dress that is a few seasons old, then wear it. All you need for your first date is glowing confidence.
Eat
It can be intimidating to order a big meal in front of a person you met for the first time. However, ordering a salad because you do not want to embarrass yourself is not acceptable. You should not order a salad unless you love salad. Eat something you enjoy eating. If the waiter asks whether you have room for dessert and your date is giving you yes hints, indulge. Saying no to a slice of cheesecake is the last thing you want to do.
Avoid Using your Phone
Sometimes when the date is not going as planned, your mind starts to drift away. You get an urge to check whether your boss has emailed the documents or check your Instagram. No matter what you think, you should not get your phone out of your pocket. It is rude to get your phone and start texting or looking at your social media pages unless you are showing your partner photos of your cute dog. It is respectful if you don't place your phone on the table.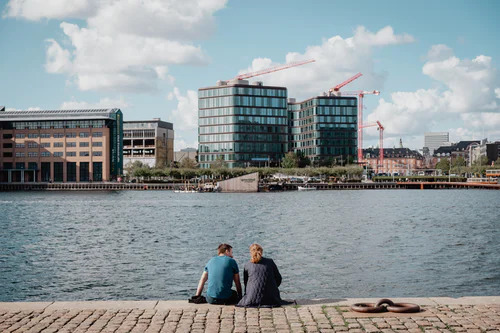 Sometimes, the thought of going on the first date is dreadful. This is because people go with a mentality of wanting to please their date, hence putting a show. This does not end so well in most cases. The secret to a successful date is to be you. Feel secure, radiant, and free, and your partner will follow suit.