Named "One of the 7 most inspiring yoga events in the world" by Well + Good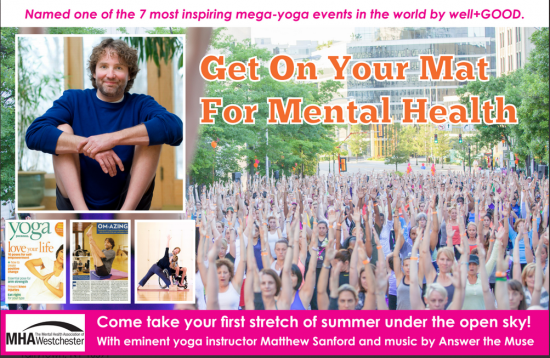 Take your yoga out of the studio and onto the street for The Mental Health Association of Westchester's Get On Your Mat for Mental Health mega-yoga event.  Named one of the seven most inspiring mega-yoga events in the world by Well + Good, the event unrolls on Court Street in the middle of White Plains, NY on Wednesday, June 18, 2014 at 5:30pm.
This year, the teacher is renowned yogi, Matthew Sanford. Matthew, is the author of the book, Waking: A Memoir of Trauma and Transcendence, in which he tells the story of thecar accident in which he was paralyzed from the chest down and the subsequent waking of both mind and body through yoga. Says Matthew, "The principles of yoga apply to all people and to all bodies." This will be Matthew's first appearance in Westchester.
Come take your first stretch of summer under the open sky! Pre-registration is $20 ($25 day of event); little yogis under 12, $10. The event is for all ages and all levels of yoga experience and includes a groovy yoga marketplace. The first 500 registrants receive a free mat and gift bag. Music by Answer the Muse, the spiritually-inspired performance ensemble. After the yoga class, the ensemble will invite everyone to stay and dance.
Register at www.mhawestchester.org/onyourmat.