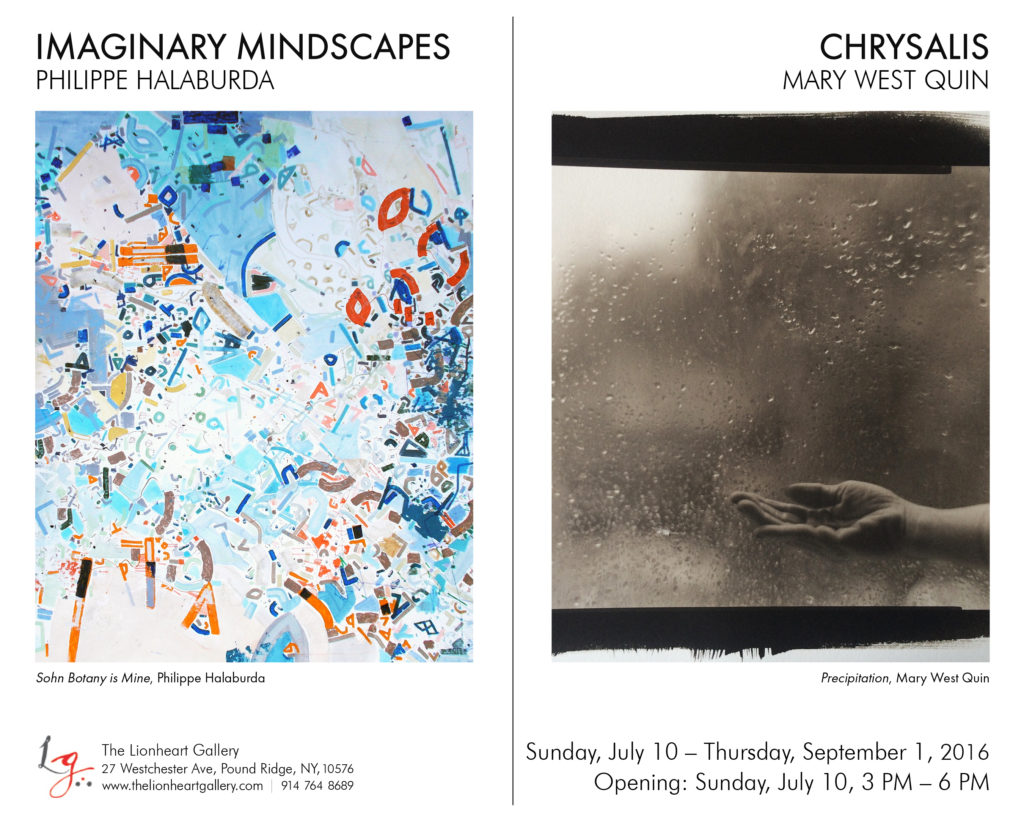 Celebrate the hazy beauty of August days with captivating contemporary art, featured at the Lionheart Gallery through September 1. Chrysalis is a collection of works by Alabama-based photographer Mary West Quin, whose platinum/palladium prints cast dreamlike light on scenes of innocence and inner reflection. Imaginary Mindscapes showcases new abstract paintings by French artist Philippe Halaburda that resemble colorful maps of fantastical cityscapes. Visitors are invited to see these shows at the Lionheart Gallery, 27 Westchester Avenue in Pound Ridge.

Coinciding with these exhibitions, the Lionheart Gallery will display works from its flat files by Jennifer Schlesinger. Based out of Santa Fe, Schlesinger's striking black and white photography is influenced by historical processes to create enigmatic narratives, alternating between sensual, whimsical, and surreal. The gallery will feature selections of the artist's albumen prints and also has her gelatin silver prints available.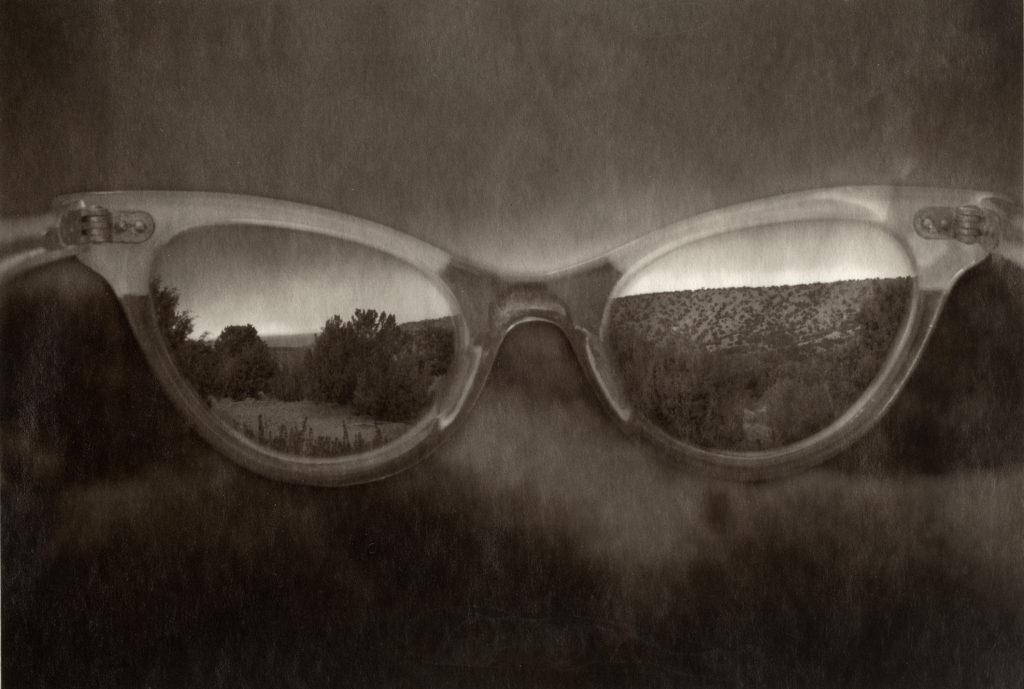 Jennifer Schlesinger, Here nor There 9, 2012, 8" x 4", albumen print
Mary Quin's work explores the paradox of photography, which makes ethereal moments into permanent images. Referencing anthropology and philosophy—she has degrees in both and reads these subjects extensively—Quin explores the distance between camera and subject that mirrors the distance between people.



Mary West Quin, Resting, 2015, 8" x 10", Platinum Palladium on Arches Platine
Raised in Mississippi, Quin grew up at fishing camps and on boats around barrier islands in the Gulf. She calls her upbringing a hybrid, a balance influenced by a family who rejected many stereotypical social mores and roles considered synonymous with the deep South. "I have been blessed (and at times cursed) with the comfort of being an outsider, a constant observer," she writes. "When I'm printing, it keeps me present." The artist now lives in Mobile, Alabama, where she works with an 8×10 view camera and uses the platinum/palladium printing process, incorporating techniques that were first attempted in the early nineteenth century. The results are nearly three-dimensional images that shimmer with a rich luminosity and emanate an otherworldly glow.
Chrysalis is the perfect exhibition for long summer days and evenings. There are black and white negatives of butterflies, lacy white against a deep black backdrop, and shadows of playing children, their small hands forming shapes and playing games or reaching to catch raindrops. Viewers can almost feel the heat and vapor radiating forth. Quin captures elusive moments and prints them under a mysterious platinum haze that creates pure emotion, quiet reflection, and a bit of nostalgia.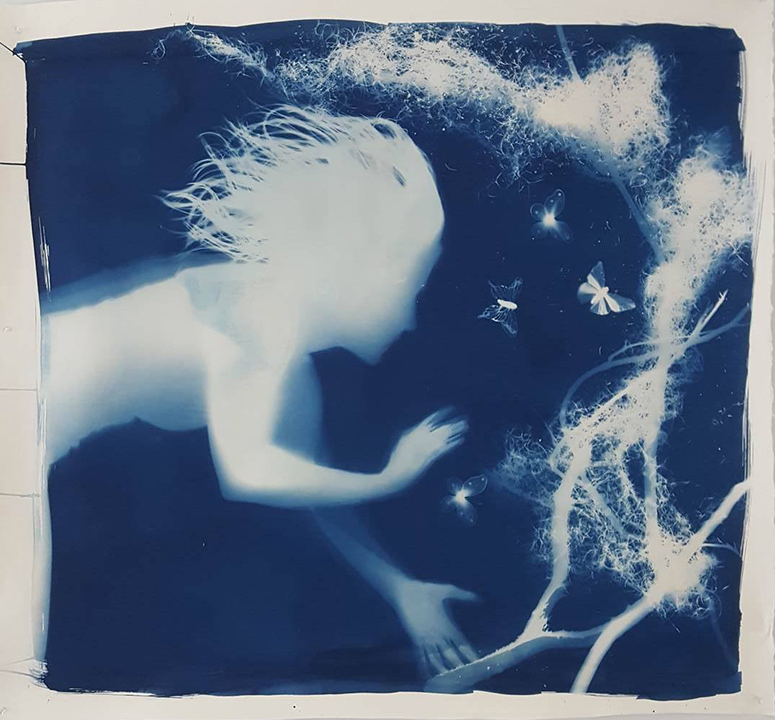 Mary West Quin, Chrysalis Study I, 2016, 42" x 44", Cyanotype on Arches Watercolor Paper, Edition of 1


These photographs are shown alongside paintings by French artist Philippe Halaburda, who hails from Aix-en-Provence. The playful vibrant colors in his paintings echo the bright primary hues and sunlight of this region. Recently he has been creating work in New York City, which he credits with lending more minimalism and deeper tones to his palette. His art can be found in collections, homes, and offices throughout Europe, North America, Canada, and Australia.    


Although abstract, Halaburda's paintings explore the universal themes of love, personal crisis, beauty, and death, playing out in sprawling and imaginary urban maps and landscapes. The artist sees his canvases as springboards for building mental architecture. Exploring interactions between shapes and lines, he forms "art topographies" that explore social tensions and relationships instead of addresses and landmarks.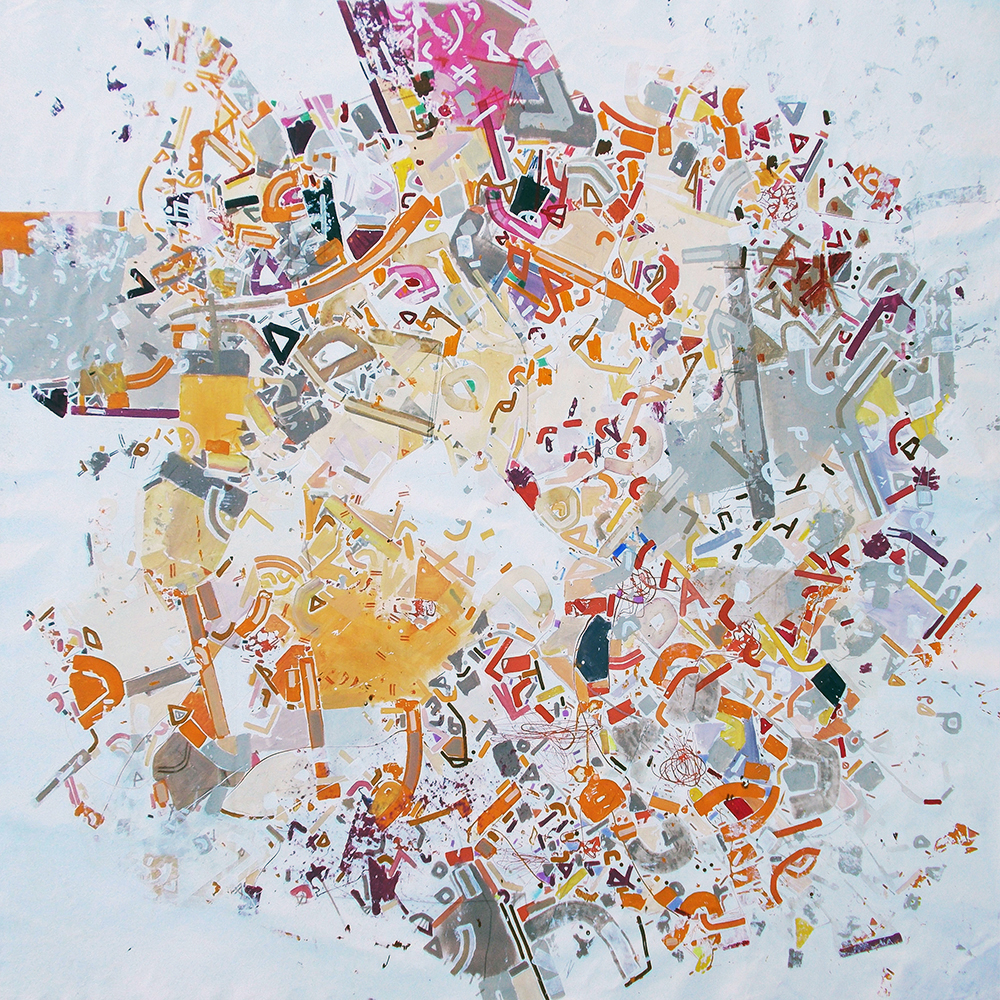 Philippe Halaburda, Hatch Cherokee, 2013, 83" x 79", acrylic, colored felt tip, and pencil on canvas


Using acrylic paints, Halaburda makes patterns that look like cities seen from high above—in fact, his process is to paint on canvasses that lie flat on the floor. The geographies he constructs are intricate and meticulous, yet emotionally charged, and become maps of passions, ideas, and dreams. The artist professes a spontaneity and expressiveness that is evident in the marks he makes: lines that might be partial letters or numbers, large washes of paint, smaller shapes spiraling out that seem like fragments of earth or machinery. To achieve this range, Halaburda has experimented with unusual studio tools, including replacing paintbrushes with rubber spatulas to create clean shapes and smooth, even applications of pigment
General Information
The Lionheart Gallery is open Wednesdays through Saturdays, from 11 AM to 5 PM, and Sundays from 12 noon to 5 PM. For more information and directions to the gallery at 27 Westchester Avenue in Pound Ridge, New York, visit www.thelionheartgallery.com or call 914.764.8689.