This pandemic has helped us realize that our homes' aesthetic appeal needs some serious enhancements. Spending more time at home makes you realize how your surroundings and environment play an essential role in setting your mood, energy, and productivity levels. If your home suddenly feels dull, lifeless, and worn out, even though it did not feel that way when you first moved in, then it's time to consider making a few changes. Here are a few tips that will help enhance your home's aesthetic appeal without remodeling the whole thing.
Lighting
Make sure your home is sunny enough in the morning. The sun can be used as your source of light instead of using artificial lighting. Also, do not depend on the downlight for lighting up your rooms, as it is not supposed to be very bright either. If it is, then it should only be used to work on specific tasks or cleaning up. Other than that, make sure you add pendants, floor, and table lamps, as well as wall-mounted fixtures. Find out which type of glow that is most suitable for you. LED bulbs are available in different warm and cool lighting color options. Finally, don't forget to use dimmers to control how bright or dim the lighting of each room is so you're able to set the perfect mood for each room.
Furniture
If your furniture feels old and tattered, then it's time for you to make a few major changes to your home. You have to look around carefully for furniture stores; the manufacturers of https://bybespoek.com/ urge everyone to opt for high-quality furniture at suitable prices, seeing as there are always options that suit every budget. Take your time in choosing different pieces, ideas, and tips to create a beautiful home that you enjoy staying in. Make sure that you shop for furniture in the summer because furniture sales go down while discounts go up. Therefore, buying your furniture in the summer will not cost you as much money.
Paint
Interior design professionals usually recommend using lighter wall colors in living rooms and around the house. Light colors go along perfectly with darker and more colorful furniture, and they'll make the whole house look more spacious, which is visually appealing and promotes elegance. Also, choosing the same color for the whole house is the easiest and most efficient solution for you. Color consistency is important. If you're about to choose different colors for different rooms, then make sure there's color continuity and that you're following a certain color palette for the whole house.
Wall Art
Paintings, posters, and colorful wall picture frames add a personal, creative, and artistic touch to your house that will make you 100% satisfied. Choose colors that are vibrant and bold to match your walls and furniture.
Windows
Windows make every room look bigger, more spacious, and more importantly sunnier. It'll make your room look gorgeous internally and externally. It will also be easier for you to gaze into nature all day long. Windows will help with your home's ventilation and will make it look brighter and more joyful than ever.
Mirrors
Mirrors will also make your home look more spacious and brighter. If you're into Feng Shui arrangements, you probably already know that mirrors help bring and maintain good, positive energy around the house. Make sure you pick mirrors in different colors, shapes, and designs to suit different areas of your home.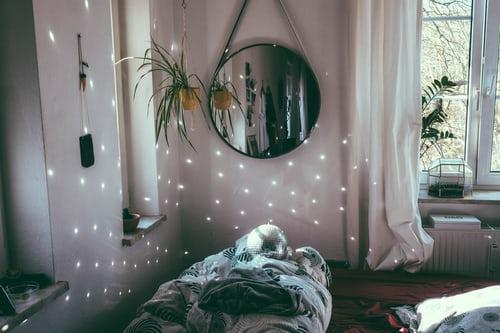 Plants
Natural indoor plants can be placed anywhere in the house. You can have some in your living room, dining room, bedroom, or even your bathrooms and kitchens. Plants will make your house look full of life and luxurious, while greenery is a great way to give your home a tropical feel. You can also mix and match by opting for bright-colored pots. Consider giving them names and talking to them so they can grow faster and give you a chance to connect with nature from the comfort of your home. Having plants in your house will make it look and feel more comfortable, and most plants also help purify the air in your home. Isn't that just awesome?
Remember that you don't need to spend a fortune to personalize your home and enhance its aesthetic appeal. If your furniture is not completely worn out, you will only need to make a few changes to the lighting and the colors of your walls, and your home will look like it's brand new. Make sure you pick colors that you love and will most likely feel comfortable in.