Diamonds are eternal, but sometimes there comes a time for something colorful, new, and exciting. And that's exactly what peridot (also known as olivine when it's in its natural mineral state) is all about. In the past, it often played second fiddle to other stones and it also had a lot of competition in the green gemstone category, especially from emeralds. In fact, peridots were also commonly confused with emeralds. It is even thought that the green stones in Cleopatra's famous collection were not emeralds but peridots. But these days everything seems to be changing and the peridot has emerged from the shadows and is increasingly becoming prized for its unique qualities.
A green gemstone that will energize you with its positive energy
The typical color range of peridots is a soft yellow-green to dark green-brown. Stones with an intense green color and a subtle golden tinge are most commonly used in jewelry making. Peridot is the zodiac stone for those who are born in August but it also has a positive effect on Sagittarius, Virgo, Taurus, Pisces, Leo, and Cancer. The stone is traditionally given on a 16th wedding anniversary. A specialty of peridot is the ability to maintain its color intensity, even when it isn't exposed to direct light. That is why it also earned the nickname of "evening emerald" from the Romans. But the advantages of peridots are not just purely aesthetic. Peridots encourage creativity and bring energy to our lives and the ancient Egyptians considered them to be a stone closely associated with the Sun. From this connection came the belief that peridots could alleviate anxiety, benefit relationships and help with regeneration. And that's definitely something we all need these days.
The penetrating green color characteristic of peridots can be explained not just through legends but also with the help of chemistry since this mineral is not just made up of magnesium, but also iron, which is responsible for its color. What is fascinating about peridots is that although they have won us over with their "refreshing" beauty, they are up to 4 trillion years old. They are said to be volcanic in origin and their tabular crystals mostly grew into the cracks of igneous rocks. Some of the best pieces come from the bottom of the Red Sea while on land, peridots always appear where the earth's crust has wrinkled, or in places with a volcanic activity which also includes the Czech Central Mountains. Indeed, until the beginning of the 20th century, this area was the predominant deposit of peridots.
Combine peridots with other gemstones and colors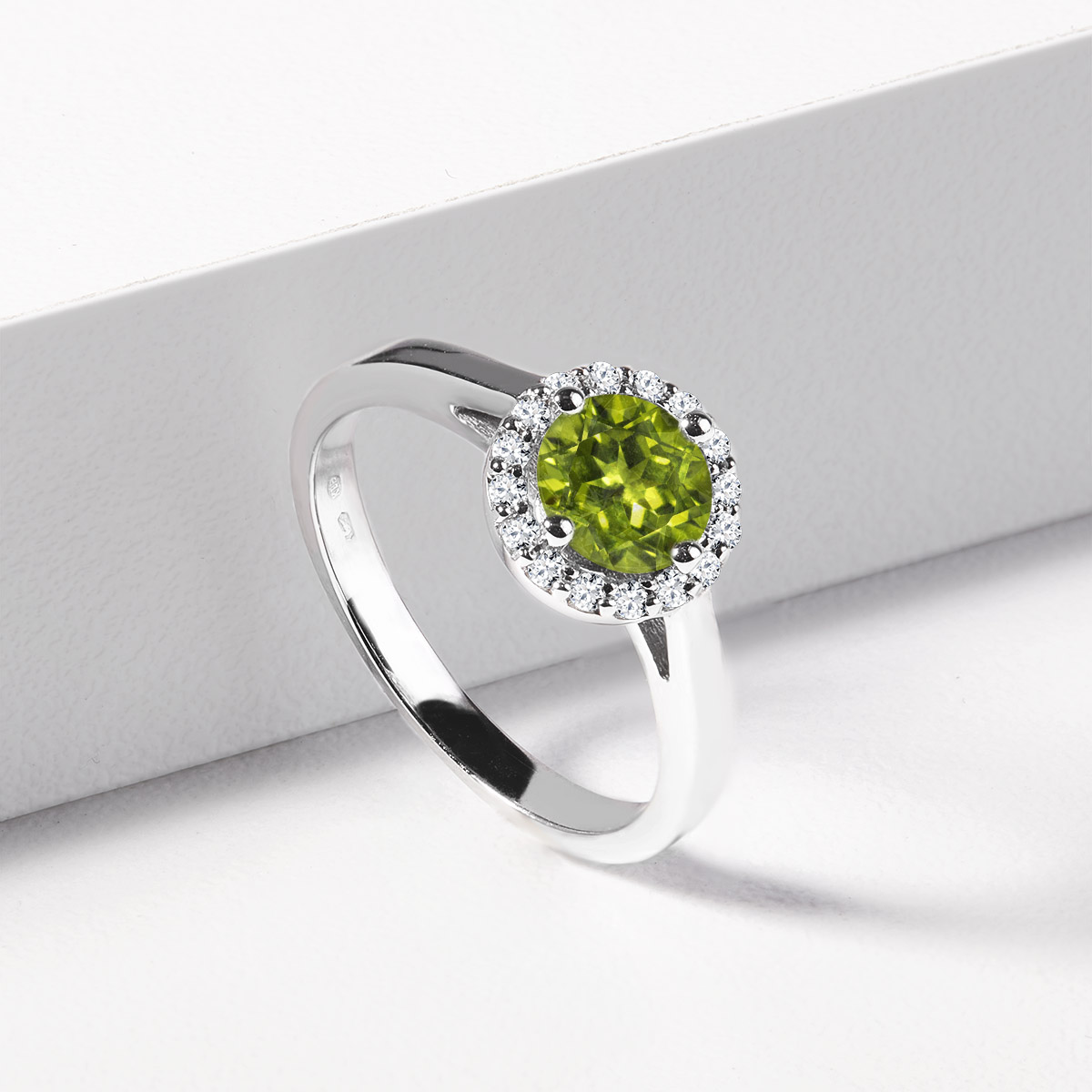 These days jewelers are very happy to include peridot in their collections, and celebrities often wear the gemstone when they need to fine-tune their outfits for very important events. All this indicates that this green stone is at the peak of its popularity. Rest assured that peridot jewelry will never be dull or bland. Modern minimalist designs suit it, but it looks just as good in a romantic or classic setting. An example is a ring with peridot in a halo setting with small diamonds all the way around it. It might even boldly carry its own as an unconventional engagement ring suitable for women who have a soft spot for color gemstones. When it comes to choosing the color of gold to go with peridots, the traditional choice is yellow gold since It promotes the warm shades of the stone and matches harmoniously with it. On the other hand, white gold contrasts with peridots pleasantly while rose gold has a slightly extravagant and unusual effect when combined with the stone.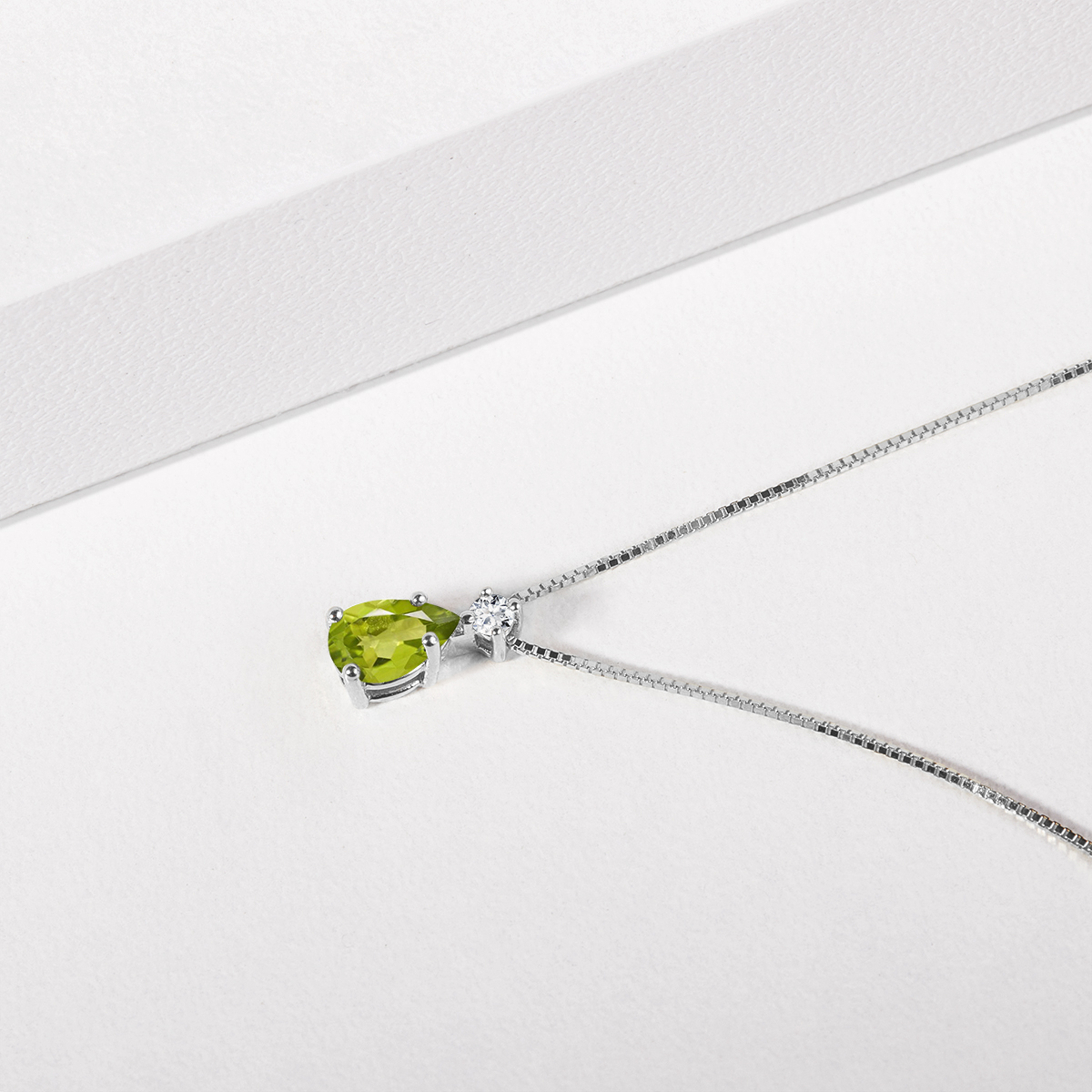 If your wardrobe is full of neutral or earthy colors, jewelry with peridot will become a welcome addition. Combinations with other more pronounced colors are also not out of the question. For instance, you could create an interesting effect by combining it with dark purple or navy blue. A great way to play around with jewelry is to mix different color gemstones – purple amethysts, yellow citrines or blue topaz would all suit peridots. Don't be afraid to stand out from the crowd with an original peridot necklace.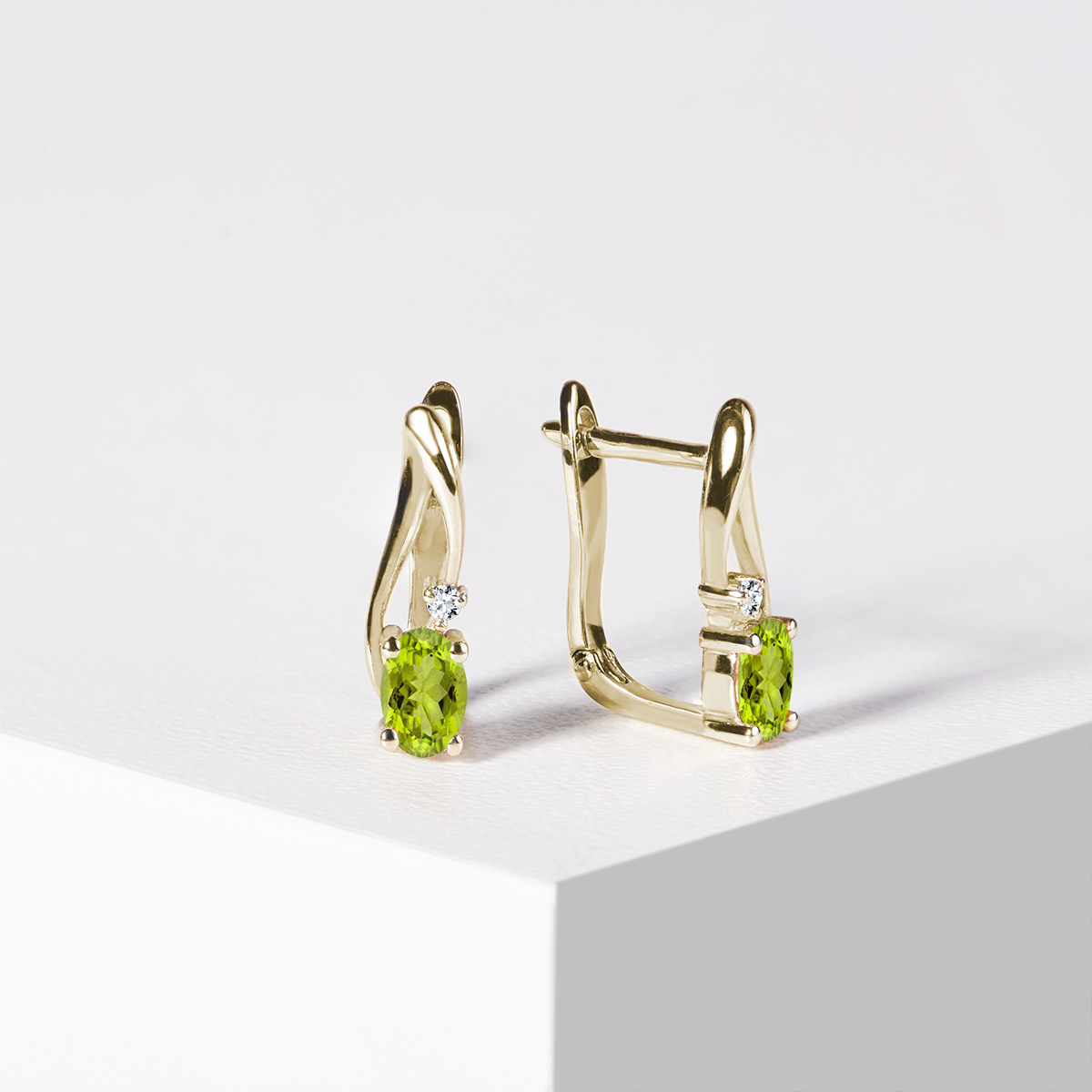 If you are ready to fall under the spell of peridots then take a look at the selection at the KLENOTA jewelry studio. These master goldsmiths located in the very heart of Prague work with peridots to create timeless jewelry that will never go out of style. You will receive a Certificate of Authenticity as well as free lifetime cleaning with your jewelry as a matter of course.