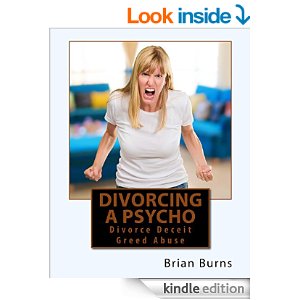 Deceit, Greed and Abuse Stir up Powerful Literary Cocktail, as New Novel's Title Says it All
Written with unique flair, by Brian Burns, 'Divorcing a Psycho: Deceit Greed Abuse' showcases the shocking, unbelievable and absurd lengths some will take to disband their marriage. The author's fictional couple were far from a match made in heaven, especially her, who will stop at nothing to send him packing. But will she pay the ultimate price for her evil?

With divorce rates at an all-time high, millions of Brits have experience with this most unfortunate of decisions. Some remain good friends with their former significant other, some decide to keep their distance and – in a powerful and entertaining new novel from Brian Burns – some find the experience to be ravenous.
'Divorcing a Psycho: Divorce Deceit Greed Abuse' pulls no punches when weaving suspense, personality evils and dark humour together in a narrative few authors would be brave enough to publish.
Synopsis:
One day Adam returns home to find all his doors locked and his children sat facing a wall in the kitchen. His wife of twenty years orders him to go or she will have him arrested. "Divorcing a Psycho" chronicles the malicious, acrimonious divorce of wealthy couple Adam and Lucinda in a dark, humorous and often tragic, way.
The scheming Lucinda uses every trick and subterfuge imaginable in her quest to crush her husband Adam and ruin him emotionally and financially. Lucinda has no compunction in using the full forces of the local constabulary and utilises the "Zero Tolerance to Domestic Abuse" laws to achieve her objectives in removing Adam from his home and children. 
Does she succeed and what will be the ultimate price to be paid?
"From the synopsis alone, anyone will come to the conclusion that Lucinda is crazy and not afraid to stick to her own agenda," explains Burns, who has also published a self-help book for men. "I wanted to display the side of divorce that rarely gets made public, when one spouse takes a personal turn for the worse and implicates their husband or wife in just about anything to get proceedings to swing in their favour."
Continuing, "But there's a big twist, and I'm not going to hint too much at what it is. Let's just say that Lucinda's behaviour, which she believes is going to win her both custody and a lot of money, could in fact be the catalyst for a self-destructive downfall. Chomping at the bit to discover how it all plays out? You'll need to buy the book!"
Burns sees wide appeal for his work.
"For those who have divorced, it will serve as either a chilling reminder of what they went through, or a reminder of just how amicable their disunion actually was. For the single or happily-married, it will be a face-smacking example of how things can go wrong, and hopefully will never serve as a prophecy!" he adds.
'Divorcing a Psycho: Divorce Deceit Greed Abuse' is due for imminent release on Amazon and Google Play.
Watch the book video trailer at: https://youtu.be/iRyXoeiHhps