Katonah Reading Room is announcing a new series, Diverse Voices Story Times, via Zoom, beginning Wednesday, March 10th at 6 pm with "Hard Candy & Fruit Snacks" podcast host, and Westchester resident, Gloria Harrison. The Reading Room is launching this initiative to put diverse faces and diverse books in front of families in an effort to promote community and understanding. The Reading Room is creating a space where children can see new faces, come to understand different life experiences, and have some FUN with shared stories and books.
The first books for the March 10th storytime will be: "Hair Love" by Matthew Cherry and "I Love Being Me, Uniquely Me" by Karlene Froling. A portion of the proceeds from sales of these books will be donated to Hard Candy & Fruit Snacks' Social Justice Scholarship fund. To sign up for the Zoom storytime, or to purchase the books, text the Reading Room at 914.334.8019.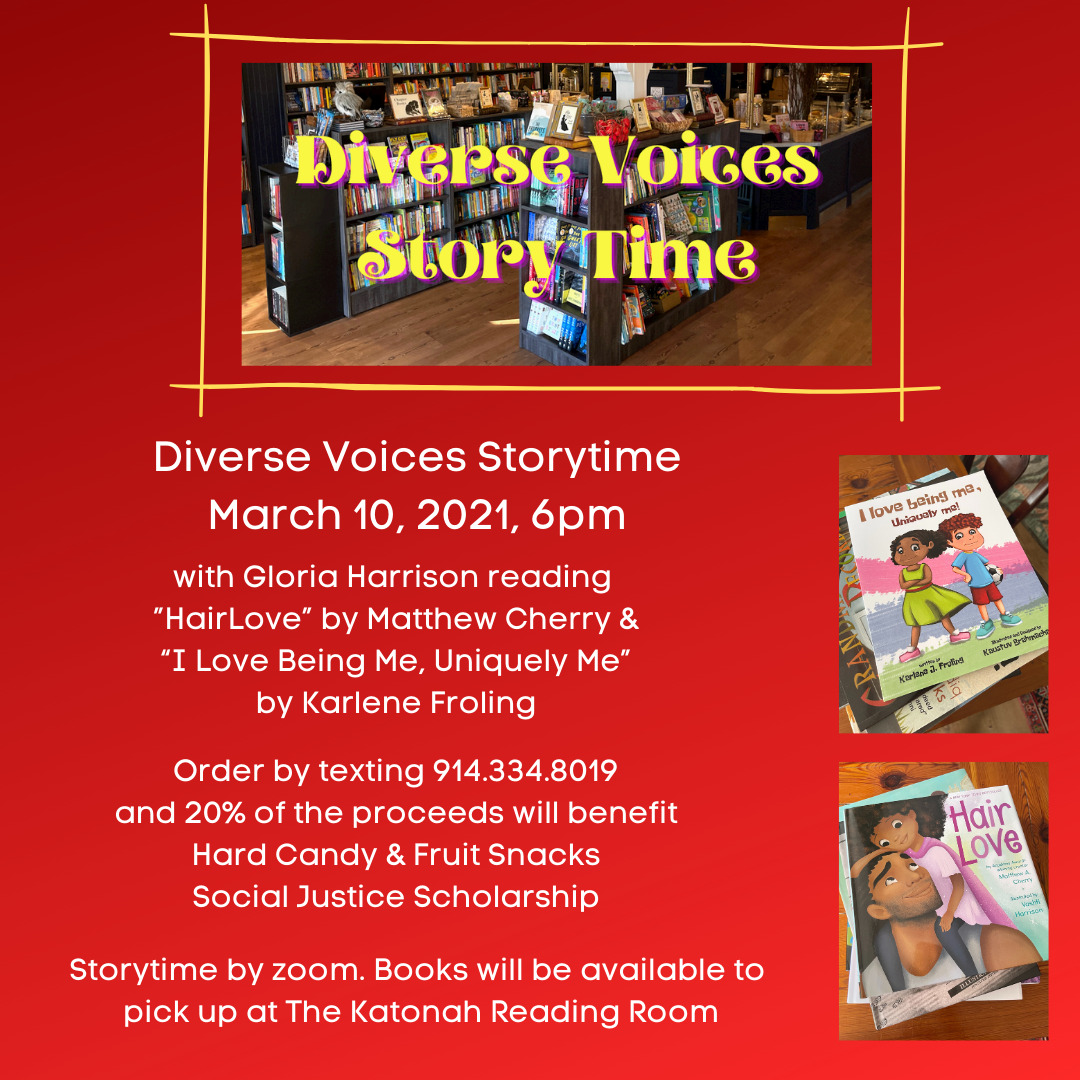 Hard Candy & Fruit Snacks is a podcast that came out of wanting to take action. Westchester resident, Gloria Harrison, has reunited with a childhood friend to talk about race and their segregated childhood. Hosts Harrison and Carrie Clifford met in first grade when Gloria was part of METCO, a busing program that brought kids from Boston's inner city to schools in the suburbs. They have created a brave space where a Black woman and a white woman can have open, honest conversations about privilege, disadvantage, and the lasting effects of systemic racism. They have joined forces with Boston's Brigham & Women's hospital and established a scholarship fund to help four high school seniors from Boston's inner-city pay for college.
On March 24th, the Diverse Voices Reader will be Kaori Nakamura of Katonah/Cross River, daughter of the world-renowned karateka Kaicho Tadashi Nakamura, founder of World Seido Karate. Donations from book sales will go towards Seido Juku Benefit Foundation which "strives to share the mental, physical, and spiritual benefits of karate with challenged or disadvantaged populations."
For more information on the Diverse Voices Story Time, contact Gretchen Menzies, g@katonahbooks.com and for more information on Hard Candy & Fruit Snacks, contact Carrie Clifford at carrieclifford@gmail.com. If you'd be interested in joining us as a reader, contact Gretchen at g@katonahbooks.com — the more voices the better!