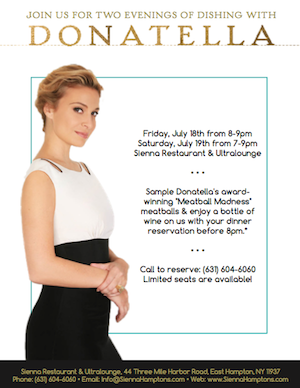 This weekend, join Executive Chef and Iron Chef Judge, Donatella Arpaia for a delicious evening full of food and insider cooking tips at Sienna Restaurant & Ultralounge.
This Friday & Saturday, Donatella will be on hand to answer all of your cooking questions and provide you with her most glamorous entertaining tips to make summertime dining a breeze. Guests can enjoy a sampling of Donatella's award winning "Meatball Madness" meatballs and a complimentary bottle of wine with any dinner reservation made before 8pm.
Donatella Arpaia will be at Sienna from 8-9pm on July 18th and 7-9pm on July 19th.
Sienna Restaurant is located at 44 Three Mile Harbor Road in East Hampton and for reservations please call 631-604-6060.